From fashion and Back.

Photo: Chris Moore
Since his first collection in 1994, Cyprus born fashion designer, Hussein Chalayan has been internationally known for his innovative use of materials, progressive attitudes to new technology and social criticism. Fully established at the forefront of contemporary fashion design, his creation has been appreciated.
Motivated by ideas drawn from disciplines not readily associated with fashion, Chalayan's pioneering work crosses between architecture, design, philosophy, anthropology, science and technology. Hussein Chalayan has also presented film works and installations in art exhibitions. In 2001, he was represented at the Istanbul Biennale and in 2005 represented in Turkey at the 51st Venice Biennale. I interviewed Hussein Chalayan who has an exhibition at Museum of Contemporary Art Tokyo.
I have heard that you wanted to become a pilot or an architect. Why did you decide to do fashion as medium to express your ideas?
I wanted to be a pilot when I was a little boy. I loved planes because I was always flying between London and Cyprus. The reason I decided to do fashion was because I felt very excited by things evolved around body. When something is connected to the body someway, I would always find that I would be more interested in it. I guess because the body gives life to everything or makes everything, it gives meaning to things. Actually, a building has no meaning without bodies in it, likewise clothes and cars. Also I felt it was a strong ultimate cultural symbol everything we do is based on the body. It's the amplification of the body. Even if it's to design a building or car, the system is body-like with a central area and things that are coming off etc. In a way, we subconsciously amplify the body.
At that time, I didn't know these were the reasons but this must be a reason because I later realised that this is how I feel.
Also I didn't want to be an architect because I felt my ideas through clothes were going to be newer than if I planed buildings. So I wanted to be a pilot when I was young and my parents wanted me to be an architect, but fashion was really a new medium for me because it's a combination of clothes and things around the body, and in a way it became my world.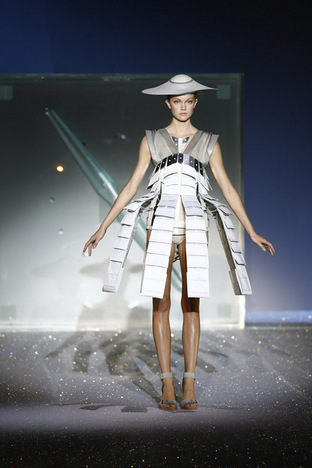 One Hundred and Eleven, Spring/Summer 2007, photo: Chris Moore
I think Sculpture is one of the things to express things around body. In a way, design and art is the same and different. Why did you choose fashion design?
I think design and art are the same because a designer can have same critical thinking as an artist, and sometimes, it's better. I don't differentiate design and sculpture now because it could be said that you can use design and you can't necessarily use sculpture, in the same way, you can use it but you can't necessarily wear it. I like that duality, which you can wear it but you can also have it on the wall or in your room. I like that kind of diversity.
Then, how is it different between selling your clothes at your shop and exhibiting your work at a museum?
I think they are different, and I get excited by the fact that you can see my work in a museum but you can also buy the 'friend' of that in a shop, which is a related product.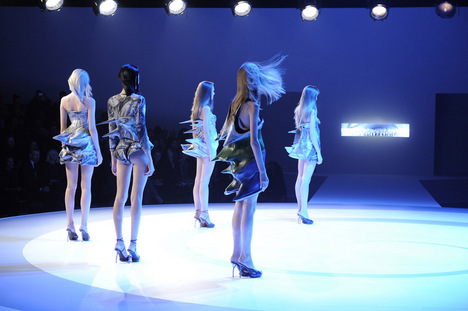 INERTIA, Spring/Summer 2009, photo: Chris Moore
I see these are related. How do you translate the elements in your artwork to the products for fashion industry?
The works in a museum are more monumental. What I do is always within the selling collection, there is a monument and diluted pieces which are more easy to wear. You can wear the monument if you like, but I like the relationship between something which could be looked at and something that you can wear. In a way, you extend the life of the monument.
Do you normally think of the monument first, and then start to design your collection?
I think first of the idea, then it evolves. Sometimes, the monument comes first and vice versa. It really depends on the project.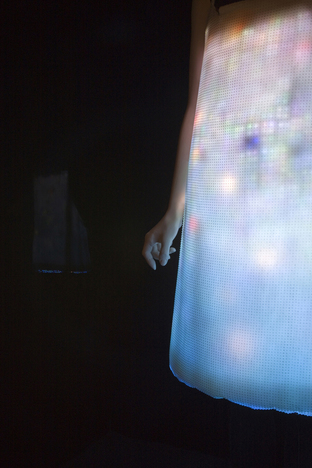 Airborne, Autumn/Winter 2007, installation view at the Design Museum, photo: Luke Hayes
Do you have any favorite projects?
I can't say that, because each project has different idea and reasons, and generally I guess I do my best.
However, if I need to pick one, the collection of chadors — "Between" 1998SS — was very emotional, challenging and risky because Islamic things were vividly live issues at the time. The living room's show — "afterwords" 2000FW — was also a challenging project in order to change clothes and form.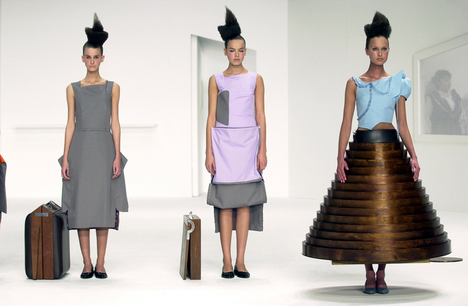 After Words, Autumn/Winter 2000, photo: Chris Moore
What kinds of things inspire you?
It's really general, but I would say history, anthropology, how people move geographically like migration, technology up to the point, philosophy, philosophy of science, architecture theory (not architecture itself), and generally speaking cultural studies.
What do you think about the relationship between clothes and the body?
I think clothes give you confidence and empower you. I like the way it can affect how you control your body and adjust yourself, also how you might want to show certain part of your body more. But generally speaking in a simple way, it is to build confidence and feel more powerful.

Manifest Destiny, Spring/Summer 2003, installation view at the Design Museum, photo: Luke Hayes
As a fashion designer, how do you come up with an idea and relate it from fashion to other art forms?
It is like fashion art, but I don't like these label because I don't want to call something art or not. Of course clothes are fashion but it is ideas really and it is not necessary to give it a name.
When a fashion designer does a dress, she or he has an idea. Therefore, you can apply that idea to either a film or to a dress but it comes from the same idea.
If you can see my film, it is the same world as my clothes. Or sometimes clothes can appear in a film. I can base collections on a film and I can base a film on a collection.
Could you tell me about the exhibition at MOT?
This is the fourth place after Holland, Germany and the Design Museum in London. It contains a selection of my work in the last 15 years, which is a very tight edit because this represents all different varieties of things, but they are shown by groups in an aesthetic way. One room might be a film, another room might be a sculpture, another room might be dresses. Also a lot of the mannequins are interacting with the space and that was the idea I had in the beginning. Wherever they go they interact with the new place, like painting or writing on the wall, watering plants. I thought this was the nice way of travelling, wherever you go you do things specific to the building.
This exhibition fully represents Hussein Chalayan's creativity as both a fashion designer and artist. Many of his works over 15 years are on view as well as film and sculpture works, which have not been exposed much before are shown at the A-Z room. Why don't you appreciate his world in the space deeply represented Hussein Chalayan's creativity?
Hussein Chalayan – From fashion and Back.
Date: 3rd April – 20th June 2010
Place: Museum of Contemporary Art Tokyo (MOT)
Opening Hours: 10:00-18:00 (tickets available until 17:30)
Closed on Mondays (except for 3rd May), 6th May
Admission: Adult 1,200 yen / University & College Student 900 yen / High School & Junior High School Student 600 yen / Over 65yrs old 800 yen / Free for Under Elementary School
Address: 4-1-1 Miyoshi, Koto-ku, Tokyo
Tel: 03-5405-8686 (Hello Dial)
http://www.mot-art-museum.jp
Text: Wakana Kawahito

[Help wanted]
Inviting volunteer staff / pro bono for contribution and translation. Please
e-mail
to us.