Silkscreen by Tanaami and Yamakawa.
AZITO is an online gallery which brings the hottest contemporary Japanese artworks to the international scale. By collaborating with Japan's leading galleries and artists, AZITO makes these works readily available for purchase online. And with new arrivals every month, this is truly your personalized insight into the thriving world of Japanese contemporary art.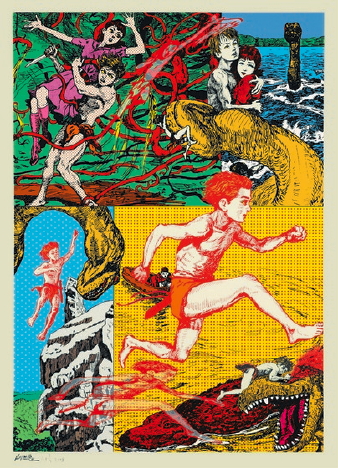 "Shonen Oja" by Keiichi Tanaami and Soji Yamakawa
AZITO is pleased to introduce the vivid colorful silkscreens by Keiichi Tanaami and Soji Yamakawa.
A dynamic duo, Keiichi Tanaami and Soji Yamakawa create prints/paintings that appear to pulsate with an electric energy not unlike like that of a neon urbanscape. With scenes colliding into one another, the fusion of events appear to combine seamlessly, albeit anonymously, as if they were parts of fluorescent storefront windows blurring into one another. Yet, each of these scenes has been intricately drawn in with the delicacy of premodern prints, clashing with a primitive computer graphic art pixilation. The juxtaposition of such high-energy colors and the deeprooted histories of premodern brushstrokes, fused with primitive graphic print, is what defines the aesthetic of this series of works. Appearing visually hyperactive, what's actually more astonishing is the real age of the artists.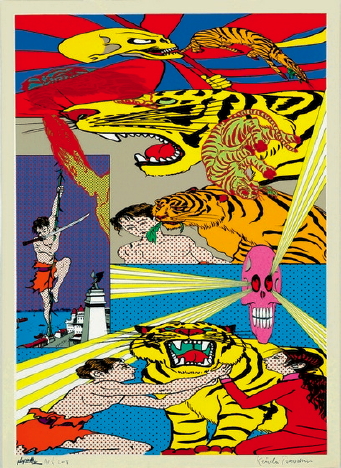 "Shonen Tiger 02" by Keiichi Tanaami and Soji Yamakawa
Keiichi Tanaami was born in 1936 (now 74), and Soji Yamakawa lived between the years of 1908-1992 (86 years). In the time of their collaboration, these two artists have both become recognized as some of Japan's most exciting producers of artwork. Tanaami has enjoyed a solo show at London's brightly shining Saatchi Gallery, while Yamakawa had an exhibition as the Sakura City Museum of Art. Termed, "picturesque narrative", Yamakawa's style influenced Tanaami's bold, expressive style in the 1950's and sparked a desire to create in a highly-satured color palette.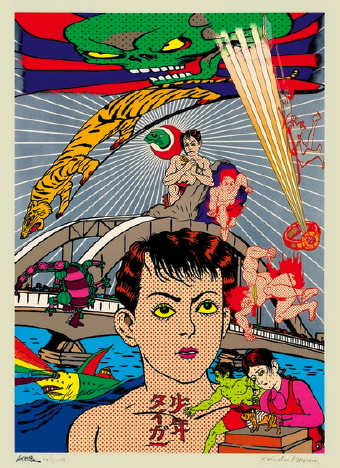 "Shonen Tiger 01" by Keiichi Tanaami and Soji Yamakawa
"Shonen Tiger 01" beautifully showcases these complexities. With a mixture of iconically Japanese motifs, such as the hinomaru sunburst, the tiger, the dragon, and the quotation of Hiroshige's bridges, paired with the unsettlingly bright color palette, this inal image contains visual depth in unexpected terms. Suddenly, it becomes apparent to us that the red dots on the main figture's torso are indicative of physical closeness, while gray sunrays seem to fall into a concave point, rather than converging into the universe. Although blocks of color are used in ways that are reminiscent of Edo-period prints, they actual terms of use are extraordinarily different. Super-pigmented color is common to both time periods, but not defining one logical plane of special logistics, and still featuring an organized explosion of colors, motifs, is what define the collaborative pieces into shockingly cool images.
All works are available on AZITO.
AZITO's partner gallery for this project: Nanazuka Underground
Text: Teriha Faye Yaegashi from AZITO

[Help wanted]
Inviting volunteer staff / pro bono for contribution and translation. Please
e-mail
to us.