Noise and Seattle, how many times have we ever heard these 2 words together? Lars Finberg carries on with such an heritage. He is a musician Seattle-based who dives into low-fi, reverbs and distortion still with melodic compositions. Yeah Finberg got his own experience from a home made DIY first experimenting phase. He was drummer of A Frames, and after sign by Sub Pop he left the band to concentrate on The Intelligence.
They have released 6 albums, debut Boredom and Terror, then 3 with In the red records Icky Baby, Deuteronomy and Fake Surfers in 2009, perhaps their most acclaimed LP so far.
Likewise French fashion brand April 77 call the band to release a 7 inches on their label April 77 records. They were artist of the month in November 08.
– "Operator? I would like to do a long-distance call. Washington, Seattle. Finberg, Lars. OK, I hold it- thank you".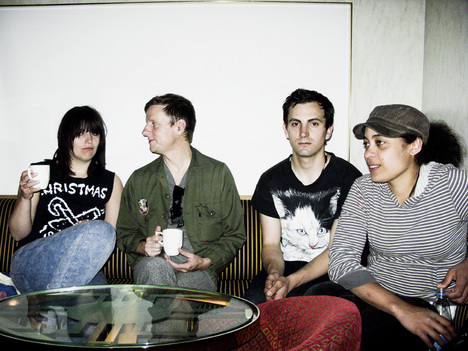 Photo: Victor Moreno
Why left A Frames barely a year after came out in Sub Pop?
They kicked me out. Now they have a real drummer.
About In the Red.
Great label, very nice guy. Very easy to deal with. Let´s you do whatever you want.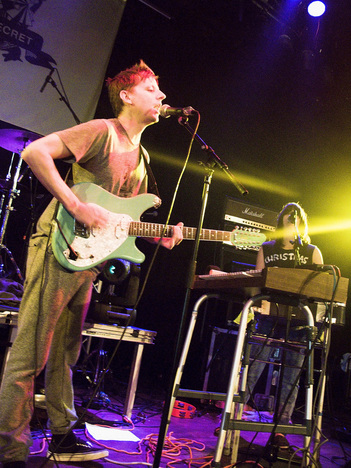 Photo: Victor Moreno
Some highlights in these 5 years of The Intelligence?
Paris is my favorite. We can sell out the smallest club in town about 5 cities. I wish we did better but that´s still better than we ever though we´d do. 5 people came to see us in my hometown – Bakersfield, California. 2 of them were my sister and brother!
Macedonia was cool and very cheap. I got dropped on my head and put in a neck brace and taken to the hospital in France, that was a highlight.
You are interested in lo-fi sounds, distorted voices, reverb and such. Tell me about your equipment and how do you usually record/compose.
We have broken 8 track cassette recorder I did few records on. It´s fun and easy and loud. We could only afford to record ourselves so it was raw and homemade. Now we have gone in a studio 3 times. It´s more fun and it sounds nicer to my ears.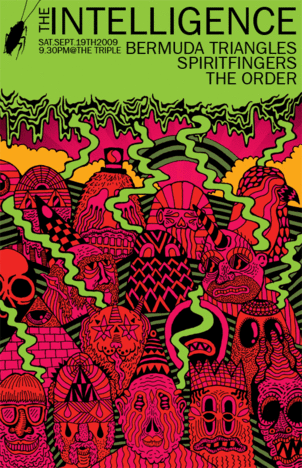 You usually performance with a 12-strings guitar.
I got it off ebay for 200 bucks. I read that Courtney Love designed it (I doubt she even knew they made it into a 12 string model.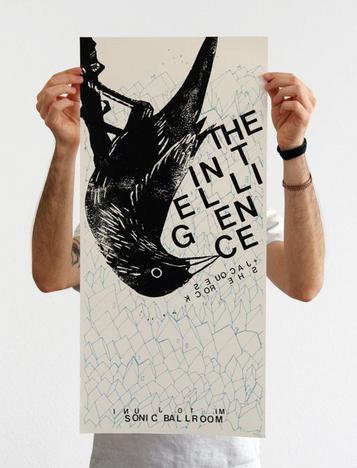 Is still the U.S the place to find vintage instruments in great condition and price?
I don´t know, I´ve never seen any cheap guitars in Europe so I guess so. Musicians sell all their money for drugs here so you can find a lot.
About April 77.
The just asked us to do a 7" and offered us a great deal. I still wear the trench coat they gave me everyday. They gave us a lot of records and a lot of money for a 7".
I don´t know if we´ll do anything else, they paid us and I never heard from them again.
Have you ever played in Japan?
No, we would love to go to Japan. If anyone wants to help us get there we´ll do it.
Text: Victor Moreno
Photos: Victor Moreno

[Help wanted]
Inviting volunteer staff / pro bono for contribution and translation. Please
e-mail
to us.