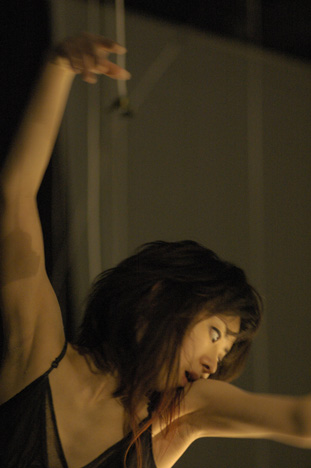 Photo: Banri
Do you have a core idea / common thought behind your dance performances?
It's a sense. It's like "do you understand this sense?". It's about my sense, your sense and the audience's sensse. And for me, to dance in various situations is training myself.
How do you get inspirations for your body expression?
Experience. I get it by visiting many places, experiencing and feeling things there. It's a part of my everyday life. I also get it on the stage in many places and unfamiliar places abroad. What will be expressed varies, depending on how imaginative you are. How you take it into your body is like daily practice.

L'EXPERIENCE JAPONAISE 2009 – Nîmes Biennial, 2009
You have performed abroad in such places as the USA and France so far. What's their feedback on your performance, compared to that in Japan?
Super great. In Japan the audience is aware of other audience and they are kind of shy, but abroad they give direct feedback as they feel. We usually take more than 5-6 curtain calls.
On June 27th, You will have an improvised dance session as Yoko Kemumaki at YCAM. Please introduce us about the event "ALL LOVES YOU!".
A big club will appear at YCAM. Cutting edge musicians will gather in the area where there are few clubs. So 3 musicians and I will collaborate on the session. There's no doubt we will open up a super spectacle world with dance, dance music and space. Groups gathered for the event include OLEO for decoration, YAMACHANG for laser lighting, ROKAPENIS to VJ and others.
Will you be collaborating with the other participating musicians for the first time? How did you decide to collaborate with them?
With EYE and OORUTAICHI it will be the first time, but we always wanted to do something. TOSHIO KAJIWARA is a director / musician for BABY-Q so we've been collaborating lately. He is the best as a DJ. As for MOOCHY, I know his music from clubs. He is a very sensitive musician. Staffs at YCAM and I looked over and over again for deciding the members. They all have their own world and they all are well-known in the province area. As for TOSHIO KAJIWARA, he's the only unknown, I wanted to share his experience in New York and his music sense with all.
What's your upcoming plan?
As BABY-Q, we will perform our latest work at Kichijoji Theater on August 7-9, at Ai Hall in Hyogo on August 28-30, and the new work tours to Dusseldorf, Munster and Berlin, Germany. We also perform ALARM! for CODA INTERNATIONAL DANCE FESTIVAL in Norway.
Yoko Kemumaki dance session "ALL LOVES YOU!"
Date: June 27th, 2009 Opens/Starts at 18:00
Place: Yamaguchi Center for Arts and Media [YCAM] / Studio A
Address: 7-7 Nakazono-cho, Yamaguchi
TEL: +81-83-901-2222
Admission: Advanced tickets 2,300 yen; "any" members & special discounts 1,800 yen – Tickets at the door 2,800 yen
Performed and directed by Yoko Kemumaki (Yoko Higashino)
Live /DJ: EYE (BOREDOMS / V∞REDOMS), JUZU a.k.a. MOOCHY (NXS / CROSSPOINT), OORUTAICHI, KAJIWARA TOSHIO (DJ BING), HARUCHIKA (people)
VJ: rokapenis Decoration: OLEO Lighting: YAMACHANG
http://www.ycam.jp
Text: Mariko Takei

[Help wanted]
Inviting volunteer staff / pro bono for contribution and translation. Please
e-mail
to us.