As for a dance scene, I was awarded grand prizes for dance competitions like the "Toyota Choreography Award" and "Yokoyama Solo Duo +", focusing on my quixotical creativity and bold and ambitious choreography. The feature of our work is a mixture of various aspects like dance techniques that are matched by none, stand-out presence of characters, video works tightly linked to dance using an analog way. Because of this, we are perceived as an edgy artists group and our dance works are talked about in various scenes. Recently we work internationally not only in Japan but throughout the world.
As BABY-Q so far, we did performances such as ALARM!, GEEEEEK, E/G, Matar o no matar. As solo works, I did ERROR CORD, VACUUM ZONE, MESs. The latest work will be performed in Tokyo at Kichijoji Theater as a program for New Dance Performance Tour 2009, and in Kobe at the Ai Hall, and follows the tour in Dusseldorf, Munster and Berlin, Germany.

BABY-Q Dance Performance "GEEEEEK" 2007
Please tell us about your solo work as Yoko Kemumaki. Where did Kemumaki come from? How do you work as Yoko Kemumaki?
Kemumaki stands for "blow smoke" in Japanese. So as blowing smoke, I intended to make the audience looking at my dance be confused as to where they are, who they are what the performance is. Besides that, I always used to ware a white costume. Taking photos of my performance, the white afterimage on the photo looked like smoke. Yoko Kemumaki does solo performances improvised with different genres of people like musicians, video artists amd designers among others.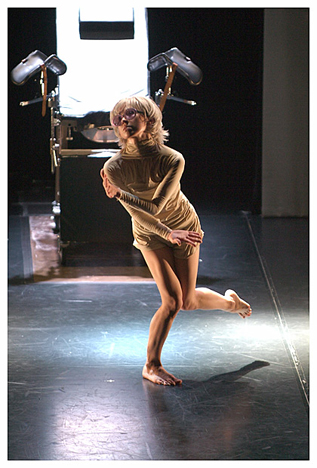 BABY-Q Solo Dance Performance "ERROR CORD /// pclost469hsholecp" 2005 / Photo: Yoshikazu Inoue
What is the difference between performances of Yoko Higashino and Yoko Kemumaki, besides as a dance group and solo?
It's like Kemumaki is more irresponsible than Higashino. Yoko Higashino is a part of BABY-Q and is responsible for it. Kemumaki is in a way more "bad" and more free. She can dance wherever she wants. Kemumaki is more free like appearing in unexpected places.
I can see you are also focusing on music, film, theater art and costume in your dance works. In music, for example, I see you are interested in noise music as you collaborated with Masaya Nakahara and Keiji Haino on the improvised session. Do you have any genres of music you are particularly interested in? How does music influence to your dance expression?
I focus on the quality rather than its genre. Basically I incorporate noise music a lot into my work, but I think a great deal of the world of music and I'm sensitive to music. There are many scenes that are inspired by music. It's more like music builds space rather than music as an accompaniment to our dance. The dancer's dance is not main either. Music and dance are equal. I want all the aspects including dance, decoration, music, film, lighting, stage space, costume, visual, information to be present on the same level.
Read more ...
[Help wanted]
Inviting volunteer staff / pro bono for contribution and translation. Please
e-mail
to us.