The inner beauty of the world.


Carrie Chau, one of the well-known illustrators in Hong Kong, spreads the positive message of happiness and love by creating her lovely artwork. Her name continues to grow with her imaginative characters and her new product line. Lucky for us! Her wonderful pervious exhibition "Indigo Child" was held at the end of last year in Hong Kong. She successfully created a dreamy wonderland with some huge 3-D sculptures in the heart of Causeway Bay; it surely was a great hit in the city to celebrate last year Christmas. While waiting for her next piece, Carrie has shared with SHIFT about herself and the show.
Please tell us about yourself and your background.

My name is Carrie Chau. I studied Design at The Polytechnic University of Hong Kong and UK's Kent Institute of Art & Design. My childhood dream came true as a professional painter in 2003 and I held my very first exhibition "Blind Fly" in 2004.
Besides creating my own work, I had co-operated with different brands such as Fendi, Google, Levis, Media Asia, Nike, Samsung etc in these few years. In 2007, I opened "Wun Ying Collection Gallery" in Central; it provides a platform for me to showcase the masterpieces to the public.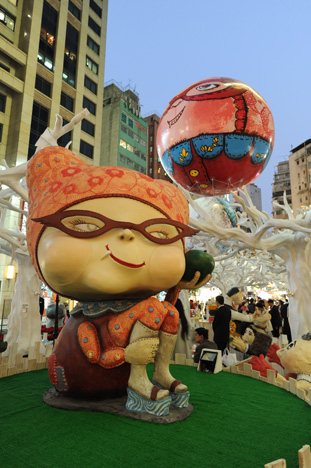 Indigo Child Exhibition at Times Square, Causeway Bay, 2008 © Carrie Chau
From your website, it says you believe your past life was an alien from another planet. Also, your previous exhibition "Indigo Child" was also related to aliens. How do you relate yourself with it?
I do think of myself as an alien. Sometimes, I don't communicate with people very well and I had some very strange thoughts in my head.
For my previous exhibition "Indigo Child", through this little story related to alien, I would like to remind people to live happily by loving themselves, loving others and loving our earth.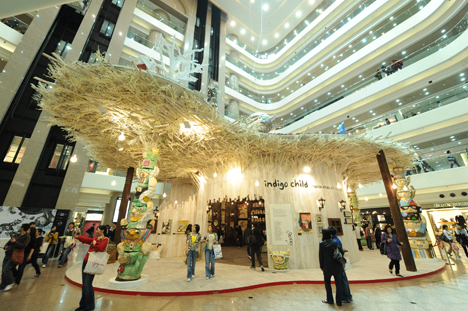 Indigo Child Exhibition at Times Square, Causeway Bay, 2008 © Carrie Chau
Speaking of your last show "Indigo Child" in Times Square, Causeway Bay, can you tell us the concept behind it?
'Indigo Child' came from the New Age Movement and this idea inspired me for coming up a new story – the aliens have plugged in new chips of new thinking and values into a group of babies in the late 70s. These babies grew up to love human beings and the earth, and their goal was to save the world. They had a different appearance from human beings of which these late 70s grownups had the elegant indigo-blue aura around them, that's why they were called 'Indigo Child' which was the main theme of my exhibition.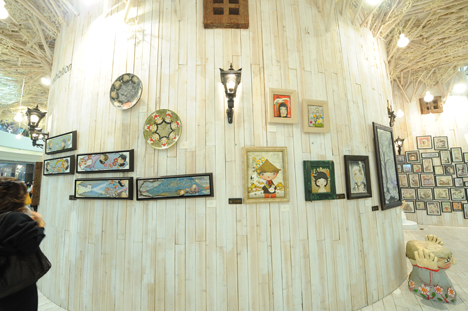 Indigo Child Exhibition at Times Square, Causeway Bay, 2008 © Carrie Chau
The "Indigo Child" exhibition was the talk of the city. Everyone is curious to know how you managed to pull off such an amazing show. Can you share the creative process with us?
It took me a whole year to prepare for the 'Indigo Child' exhibition from the theme setting to actual drawing and to the design of the exhibition. The exhibition was separated into two parts – outdoor and indoor, and it has been so far my biggest exhibition.
To prepare for the show, I needed to draw non-stop. At the same time, I also had to make a lot of 3D sculptures. The working process was quite exhausting. Fortunately, the exhibition turned out to be a huge success with the great help from my partners John and Heyman, as well as the assistance from my good friends. Since the theme 'Indigo Child' was a bit abstract and it could be very hard to transform into the exhibits.
Thank God! The whole process for the show ran very smooth. The weather was great; there was no rain during the exhibition. So the outdoor exhibits could remain in good shape and the public can enjoy my show under the sun. The amazing part was, right after the outdoor exhibits being dismantled in early Jan, it rained heavily the next day. I felt truly blessed that I had such a successful show.

Indigo Child Exhibition at Times Square, Causeway Bay, 2008 © Carrie Chau
What is the hardest part during the creative process? Which part did you enjoy the most?
For the hardest parts, I would say is brainstorming the ideas and the time when I designed for the exhibition, because it involved a lot of technical problems to exhibit all the artwork. Luckily, my partners and my friends helped me to solve the problems.
When the whole exhibition was set and ready to go, I enjoyed that moment the most. It was exciting to see the final result and it proved that our hard work had finally paid off!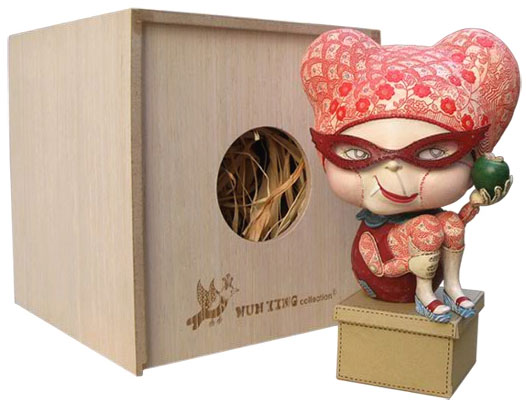 Blind Fly Figurine (4″), Limited edition 600 pieces © Carrie Chau
You have created a lot of different artworks under the
"Wun Ying" collection, what inspired you in your daily life to create the characters?
Hm… I think my mom, my dreams and my friends are the biggest inspiration for my work.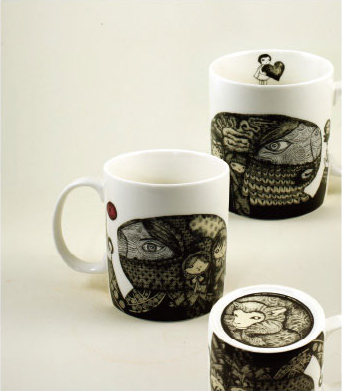 Indigo Child Mask – Mug © Carrie Chau

You have developed quite a lot of products based on your artwork, how did you first have this idea to apply artwork on the products? And what is your very first "Wun Ying" collection product?

When I was a kid, I had a big collection of the matchboxes. So I just tried to draw and print my work on the matchboxes in the beginning. I was hoping people could own my artwork by buying the products with a reasonable price. It turned out people loved them, so I decided exploring more varied products, so that people can have more choices.

Can you name us some of your favorite artists/illustrators/designers?

My favourite artist would be Taiwanese sculptor, Ju Ming. I'm thrilled by his Taichi and Living World series.

Can you give us a sneak peek of the project you are working on right now? Any exhibitions coming up?

I'm now working on a huge painting for 512 Sichuan earthquake fundraising, which will be held at Times Square, Causeway Bay in May, 2009.

Carrie Chau
Carrie Chau Wun Ying was born in Hong Kong. She credits her university life to the Polytechnic University of Hong Kong and UK's Kent Institute of Art & Design where she studied Design. She had finally realized her childhood dream of becoming a painter as her professional in 2003. Her first exhibition "Blind Fly" was hold in 2004. In 2007, her fourth exhibition "Black Sheep" was well received by the public.
She had co-operated with different brands such as Fendi, Google, Levis, Media Asia, Nike, Samsung etc in these few years. In 2007, her "Wun Ying Collection Gallery" was opened in Central "Noho" district, provides a platform for her to showcase her masterpieces to the public.
Besides painting, she is busy with her little garden. She finds her peace of mind by taking care of her garden and little animals. Now, her dream is to paint more artworks that can really touch the people, not because of the fame of the painter or the colors of the artwork itself. She wants to show the inner beauty of the world.

Wun Ying Collection Gallery
Address: G/F, 7 Gough Street, Central, Hong Kong
Tel: +852 2581 1110
http://www.wunyingcollection.com

Text: Justin Tsui

<!- Rubicon OS Player -->