THE 3RD PICTOPLASMA CONFERENCE
Character, Icon, Comic, Anime, Robot and Android.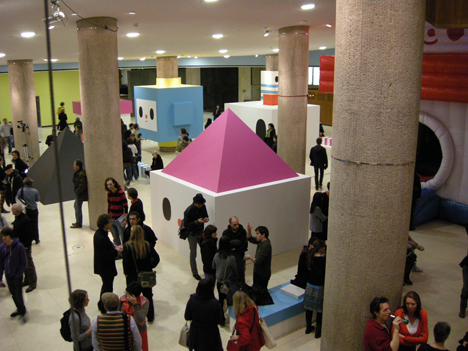 There is the most impressive one among Berlin's street posters. It is the 3rd Pictoplasma Conference's poster, which was designed by Boris Hoppek who is known by his simple character faces made from three circles. This poster is characteristic of his work and gives people a strong impression.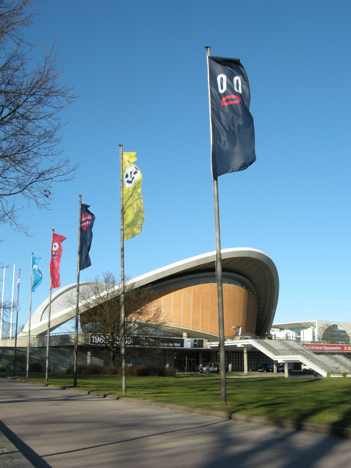 This event began in 2004, and its aim is to share the artists approach to character development, which uses icons created by artists and designers. Pictoplasma is a three day long event held at Haus der Kulturen der Welt located at Tiergarten (a center in Berlin) the 19-20th of March 2009. It includes presentations by artists from all over the world, symposiums, animation screening over 100 films, workshops and exhibitions.
This year Berlin had a long winter, but crocus started to bloom at Tiergarten during the event. There is a beautiful building in the park called the Haus der Kulturen der Welt. The first day was sunny and colorful flags with character faces were waving on the flagpole. I heard people speaking a lot of different languages, which made me realize the true remarkable nature of this conference.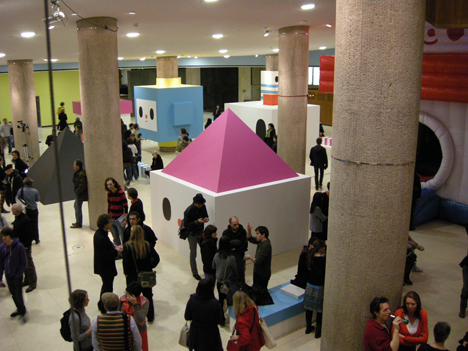 As soon as you enter the room you see the work of Florida's design unit, friends with you. Despite their simple designs like a combination of squares around a pole and a big block, the color, eyes and nose make for playful figures and feelings.
On the first day, the program started at 10:30 and more than 200 people attended the artist's presentation at 2:00pm. Boris Hoppek was introduced by his friends about his work and their relationship. The audience saw his wide range of work at the screening, such as art fair, exhibitions at a gallery, graffiti in Barcelona, works about immigration of Cadiz south Spain.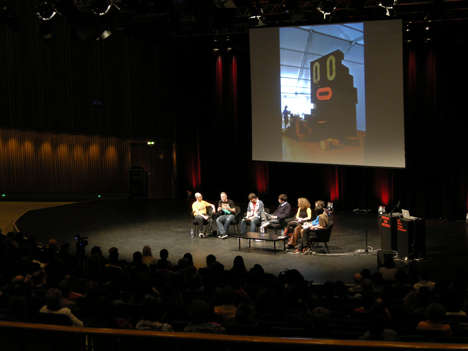 Next, Argentine illustrator Gaston Caba appeared in a cute hat. He looks like his character and made people laugh. At last he entertained people with his guitar.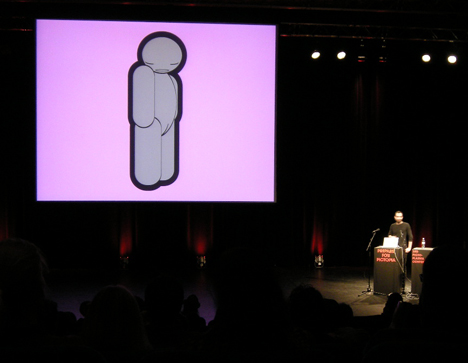 This photo is Faiyaz Jafri at the artist presentation.
This conference was great because it was not only made up of artists, but also
robot specialist, folklorist, media specialist and art historians. Ten specialists presented over a three day period about these three themes: Close encounters and character perception, Schaping global media character creation, and Rituals & masquerades get into character.
On the first day of "Close encounters character perception," each presenter had 30-min to give a presentation and had discussion time after that. The first presenter was Stefanie Diekmann from media theater who studied in Potsdam University and Michael Liebe who studies interactive computer games. The presentation was called "Black Dots. Minimal Characters in Comics, Anime, and Computer Games," which is one of the Canadian long-short comics. The content of the comic is only Black Dots family where the character develops through conversation. It was explained that Black Dots's "Zero Point" is originally from "Spirited Away" directed by Hayao Miyazaki.
The Black Dots characters come from Hattifnatt in Mumin, Kodama in Princes Mononoke, Makkurokurosuke in My Neighbor Totoro, and Susuwatari in Spirited Away. These characters are made by gathering a lot of similar shapes, which made me think that unknown people are connected from point to point in this Internet driven society. I also felt that this conference was great because this event was about characters that have distinctive differences from each other, but the Black Dots one was independent – like the last form of a character.
The second talk was about "super flat" of Takashi Murakami and then about android. After the discussion it was time to open the Pictopia exhibition.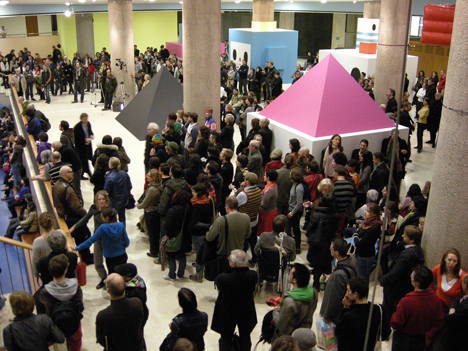 The exhibition place was divided into three different themes: Remix and Animism, Paradox of Corporeality and Get into Character. Many people visited even though was weekdays.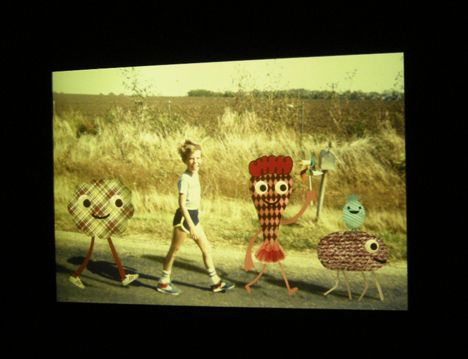 As it comes to the use or mixing of cute characters, normally opposite images such as violence and sex are used; however, "Slide-show" by Aaron Stewart was full of lovely photos with appropriate characters that were shown at "Remix and Animism." People were looking at it with their smile.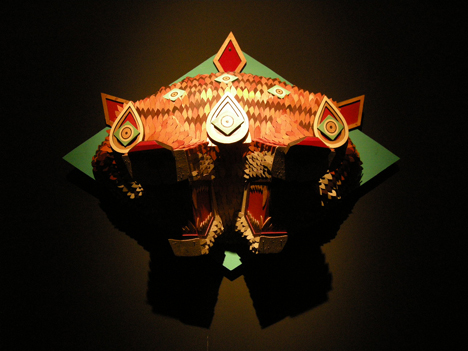 The most remarkable work was by AJ FOSIK. It looks as strong as nature even though it was exhibited in an artificial space. This symbolic animal, made from a piece of colored wood aims, "to make a symbol based on American folk art culture and traditional icon."
This work is from shoboshobo, who is an artist, illustrator and musician from France. "Paradox of Corporeality" matched the space, which shared a theme of a paradox between a two dimensional picture and a three dimensional shape.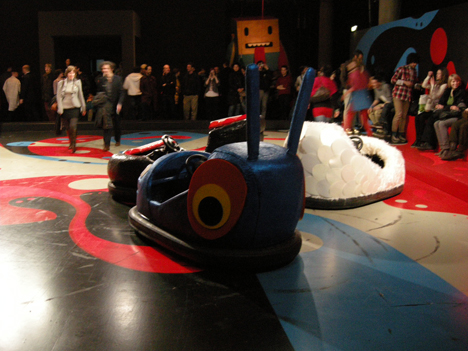 Rinzen's "gocart" exhibited at Get into Character. Once driven, the rabbit's eyes sparkle and light changes from red to blue through music. The character looked like it was moving freely like it was
alive even though it was driven by someone.
The summertime has started in Berlin, and this exhibition is being held until May 3rd. Why don't you go to see this exhibition whether you like the characters or not. If you go for a walk at Tiergarten after enjoying Pictopia, you might imagine your favorite character is looking at you between the trees.
The 3rd PICTOPLASMA CONFERENCE
FESTIVAL OF NEW CHARACTER WORLDS
Date: March 19th – 21st, 2009
Place: Haus der Kulturen der Welt, Berlin
http://www.pictoplasma.com
PICTOPIA EXHIBITION
Date: March 20th – May 3rd, 2009
Place: Haus der Kulturen der Welt, Berlin
Text and photos: Ayako Yamamoto
Translation: Wakana Kawahito
[Help wanted]
Inviting volunteer staff / pro bono for contribution and translation. Please
e-mail
to us.