Yoko Ono's first solo exhibition in China.
It wasn't easy locating Ke Center for the Contemporary Arts, but once you found it, you can't miss the giant poster of Yoko Ono which flanks its exterior.
I'm not sure if I'm comfortable with a 75-year-old showing her cleavage, that was the first thought that rang through my head.
For one who was born in the 1980s after John Lennon's death, I admit I am not familiar with the woman labeled a villain by Beatles' fans, not to mention her works – a conceptual artist whose works for the most part of her life were overshadowed by her relationship with Lennon.
With the wide media attention this exhibition, marketed as her first solo exhibition in China, has garnered, I came with no expectations, even as friends who had gone earlier told me it was not any good.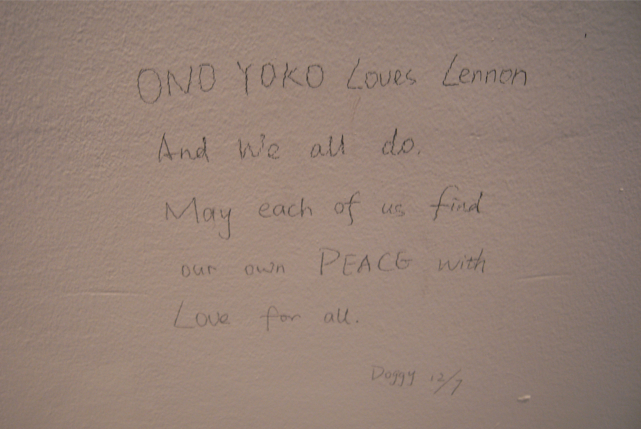 Her works were mostly interactive, bubble-wrapped in the dizzy utopian haze of love and world peace.
Visitors were encouraged to scribble on the wall, hang their wishes on the "Wish Tree for Shanghai" and mend the world as they fix broken pottery, as such blurring the line between artist and viewer.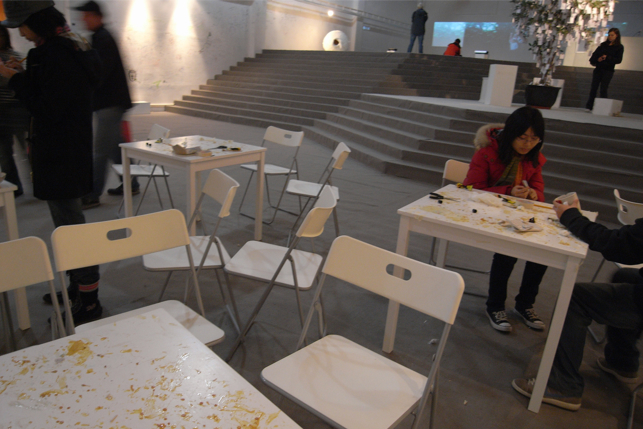 Two sets of identical blown-up photos of privates and nipples pervade one corner. Through "My Mommy is Beautiful", Ono reminds everyone not to neglect to show appreciation towards mothers.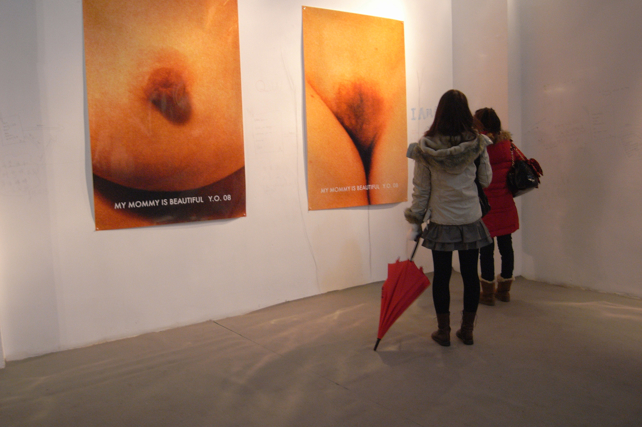 In "Telephone Piece", we see a retro white telephone with a note that says Ono may just call from wherever she is during the duration of the exhibition. It did not ring while I was there though.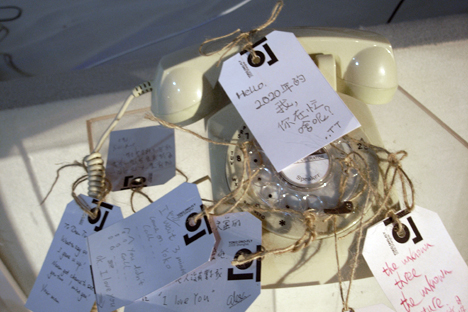 I suppose the RMB 30 entry may explain why I hung around for the longest time (RMB 20 gets you in to entire museums of artworks in Shanghai) and ended up watching a documentary showing videos on replay of Ono at exhibition launches and the opening of a peace tower in Iceland in memory of Lennon.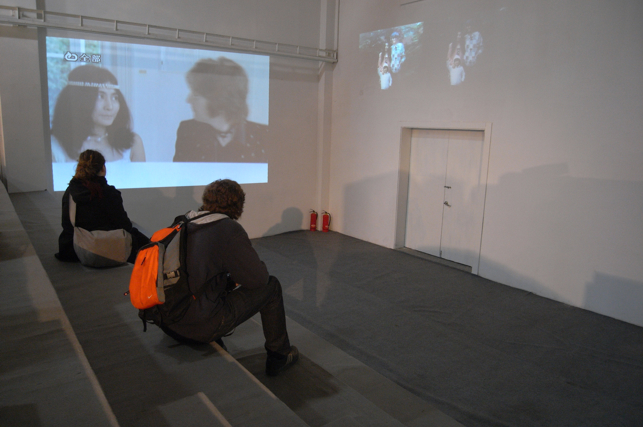 While I still do not buy into the idea of Onochord, all the cynicism faded after watching the documentary.
Ono reminds us of the need to appreciate our loved ones. If it needs to be hammered into our heads with Lennon's "Imagine" on repeat, so be it. That is just the means, the channel. What's most important is the message gets through, like it did in the end.
"Yoko Ono – Fly" is also the kind of exhibition that is probably best digested alone. I am sure I would have left earlier than I actually stayed if I had come accompanied, even with friends who might have appreciated her works.
It requires a certain degree of resolve towards reflection into the artist's beliefs in a room of bare interspersed artworks with recorded bird chirps. Once past the initial cynicism, her message is clear.
Essentially, her lifelong beliefs in the basic fundamentals of life: love, peace and hope.
As Ono noted in one of her works, "Cocoon is the womb you left to fly. The title of the show is fly. So I wanted to show where we flew from."
Yoko Ono – Fly
Date: November 23rd – December 15th, 2008
Place: Ke Center for the Contemporary Arts
Address: No. 613B, Kai Xuan Rd., 200051, Shanghai
Tel: 6131 3080
ke@kecenter.org
http://www.kecenter.org
Text and photos: Wee Ling Soh
[Help wanted]
Inviting volunteer staff / pro bono for contribution and translation. Please
e-mail
to us.