"What Are Crass?" Presentation
Portland is an amazing city. There is so much constantly going on that it's hard to keep up! From my adventure last First Thursday, I talked a bit with an artist at The Pony Club named Theo Ellsworth. He was telling me a bit about the Zine Community in Portland, which I didn't know existed, and how interconnected it is.

The Central Library in downtown Portland had been hosting a Summer lecture series called Zinesters Talking, which as you might have guessed, is an open lecture series from the Northwest's Zine creators and authors. Theo mentioned he was involved with an installment of the lecture series and invited me to come. Definitely one of the best lectures I've ever been to.
This lecture was led by Kelley Froh and Sean Christensen. Theo told me that he was one of five collaborators (!) of the Zine, alongside Catherine Peach, Stefan Saito & Amy Kuttab. Kelley Froh's comics presentation was good, but paled in comparison to Sean Christensen's showing, or rather, "show."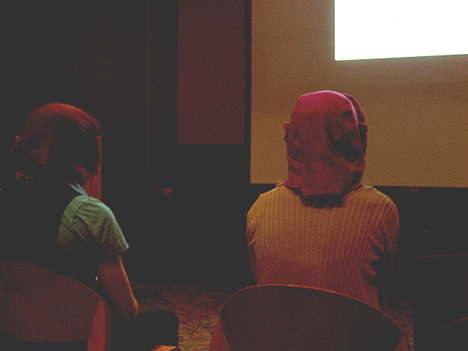 For his presentation, Sean read as a Crass while the other Crass was read by Raquel Dishner with music & sound effects by Gejius, a local electronic musician.
The presentation was something like a reading, but Sean & Raquel were wearing hoods similar to the characters in the comic. They both read the comic like they were the characters, which definitely breathed some life into the characters and scenarios.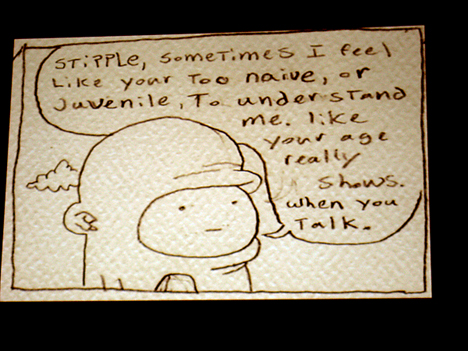 To give you an idea of the comic's premise, the Crass are eternal, androgynous characters that resemble teenagers more than eternal beings. They're fun, adventure-seeking, frantic, paranoid and totally relatable. The Crass are what I, personally, hope Angels will be like in Heaven.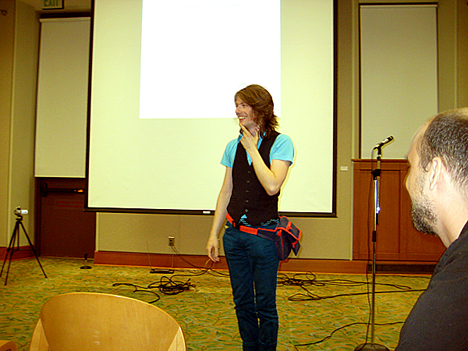 The music really added a nice touch to the whole experience. It made it cartoony, but in a fun way. Think Pee-Wee's Playhouse.
Sean said that this comic was their first one for the Crass series and it didn't sound like it would be the last one. I can only hope for more fun with these cute, pink-suited characters in the next installment! Grid Trek!!! (You'll get it when you read the comic 😉 )
Zinesters Talking
Date: August 30th, 2008
Place: Multnomah County Library, Portland
http://www.multcolib.org/events/zinesters.html
Text and photos: delilah.loves.you
[Help wanted]
Inviting volunteer staff / pro bono for contribution and translation. Please
e-mail
to us.