MEGUMI MATSUBARA WITH ASSISTANT
The spatial expression in a new context without a framework.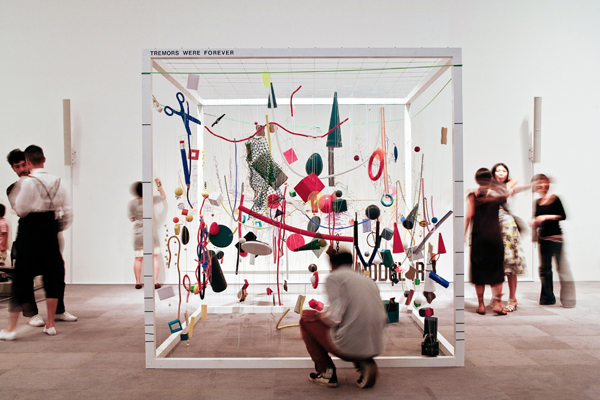 Assistant develops innovative creation and broadens the realm of activity–including space composition, interior design, architecture, contemporary art, installation, graphic design—widely anywhere in the world, as if a bird which is given its own way in vast open sky. Being in charge of the installation work "BOOJUM" now inconspicuously breathing in the ground floor shop of DIESEL DENIM GALLERY AOYAMA since late August, Megumi Matsubara with assistant told us about her activities.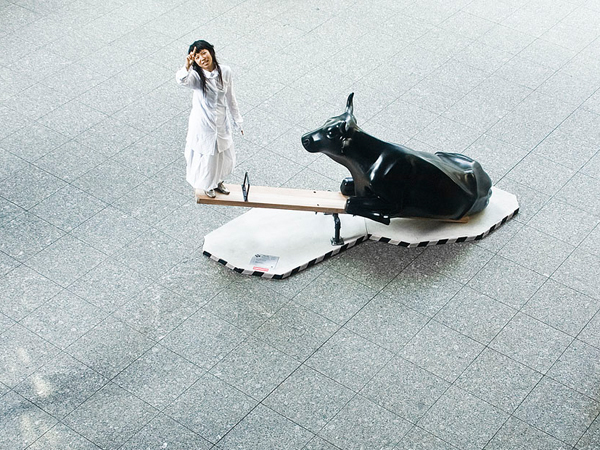 Photo: Sebastian Mayer / AEIOU
Could you tell us about yourself, including the line up of assistant?
Hiroi Ariyama, Motohiro Sunouchi and me opened a studio assistant in 2002. We respectively take charge of the projects of each own special field. The beginning projects include psychological map using GPS cell phone, the cards dealing with some world affairs called "Cards and T-shirts of Holiday Problems". Our projects ranging from architectural designs and exhibitions of contemporary art to sorts of building an archive system, we work on each project considering faculty of the others, as we have distinct specialization: For example, free performance, design, computer.
Could you tell us your past and ongoing activities?
We've worked on spatial designs and installations on the basis of architecture, and sometimes web-based works or planar ones. The process is usually the interpreting of the motive that comes to our mind, which will eventually be expanded into expression. Now I'm elaborating the plans for the exhibitions in Tokyo and Beijing, and soon we start designing houses.
Could you describe how Megumi Matubara with assistant was born?
Megumi Matsubara with assistant was never organized apart from the studio assistant. Rather, the studio assistant itself gave me great support when I decided to hold an unaccompanied exhibition at DIESEL DENIM GALLERY AOYAMA as the notion of "BOOJUM" was occurred to me. It's like parent-child relationship with which mother is helped by her children, or brotherly relationship. Now that it's been a long while since its start, assitant is not, in fact, me; I could be a part of assistant, and it could do me a favor. This structure enables us to be free. It had no obvious definitions and certain forms, but started on the concept not so much of its putting any expressions together, as expanding them as the starting point. Like this case, the relationship between the studio and me will have been reorganized into different one in which each can enjoy more freedom.
You extend your realm of activity widely into spatial composition, interior design, architecture, contemporary art, exhibition, installation, and graphic design. Do you have a common message among such a lot of expressive methods? And, please tell us the representative works or activities.
Not all the works have a mutual message, so I always pay attention not to repeat the same thing. I think we would be brought into the world of past and repetition with a little carelessness. Though it may be possible for us to be aware of the quality of having something in common in the course of time and space, we meet something stimulating in the daily life, always changing my thought into another, with our attention and awareness vague. The very thing I have in common through all the works is that I've been experiencing and imagining one by one into creation, as the border between daily life and work is fuzzy.
We've designed the space of some exhibitions.
The first one is "Totoro House" showed during London Design Week.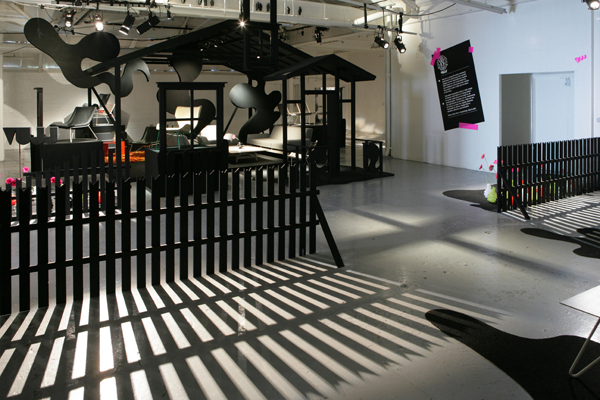 Photo: Carlo Draisci / Totoro House, Vujj exhibition design, London, 2006
According to the initial exhibition of Vujj, the Swedish furniture brand, we took in charge of its spatial design. This work gave us the opportunity to return London again, after we had left there. It described the scene when a summerhouse in Swedish forest assumed the shape of forest, which was finally scattered.
In the following year, again for the exhibition of Vujj in Milano, we created "Rock Garden," which was inspired by the scenery of shore reef in Sweden.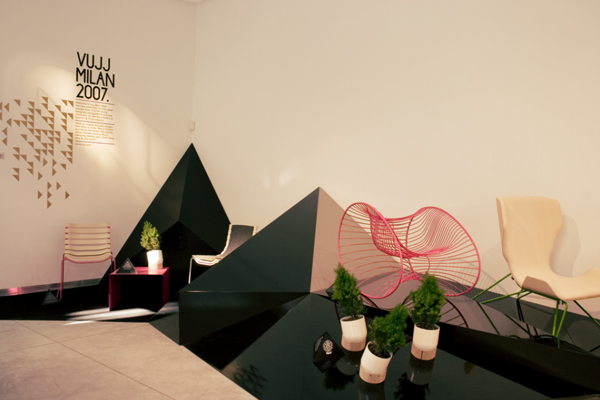 Photo: Fabian Svensson / Rock Garden, Vujj exhibition design, Milan, 2007
In autumn in the same year, we came to design as a guest creator a part of the main site of DesignTide in Tokyo. Called "Woven Marionette," it's as if black knitting would get unlaced as going toward the sky.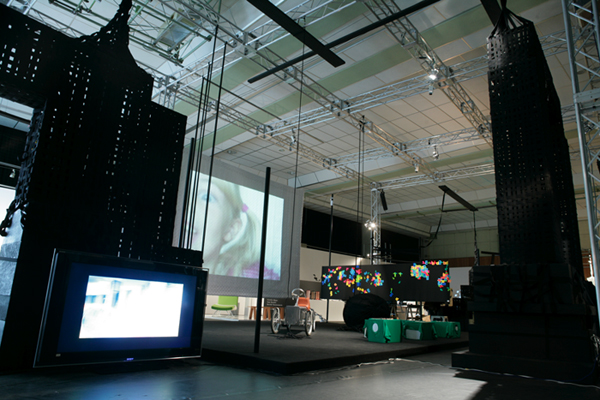 Photo: Frosty / Woven Marionette, Space and Facade design for DesignTide, Tokyo, 2007
In April this year, we were invited for the contemporary art exhibition called "mellow fever" aiming at the theme of contemporary Asia in Galerie des Galeries, a gallery space inside Galeries Lafayette in Paris, and showed there "Translucent Passage", in which many pieces of tracing paper were layered on and on, expressing the translucent streets inspired by vanishing old part of the city in Asia.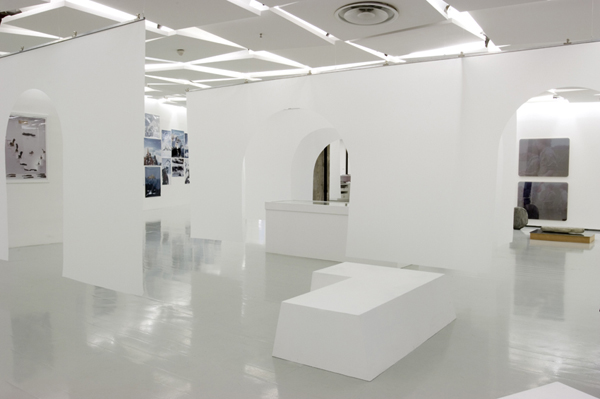 Photo: Marc Domage / Translucent Passage, mellow fever exhibition design, Galerie des Galeries, Galeries Lafayette, Paris, 2008
We did some interior design also. For example, Timberland in Shibuya Koen-Dori, opened in Oct 2007 with its concept Recycle and Ecology, was designed with waste lumbers that had had story in itself: some were used as footholds in renovating a shrine in Hiroshima, and saplings an typhoon brought down were made into moving forest with its original form kept.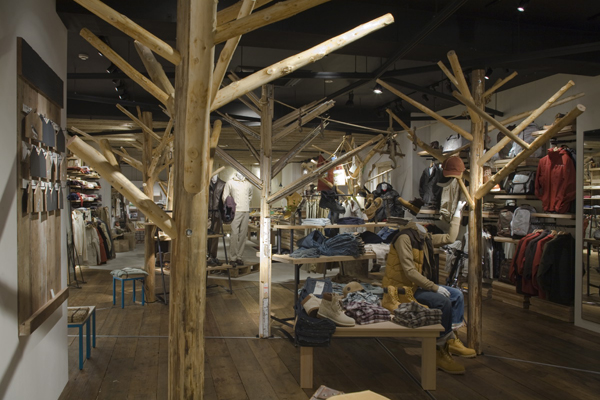 Photo: Sebastian Mayer / AEIOU / Timberland Concept Store, Interior Design, Tokyo, 2007
The latest work was the workshop "Picture Book and Architecture," where we were invited to the event of students who major in architecture. At first, they had to make a spatial model of their own, which, by thin materials such as paper and aluminum foil, were finished specially. Then flatten them into 2-dimentinal things, without their knowledge by that time. The crushed models were stuck to canvas, and they painted on it with letters or drawings, making up for the lost stories or things by the flattening. They were put together into a picture book. I like the process of this workshop.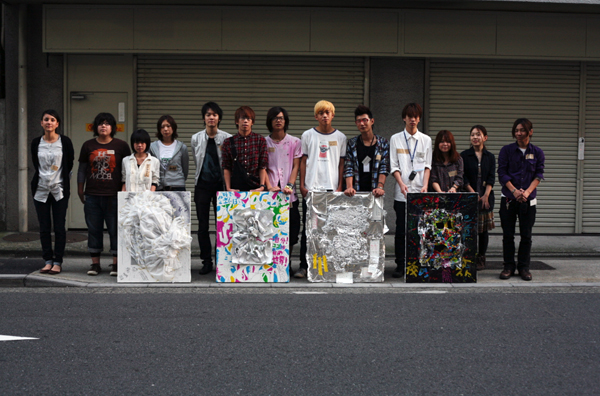 Photo: Sebastian Mayer / AEIOU / Picturebook & Architecture, Workshop, Tokyo, 2007
A little related to that, we produced a work attaching to Le Corbusier with children, on the Japanese magazine EUREKA and in Mori Art Museum. They were given a pair of round glasses and a bow tie and experienced architecture for the first time, pretending to be an architect.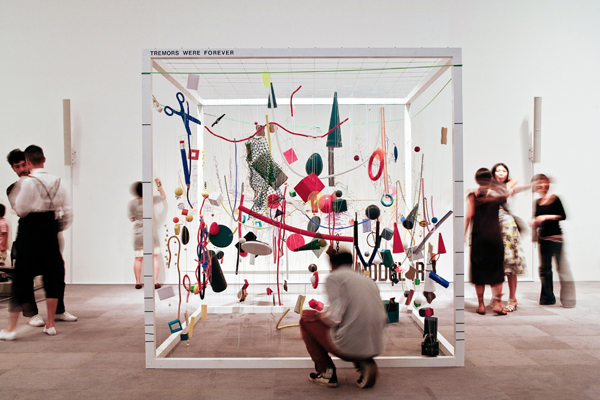 Photo: Sebastian Mayer / AEIOU / Tremors were Forever: Remember Le Corbusier, Workshop / Exhibition, Mori Art Museum, Tokyo, 2007
Also, in Cow Parade in Marunouchi held by the end of this month, I show "Lightness, or absolute absence of weight". The committee told me that only my cow was complicated, though the others generally painted cows with coloring materials. A little serious as it was, the other day I was very glad to watch a child and an old lady romping around the cow on seesaw.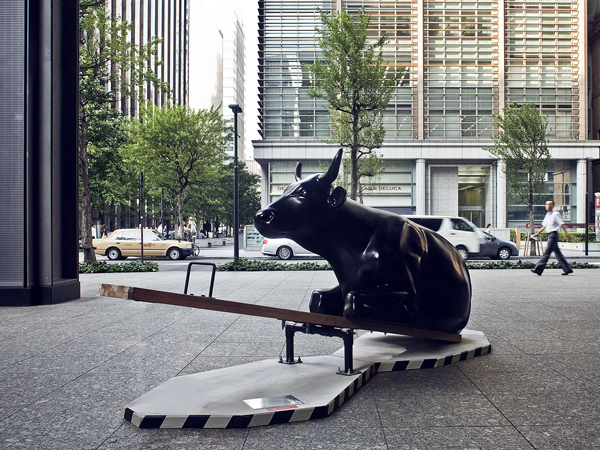 Photo: Sebastian Mayer / AEIOU / Lightness, or absolute absence of weight, Public Art, Tokyo, 2008
As for interactive works, in this summer, I made a web-based work "Simultaneous Diary For Oct 2008"–the map of many mixed commotions and memories. This work was a collaborative work with Yotaro Kubo, who is studying information engineering in Waseda University. It was created according to the special project of online magazine Public/Image called "Place, City and Town Stimulating Creators"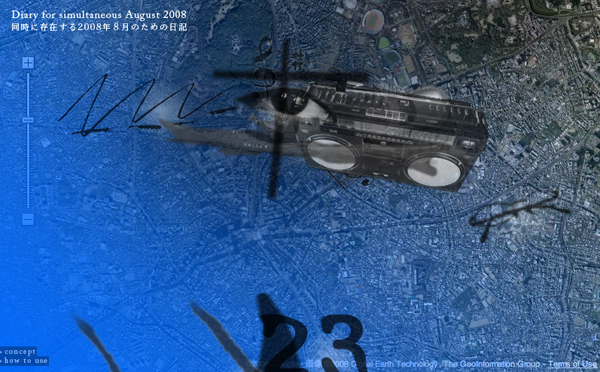 © assistant / Diary for simultaneous August 2008, Online work, 2008
Do you have any change in member according to each project? And how do you move forward your work?
The nature of each project is entirely different, so the casting matters. That can be said to all staffs concerned as well as narrowly to the members of assistant. For instance, outsiders including friends, a photographer, a musician, and a sociologist took part in ABSENT CITY, the exhibition about city held by opening our studio. Though the work was finished as caching them into it and the project was based on the studio of assistant, it was meaningless to put them order as the member of assistant. In this case, there were white pages that had previously been prepared for our conversation to be written down on while other pages were filled with my initial story. Similarly, dealing with the possibility of the factors that were related to photography or music, I and assistant didn't define all, but provided the place for them. Even if we controlled the work to some extent, we didn't conclude or finish it all. Their different creative activities and daily life were mixed. With an idea, a project would be successful in any form, but without an idea, it wouldn't be.
The work usually moves forward in a way that, breaking out from someone's positive energy, the activated agents surround it.

Photo: Sebastian Mayer / AEIOU / ABSENT CITY, Exhibition, Tokyo, 2008
When I looked at your website, I noticed you used white brick-like boxes in common in every work. I got excited, thinking as if tracing your footprint. Did you turn a particular idea or intention into them?
The bricks made of white paper were designed for the exhibition in 2005 called "Tremors were Forever," which was the first exhibition after we had left London for Tokyo. We made scenery from rooftop in that gallery. While we were searching for a studio after we had returned to Tokyo, we knew that it was seldom allowed to go to building roof in Tokyo. In London, it was standard practice for us. Feeling the sense of nostalgia, we made in the gallery space the view from rooftop. All were made of plain paper or photocopy so that we would unglue and throw away them after the exhibition; in the same idea, we made the bricks of paper. It was the first exhibition after we returned, so we have a special place in our hearts for the bricks.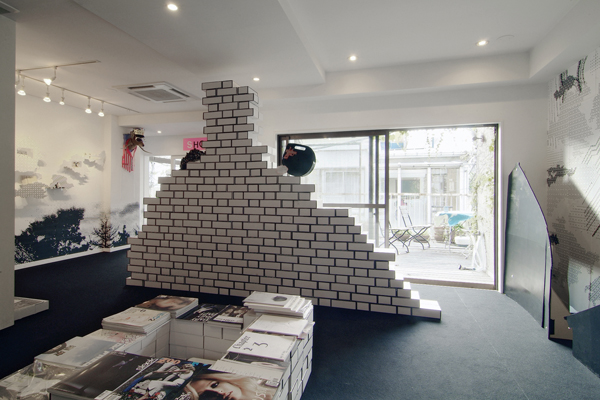 Photo: Motohiro Sunouchi / Tremors were Forever, Exhibition / Installation, Tokyo, 2005
The bricks were recently upgraded and revealed as silver bricks in "Absent Cafe," the installation made for Marunouchi Art Weeks April 2008.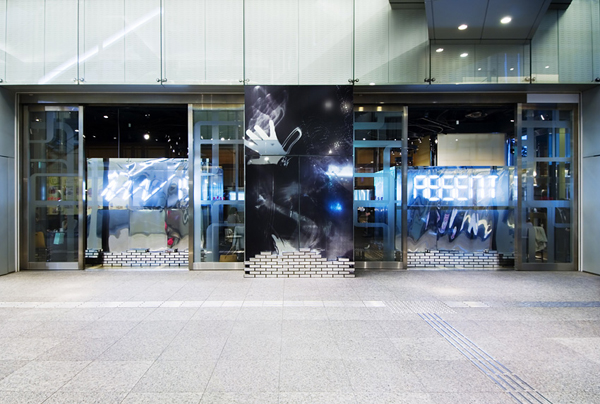 Photo: Martin Holtkamp / ABSENT CAFE, Installation, Tokyo, 2008
You operate all over the world as well as in Tokyo, don't you? Do you have any favorite city or place? And what kind of creative activity do you want to do there?
My favorite city is always changing. I think it depends on my situation and my surroundings appertaining to it. Now I like Beijing, because it's filled with what I don't know, and that adversely makes me feel fresh and inspired.
And I like London, where I had lived for a few years. Another is Cassis in France, where, well-known small port town and far from a city, there were so many slopes and alleys, changing the scene of the harbors and mountains with every walk. The scene of ever-lasting forests in Småland, Sweden has nice and quiet. The eerie of nights in Venice, Italia is also good. In Barcelona, Spain, though it is surrounded with two mountains, it's so compact that we can easily get to the sea or the top of the mountain.
The other day I visited Seoul, and it was interesting to know it was much more vigorous than I had thought.
Another one I am interested in is Lagos, Nigeria. Although I've never been there, now I'm working on the work about Lagos.
And, I also like nature in city. so I like Mitake, the forest in Tokyo.
I'm looking forward to visiting a new place. Recently I didn't have enough time to do sightseeing because usually I had to start working on the spot. Going into my working, it's inevitable to communicate with others. True it becomes a burden to me, but the nature of the city and people there immediately interpenetrates me after a brief thought. I think it gives me balance to have half-voluntary and half-work trip.
Could you tell us about "BOOJUM," the installation now exhibited on the 1st floor of DIESEL DENIM GALLERY AOYAMA?
BOOJUM is a device that makes insignificance in a balanced manner.
The machines whose names start 'B'–Backwards, Broke, Blemish, Because–maintain a sense of urgency, breathing in a space. In concrete terms, "Because" is a ever-oscillating pendulum, "Brooklyn" makes plants lose the sense of direction, "Backwards" repeatedly deflates and inflates, "Biscuit" throws musical notations into "Blind" according to the music responding to body movement, and "Bridge" encourages automatic pencil to start moving on "Broke."
The overlap of two things made BOOJUM into birth. One was the balance of things, which I had been thinking since the conception of this work. The other is the interest in "The Hunting of The Snark," the epic poem written by Lewis Carroll.
All of the characters' names in that poem are nouns that start with B, while Balance is the words that start with B. The word Balance and the nouns in Carroll's poem are not immediately concerned, the two happened to connect in me, in a sense that they are "nonsense." Then, consulting with a dictionary, I chose 10 words from all that starts with B. And I wrote a poem-like text using all 10 words: the first line is "Boojum is a mechanism that gives a Balance in nonsense…" When I wrote up this text, most of the work was finished and what was left was to spatialize it. I tried, considering the 10 machines, to give them a certain balance as I had in advance some formative ideas. I wanted to perceive floating "nonsense," paying attention not to give too many meanings, or perversely not to overworking to capture it.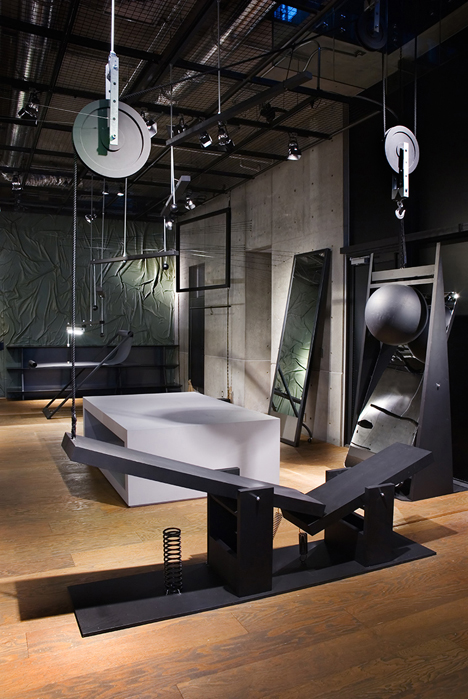 Photo: Martin Holtkamp / BOOJUM, Installation, Tokyo, 2008
From what, whom, or where do you get inspired?
Too many to write up. I'm susceptible to everything. Sometimes, even if affected, I forget it. Depending on my psychological feeling, I'm very susceptible to what I see while walking or going out.
And, I'm pertinacious enough to have to pin down, once I start look-up. In the process, I often get inspired, overlapping my background and episodes. It's like that I make the wrong turn while I scout the study, though I start searching what made my antenna go up.
It is interesting that I've got inspired by the dream for a few times. I've made some works straight from these dreams.
Please tell us your plan.
I've started some projects, though it will be next year when I can show them. One work of mine will be exhibited in Tokyo, and the other in Beijing. It's too early to give you the details, but they focus on politics and social issues challengingly enough for me to work on them.
And as for the studio assistant, we start housing designs in Japan.
What's your ambition in the future?
Now I'm willing to bring myself into the project which will make a new context, respecting the sense of 21st century; there may be no border among past, now, future in 21st century.
In this April, I took an opportunity to take part in the "mellow fever," the exhibition featuring Contemporary Asia, and it made me big change, because I had to express in spatial form contemporary Asia, though by that time I had no idea what it was.
And in this fall, I participated in the exhibition in Seoul, which featured Japanese and Korean artists. I gained inspiration from many encounters with other artists and some gallery directors, and feedback around my work. Previously, I used to cling to what was in very front of me, but I'm feeling the definite movements and chains that encounters bring. So from now, I voluntarily try to come and see people, clear a framework of me away.
Megumi Matsubara with assistant "BOOJUM"
Curator: Masaaki Takahashi(BRIZHEAD)
Date: August 30th, 2008 – February 8th, 2009
Open:11:00 – 20:00
Holiday: Unfixed
Place: DIESEL DENIM GALLERY AOYAMA 1F
Address: 6-3-3 Minami-Aoyama Minato-ku, Tokyo
Tel: 03-6418-5323
Text: Mariko Takei
Translation: Tatsuhiko Akutsu
[Help wanted]
Inviting volunteer staff / pro bono for contribution and translation. Please
e-mail
to us.