XOOOOOOOOOOOOX!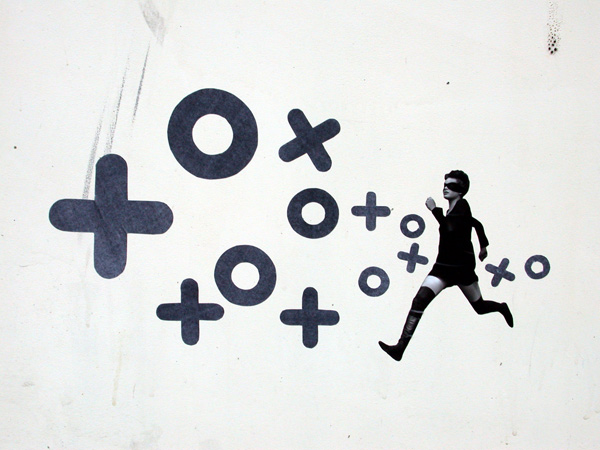 While the street art has been getting an attention in worldwide, its big wave is definitely surging in Berlin now. This can be demonstrated by the fact that there are so many street art related projects going on around this summer in Berlin. One of those is "Urban Affairs – Streetart and Urban Art Exhibition", which will be taking place in Friedrichshain, a Berlin's cultural center, starting from July 5th. Over 40 street artists all around the world, mainly Europe, will gather for their participation to the comprehensive exhibition of the street art. Xoooox is one of the remarkable participants of Urban Affairs, whose work style is recognized with his use of tags combining letters "X"s and "O"s and girl figures from magazine clips, which can be found on the street all around Berlin. Xoooox reveals his story on his creation of the street art.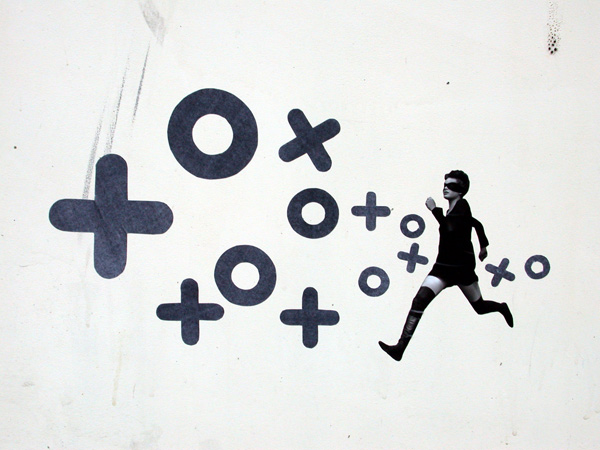 Xoooox, 2003. Courtesy of CircleCulture Gallery
How do you pronounce the name "Xoooox"? How does everyone call you? Where did the name come from?

For me it is simply xox but the most people pronounce the o's like in google. I choosed the name for its purism and symmetry. It can be switched, reflected or mirrored but it always remains xoooox. There is a huge space for interpretation. Its simple and noncommitted like a strong mind which do not allows the influence of anything.
How did you start drawing in the current style? Could you tell us about the background? Where have you been based?
My background is the classical graffiti style. In 1999 I had a job where I had a card that gave me access to a photocopier, that's when I began to experiment. Everything I had in my pockets I photocopied and pasted them together in a collage.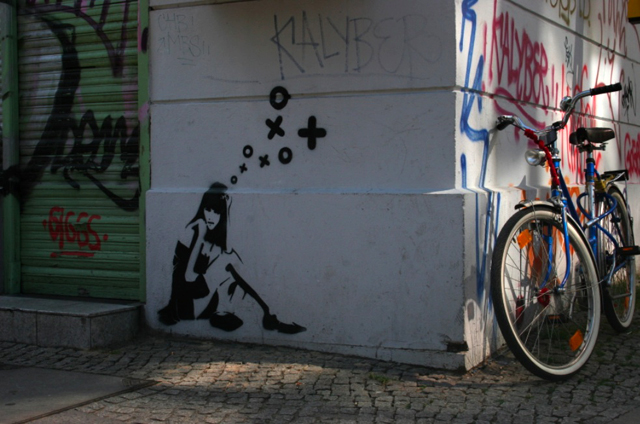 Xoooox, Berlin. Courtesy of CircleCulture Gallery
Please tell us about your works. Girls/women and their fashions are often seen in your works, and because of it's daintiness I have had an impression the you are a female artist. Could you tell us the concept or the reason you choose those objects?
I think the biggest influence is that I mostly grew up surrounded by girls and a lot of fashion magazines. It was more interesting to hang out with girls than boys. I like the way of sensibility for everything that women have and the way to wear cloths. It is a big clever game they are playing every day. Their wardrobe is a big arsenal of weapons. It is a homage for women, too.
Could you tell us about techniques you use?
I started with doing collages approx. 1993 because I had no computer and I wanted to do some more graphical stuff. My parents cellar was my little studio and it was filled with hundreds of fashion magazines like VOGUE, elle, Harpers…. so I grapped some of them and started to cover the wardrobe with cut outs. The first works in the streets were pasted until I switched to stencils because it is quicker to put them up and they last longer. But I am still working with paper collages.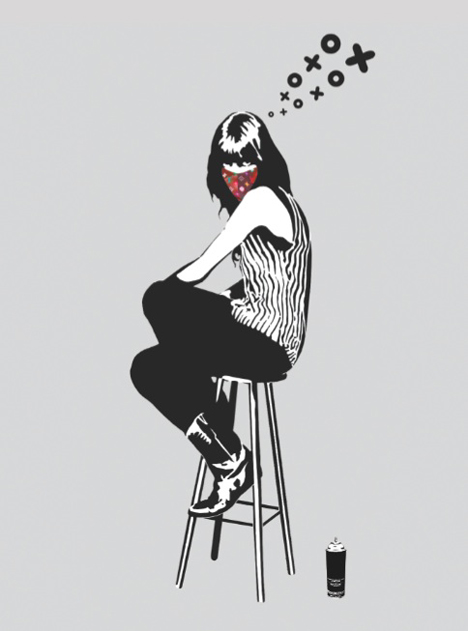 Xoooox, 2008. Courtesy of CircleCulture Gallery
You are going to participate in the exhibition "Urban Affairs 2008". Could you tell us about it? Do you have any plans for this exhibition?
The environment where the exhibition will take place is fantastic. It is an old crappy brewery factory hall which is perfect for exhibit this kind of works. There will be over 30 artists mainly from Europe.
Maybe I will combine my stencil work with installation.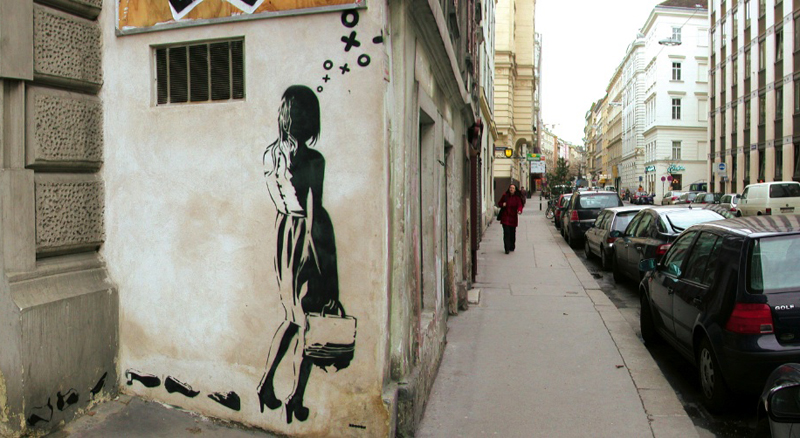 Xoooox, 2007. Courtesy of CircleCulture Gallery
It seems that the street/urban art is getting all international attention, and it's not that "underground" with many legal big events officially held. How do you feel about it? Also, please tell us about how you feel on the street art in Berlin now.
At the moment it is a big bubble which will hopefully burst very soon. It is blown up by media, advertising and book publishers that attracted a great deal of attention at street art. But you still have to develop your style of expression and it would be too easy to say "I stop doing street art, because of the trend". Berlin has the typical street art spots with a lot of paste ups but I like more the classical writing scene with the huge street bombings and the masses of tags.
Do you have anything/anyone you are specially influenced by?
The style and topic are influenced by girls and the fashion industry with all the things like models, glamour and superficiality. The first life size stencil work I discovered was from Blek Le Rat and I noticed the power of that simple technique.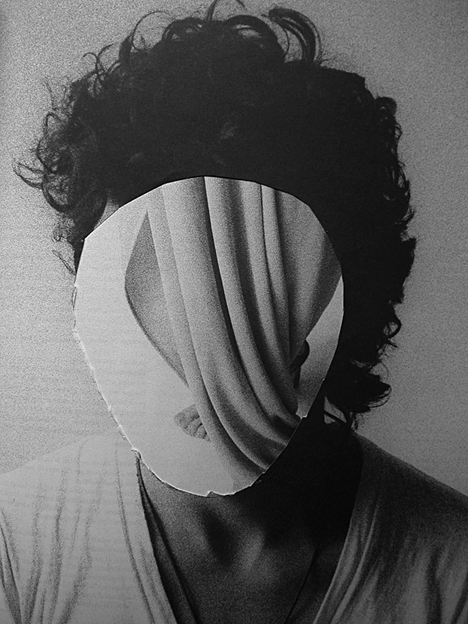 Xoooox, 2007. Courtesy of CircleCulture Gallery
How do you like to develop your street art works in the future?
I am currently working on my first solo exhibition and it is exciting for me to see like things develop by itself. It is boring to show the same stuff at a gallery you are doing in the streets. And working at the studio is a good process to get new ideas for the streets. This is a nice interaction.


Xoooox, 2003. Courtesy of CircleCulture Gallery
Please tell us about the solo exhibition. What and where are you going to exhibit? How do you feel like to approach your works for your first solo exhibition at the gallery, not on the streets?
The exhibition will be held at the CircleCulture Gallery in Berlin. The streets are the best way to communicate with the masses.
In a gallery you can move more deeper into the subject and fine-tune the works. I will show some classical stencil works, collages and objects.
Could you tell us the concept of the Shift Cover this month?
Think, it is so simple that it does not need a description.
Do you have a message to Shift readers?
Keep running!
Urban Affairs – Streetart and Urban Art Exhibition in Berlin
Date: July 5 – August 3, 2008
Open hours: Tue – Thur 14:00 – 21:00 / Fri – Sun 15:00 – 23:00
Opening: July 5th, starts at 15:00
Place: Brauerei Friedrichshöhe / PHB Club / Biergarten Friedrichshöhe
Address: Landsberger Allee 54, 10249 Berlin, Germany
http://www.urbanaffairs.de
Xoooox Solo Exhibition "Molotov High Heels"
Date: July 18 – September 10, 2008
Open hours: Tuesday – Saturday,14:00 – 18:00
Opening: July 17 2008, starts at 19:00
Place: CircleCulture Gallery
Address: Gipsstrasse 11, 10119 Berlin Mitte, Germany
http://www.circleculture-gallery.com
Text: Yurie Hatano, Mariko Takei
[Help wanted]
Inviting volunteer staff / pro bono for contribution and translation. Please
e-mail
to us.