Berlin based fashion brand – elegance and subculture.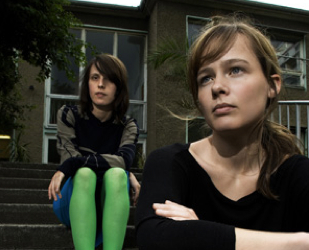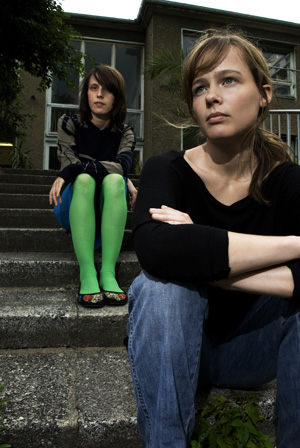 front: Clara Leskovar, back: Doreen Schulz
c.neeon is the name of a berlin based fashion brand duo of a textile designer Clara Leskovar and a fashion designer Doreen Schulz. They work together since 2001 and founded their label in 2004. Their style of clothes is a mixture of cut-up high eleborated surface textile design, German sharpness, neo pop art and elegant street wear.

In 2005 c.neeon was invited to the 20th 'Hyères Festival International de Mode & de Photographie' in France where they won the 'Grand Prix' of the festival. In the same year c.neeon participiated also at the fashion exhibition "moDe!" at Hillside Terrace in Daikanyama (Tokyo) during the German year, which represented a new generation of German fashion designers. They have done a collection for Topshop and have been showing at London fashion week. In 2006, the German museum of decorative arts showed the exhibition 'In Sachen: c.neeon'.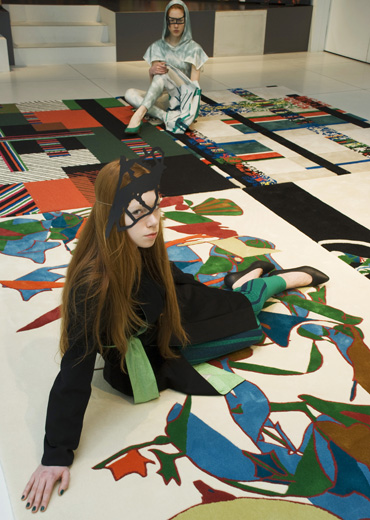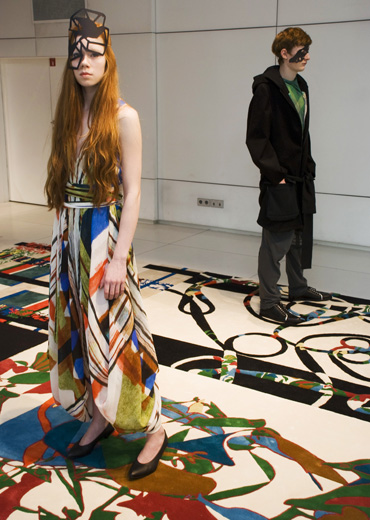 Vogelhochzeit – AW08/09 Photo: © Alex Kohout, Casting: Martin Franck, Make-Up: Feride Uslu
Where do you get your inspiration for your clothes?
Clara: As we have both studied at Kunsthochschule (= art college) Weissensee-Berlin we are quite influenced of the architecture and fine arts from the Bauhaus era, but also from the Viennese Workshops and Art Deco, russian Constructivism. Ah and we like also the artwork of Sonia Delaunay-Terk, because of her nice color patterns.
Doreen: You know our school was very interdisciplinary, which is a model also from the Bauhaus itself. It is the reason we work together now. We had the same courses.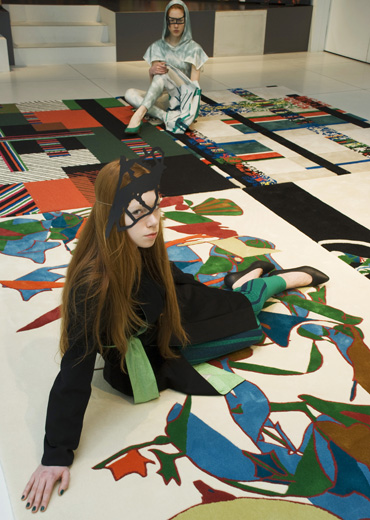 Vogelhochzeit – AW08/09 Photo: © Alex Kohout, Casting: Martin Franck, Make-Up: Feride Uslu
How do you work together?
D: Clara does the textile design, this means all the fabrics, their prints and surface design and production. I do the design of the clothes, means the cutting and sewing.
C: But we do also a lot of the conception and the final design together.
D: The form influences the surface and the print and vice versa. Our specialty is that we only use our own prints. Most of the fabrics are multi colored and we put emphasis on our special surface/ textile design.
C: That is the reason, that we never buy fabrics with prints from other companies.
Where is the production?
D: We do the prototyps here. The manufacturing is partly in east Germany (Sachsen) and in Italy. We like high quality work and try to work with sustainable manucfactures and are against the exploitation of poor countries.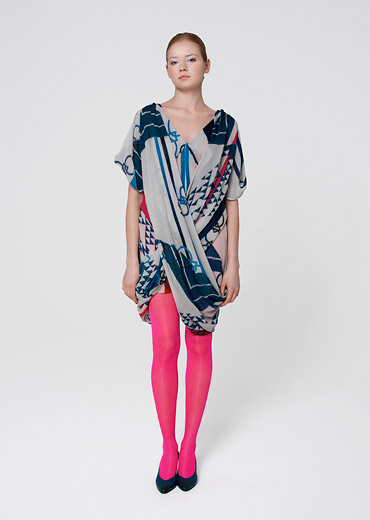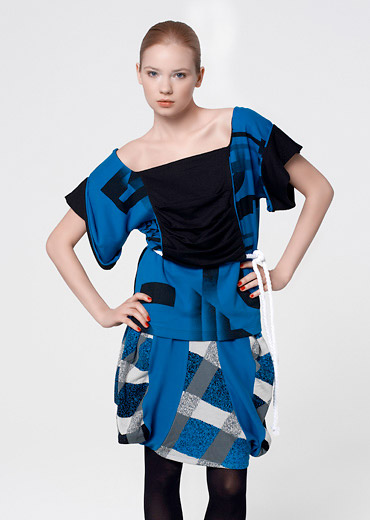 Sharing sectrets – A/W07/08 Photo: © Alex Kohout
What is your own story of c.neeon?
D: As we told you earlier we studied at Weissensee. Which is our startingpoint. We were quite influenced by Eva Mücke, who was then Professor for fashion design. Eva was a teacher since 1981 and did a lot of fashion also in the former east germany.
C: She worked also for Sibylle, which was sort of a East German version of Vogue.
D: Anyway, we graduated 2004 with a final collection and worked on some more collections until we applied for the fashion competition, which we luckily won.
C: The Grand Prix of 'Hyères Festival International de Mode & de Photographie' is one of the best awards for young fashion designers in Europe. But it is not an award where you get a huge amount of money. It is more a great opportunity for emerging fashion designers. We got a promotion support for one year and we could do a collection for top shop, which is an innovative uk-based fashion retailer.
Did you expect to win?
C: Noo! Usually the winners of 'Hyères' do quite feminine clothes, but our collection was more causal.
D: We presented in our winter collection clothes with strong colors. All models were enveloped in a lot of textile fabrics. So we were quite the opposite of feminine fashion.
C: It was the 20 years anniversary of the competition and the winners were not French, but German! This must have been quite a shock for some people. Usually high quality fashion comes from Belgium, France or England.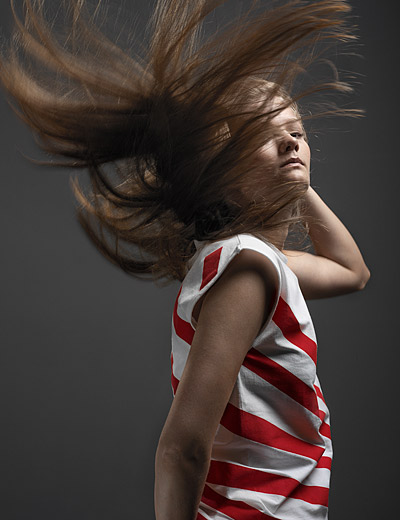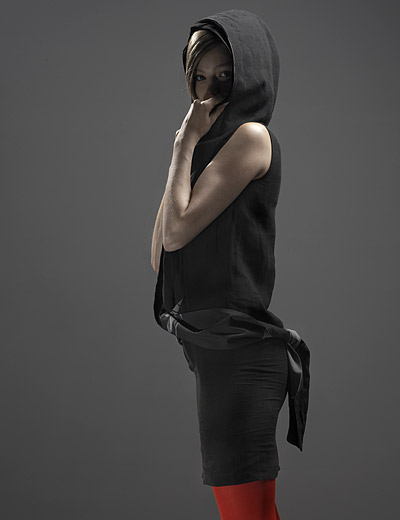 Mini collection for Topshop Photo: © Alex Kohout
What does C. Neeon mean?
D: The C stands for Clara and Neeon comes from my little sisters mispronunciation of Doreen. We wanted a name that didnt sound feminine nor masculine.
Why are you doing fashion?
D: Oh! For my self, I can say that my familiar background were also in the fashion business, so I came already as a child in contact with textiles and clothes.
C: When I started studying at Weissensee I was openminded. I just really liked surface design, colors and patterns. But then I got more and more interested in fashion, too. That was the time, when Doreen and me became friends. What I like on my work is that we can change our ideas from collection from collection. Each new collection is a new challenge.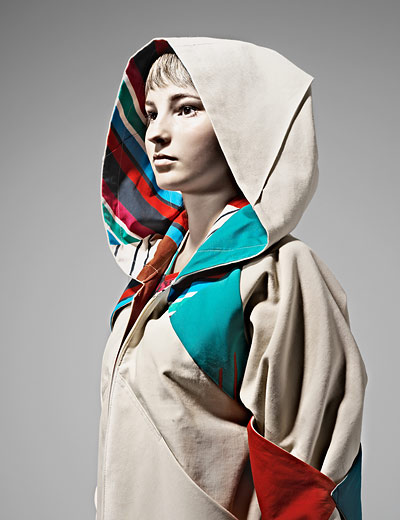 Do you remember the first time – SS06 Photo: © Shoji Fujii
What are your backgrounds?
C: I am grown up in Berlin. I lived in Kreuzberg, Tiergarten and then Prenzlauer Berg. Doreen is from Thüringen, which is in east mid Germany, but she is living in Berlin since more than ten years.
Let's talk a bit about Japan.
D: I was in Japan in 2005 during the 'German Year' in Japan. Tokyo was really nice. It was springtime, so we went to see some parks. In this sense it is similar to Berlin. It was quite calm in Tokyo. I expected it to be more stressful. I liked the side streets in Tokyo.
Do you like Japanese fashion design?
D: Of course! Yoji Yamamoto and Issey Miyake have done great work. By the way the Spring/Summer collection 2007 called local foreigner is a result of our contact with Japan. I was inspired by a obi (sash) used for kimono, which I found somewhere at a flee market.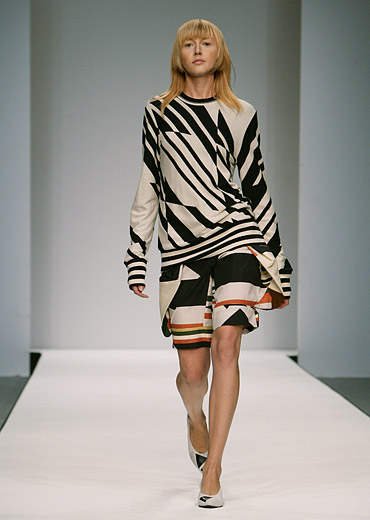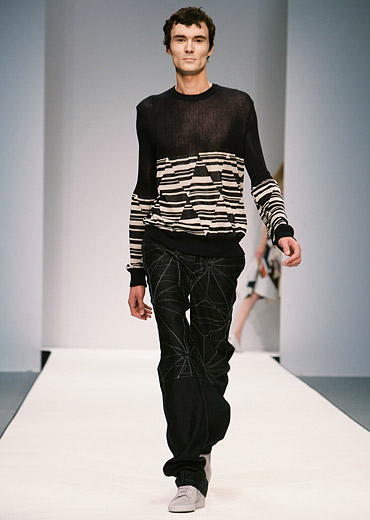 Local foreigner – SS07 Photo: © Alex Kohout
What music do you like?
D: I love to go to concerts epecially music with bands, like
indie-rock. I am not much in to electronic music. As a teenager I did a punk band! Anyway music is quite important for me and it is important for c.neeon for image building, especially on fashion shows. Our frist collection was called 'Daydream Nation' which is the title of a album of sonic youth and we used a song by uk-indie-band Pulp.
Do you enjoy the art and music scene in Berlin?
D: I was at the opening of Jorinde Voigt. I liked her work. But usually we don't have much time for going out a lot. But we enjoy the scene and we get inspired by people we meet during work.
How do you want c.neeon to develop in future?
D: We want to do more feminine fashion, but still keep our casual young image. But maybe a bit more grown-up: More elegance. We just finished our collection in March, so we rest a bit and look for new ideas. We have then our shows in September of course.
Text: Shintaro Miyazaki from la-condition-japonaise, Berlin
[Help wanted]
Inviting volunteer staff / pro bono for contribution and translation. Please
e-mail
to us.