Animator David O'Reilly's work stands out in many ways, but on first view, it would have to be the raw, pixellated style of graphics that burst and disentegrate in the screen, and his disregard for the traditional conventions of typical computer animated films. He's in love with 3d, but for all the wrong reasons. Forget slick reflected surfaces, render-heavy raytracing and Disney-esque cheesy voice-overs – here's a 3d maverick kid who's combining surrealist and darkly ironic narratives with the cuteness of colourful game-style graphics to humourous and often disturbing effect.
We're sitting in a café in Kreuzberg in Berlin, drinking a coffee, and chatting freely about his career, filmmaking and his recent move to Berlin.
David got his jump-start through being noticed by guru design company Shynola, after sending them his first ever animation piece while still a student. The response was overwhelmingly positive, which later led to him being thrown into a Shynola project, with little hands-on experience.
"They took a big risk – I'd never done 3d character animation before, but they basically threw me in the deep end. They knew the best thing to do was give me a load of stuff, just to see if I could sink or swim"
So while working his day job at Studio AKA, David was churning out frames at Shynola on the night shift, surviving off toast and beans. Pretty normal stuff really, for a nineteen year old.
"What I learnt at Shyola was so important – to do really amazing work you had to give everything.. It's really infectious to be around workaholics. They taught me how to not have a life. "
All aspiring animators take note – get ready for the slog! Picture hours bent over computer workstations, late nights punctuated by coffee, baked beans or cigarettes. For David O'Reilly, those long hours and poor diet have already paid off. With clients including the BBC and Sony, he's now at the point where he can work a few jobs a year, and spend the rest of his time developing and creating his own film works.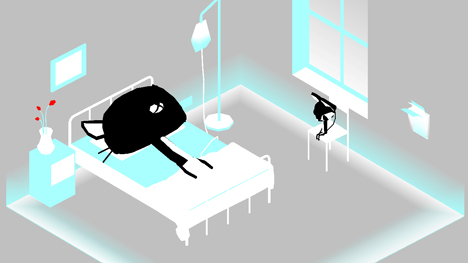 Stills from David's new series PSS
And he's just finished the first episodes of a new series entitled 'PSS – Please Say Something', a surreally comic tale of a domesticated couple – a mouse and a cat – and their life together in a futuristic city flat. It's Ren and Stimpy, minus the 'kook' factor, or as David puts it – 'Thirty second breakneck heartbreak internet turbo drama emotion at nine thousand kmph'.
It will be exciting to see the response David gets from this new series, especially since RGB XYZ, a short film created in a similar style, received so much critical acclaim. Although it was created a few years ago, it's just recently received a lot of attention, featuring in film and animation festivals around the globe, and this year, receiving an honourable mention at the Berlinale Film Festival.
Reading the media feedback, it seems the thing that perked people's attention most, was the kind of 'aesthetic anarchy' of his animative style, and the unashamed crudity his 3d graphics.
Read more ...

1
2
[Help wanted]
Inviting volunteer staff / pro bono for contribution and translation. Please
e-mail
to us.