Hollywood superstars, soldiers, and indigenous people live in perfect harmony among bar codes, lotería cards, and sweatshop sewing machines. This is the world as seen through the eyes of Romeo Galdámez, the Salvadoran graphic artist, whose collages merge the fragments of our Latin American identities into spectacular pieces of art. In his work, contradicting textures and paradox realities come together to make both a graphic and an ideological statement. Think Rauschenberg meets García Canclini's Hybrid Cultures. A master of serigraphy (also known as silkscreen), he's re-dimensioned this flat technique, popular in poster art, and given it new volumes.
Like many Salvadoran artists of his generation, the 12-year civil war meant fleeting the country for many years. Last month, he had his first solo exhibition in El Salvador, after his return to the country, four and a half years ago. I sat down with Romeo on the last day of his show, POSDATA, (Postscript or P.S. in English) to talk about art, Latin America, and where we stand in the global picture.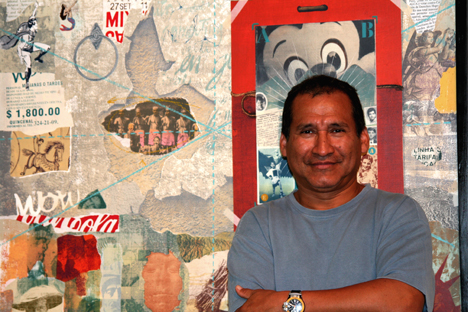 Why POSDATA?

POSDATA is an exhibit that I had prepared since I came back to El Salvador, four and a half years ago. Posdata is what you write at the end, that you could not write in the body of the letter, it's a compliment of the information.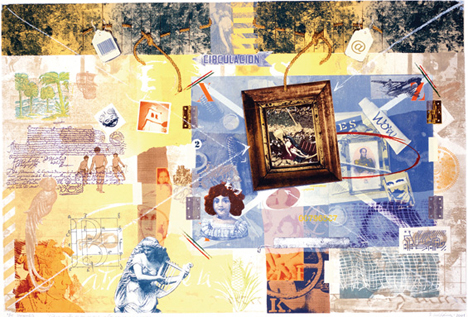 "Códice Nuestro Fin de Siglo y Otras Páginas de Memorias" (2001)
It's also a sample of the work I did on my journey in other countries, outside El Salvador. POSDATA is a subsequent delivery, where there are two new works that were done on my return. "Mosaico de Corazones" was made in collaboration with 16 young artists, some which were not even born when I left the country. I'm delivering graphic sums to my country.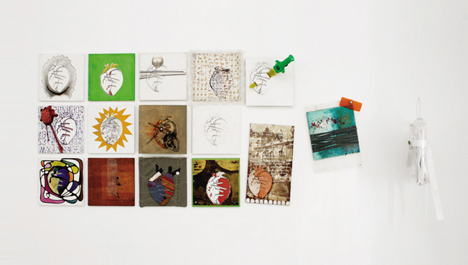 "Mosaico de Corazones" (2008)
Since when did you become involved with art? Did you always want to be an artist or did it cross your mind to be, say… a doctor?
I was born in a small town in the department of Cabañas. I always wanted to explore and know more and looked at my context from different angles. Art allowed me to see my world in a different light.
I was given the opportunity to study at the National Center of the Arts in '72, which back in the day had a great program with foreign teachers that gave us new points of view.
Even though I knew that studying this career was almost an act of heroism and bravery, I knew it was going to bring other kinds of satisfactions. This was the kind of career that you knew was not going to bring bread to the table because of the social and economic conditions of our country. In short, at this point in my career, I can say that thanks to art I've had a notion of the world, I've traveled the world, met very interesting people.
Do you consider yourself obsessive?
In the apparent chaos of my work there's order, and in that sense there has to be rigor in taking care of proportion, sizes, colors, balance. "The unity in variety and variety in unity" as Kandinsky said. There's an intention behind each work, and it requires an internal surgery. I want it to achieve an impact; I want it to communicate, to generate emotion, sensations and feelings, to touch people's conscience.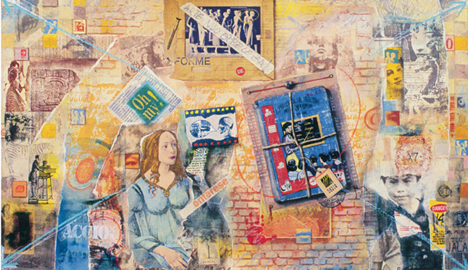 "Libro Escolar Objetivo, 58210… oh my code" (2001)
So, are you obsessive?
Without falling into any pathology, obsessed in achieving an objective. They say people from my zodiac sign, Capricorn, are stubborn, like goats trying to get to the top of the hill.
Serigraphy had been, almost exclusively, associated with posters, utilizing high contrast and a limited amount of inks. I wanted to remove the stereotypes associated with serigraphy, give it new dimensions, value and take it to a new pictorial level, no matter what it took. My pieces have an average of 100 inks. My obsession has nothing to do with getting the job done in time. Some of my pieces take up to six months to make. So it's not a battle with time, it's a battle with concepts, and the structure of my work. In order to demystify the concept of serigraphy being flat, I had to work it in various "layers" to give it more dimensions. Sometimes an area of 10 centimeters can take up to 20 different inks to highlight a small piece of lace, for instance, and even a month of work, in order to achieve my goal. If that's obsession, I guess I'm obsessive. (Laughs)
I was just about to ask about that… Why did you choose serigraphy, your redefinition of serigraphy, and collage?
I took on Graphic Art because I'm interested in its multiplicity. The reproduction aspect of serigraphy excited me, when I first discovered it, because I could create a piece that would get to more people. The lower cost was also a factor in choosing serigraphy. I could create a single painting valued in $5,000 but with serigraphy, I could make a series of 20 and divide the cost in 20, and 20 people can have my work. It's an ideological matter, because there are artists that don't want to see their work reproduced, as well as a collector that doesn't want another person to have the same piece. It also demystifies the concept that a work of art has to be unique.
Collage was my way of reflecting our contemporary world, one of cultural fusion, hybrid cultures. I didn't want to make romantic post cards; so many others do this, and do it well.

"Nuestramérica 500 Latina" (1992)
There are a few recurring themes in your work: the heart, indigenous people… Tell us a little bit about them.
My work is not abstract or intimate, it's very sociological, and therefore, different elements of my exterior world appear repeatedly. I approach people and their context, their objects and events. I register this range of images that speak of a historical moment.
I made a series on the 500 years of the encounter of the old and new world. There were images of Mayas and of the Spanish conquest merged with elements of the Mass Media. It's a fusion of images of our past, present and elements of our identity. We're transforming into a new culture, the identities of our ancestors are becoming extinct. This is the theme of my installation, MOMENTUM, which calls us to reflect upon where we're going and where we are.
Although cultures are ever changing, not something static, sometimes we're in disadvantage to others that have much more influence to change us. Our country is in a process of change.
A new recurring theme is the "@" symbol that I've used in one of my latest works "Apropriaciones del Territorio". It's a vision of an author that traveled the world and therefore knows that the universe is wider than this country. The citizen is part of a universe, his country is not everything.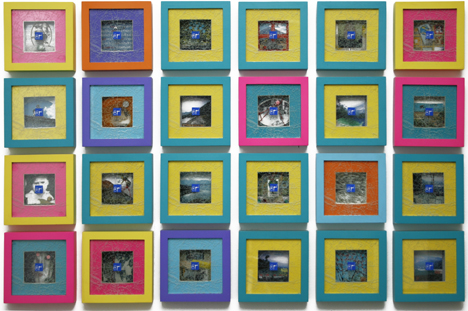 "Apropriaciones del Territorio"
You've produced part of your work in Mexico and Brazil for years. How did your time abroad influence your work?
The theme has always been the same, but the process has been changing. The experience in Brazil was very interesting.
El Salvador fits 200 times in Mexico and Mexico fits 4 times in Brazil. That means that I jumped to a country in which mine would fit 800 times. That also influenced my perception of things; it made me more open, more cosmopolitan. Mexico was a good platform because it has a tradition of graphics; they have a historic notion of the arts. Art is one of the prime sources of tourism.
My work with the United States and Canada gave me a notion of the discipline, ecological and humanitarian conscience.
I returned to El Salvador conscious that I'm here and in the world. Contrary to most immigrants that leave the country every day, I was coming back, knowing that I can produce work from El Salvador for the whole world.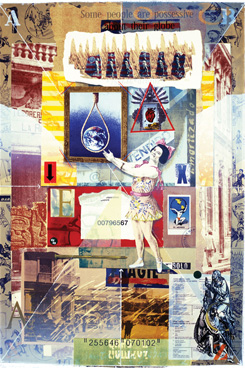 "Sensacional…con(cierto) collage de corazón y la global collection." (2002)
How did you find your country upon your return?
Mine was a very restless generation. The work that was rejected back in the day, has now been legitimized. I came back and now my work is current and accepted…I'm 52 and my work is young, being exhibited in a center for contemporary art.
I feel like our young artists still need to grow and mature their content in order to find their own language. Although we're in a globalized world, we need to have a face and a name to stand out. El Salvador has many strong phenomenons that need to be approached in a mature manner, no matter how experimental the form is, themes such as immigration have to be covered.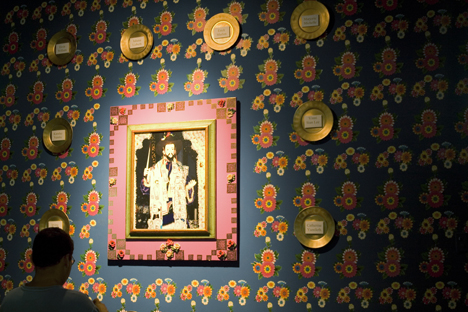 "Momentum" (2008)
That's why I took the time to talk about our cultural transformation in this exhibit, the influence of English in our lives and how badly we read it, which is another cultural form.
How would you describe the Latin and Salvadoran identities?
That's a complex question. First of all we have many identities. Even Salvadorans have many identities. We still don't have a face, it's a process. We're under the American influence and that will result in something.
Before World War II, our influence was European, after that, the United States began to exert hegemony on the rest of the world. My generation was rebellious in that sense; we didn't like to be given a number. New generations don't have that conflict; they want to be a number to feel secure at work, at school. This will have a deep impact on our identity as well. We don't exist as a pure Latin America. I would dare to say that we're not consolidated as a culture, so we are fragile to adopt new conducts.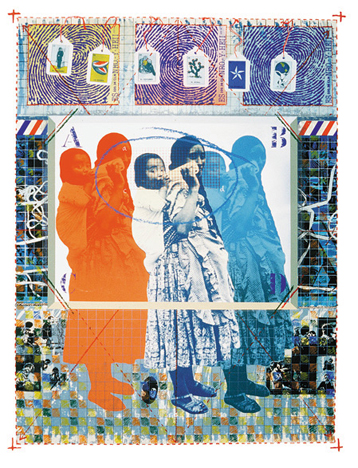 "Reflecciones de identidad" (1992)
Where is your work heading?
I'm currently in a new process. I'm starting a series of object-art. I want to continue to talk about people, now more focused on their territory, in a very worldly code.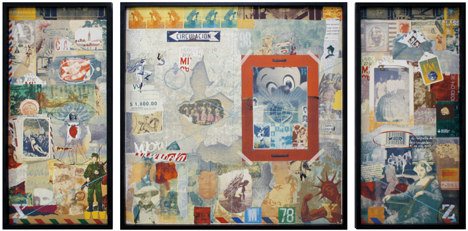 "Memorias Unidas (Páginas en Construcción)" (2003)
Where do you think Latin American art is heading?
I think that as part of globalization, it's only natural that Latin American art has a more global form. Traditional painters will continue to make an ode to their hometown. These will remain folkloric souvenirs. But the new trends are becoming more common ground with the rest of the world. Latin American art is no longer the romantic stereotype; it's become more unified with the languages used in the rest of the world. But there are also deeper areas in Latin America, where there is no access to Internet or electricity. It's a paradox that there are still some people here that have never been to the ocean, and when someone doesn't know the ocean, they don't know that there's so much more on the other side. It's a huge contradiction. So the issue comes when we have to learn to coexist and respect our diversities.
El Salvador and Latin America are diverse, so we should try to unite the fragments, icons and pieces of each identity to try to understand our world and to coexist in peace.
Text: Erika Saca
Photographs courtesy of CCESV
[Help wanted]
Inviting volunteer staff / pro bono for contribution and translation. Please
e-mail
to us.