My expression of lines is something like the particle floating around us.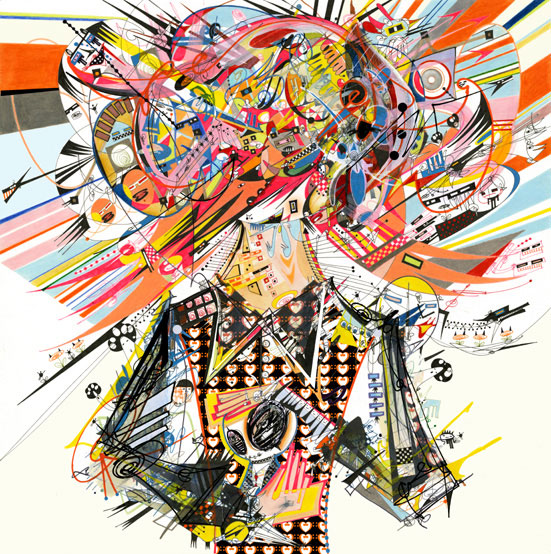 "UT inspired", the T-shirt design project with world artists throughout the curator in each city in the world. The 5th series was curated by Shift, and the unique artists gathered and designed UT under the theme of "Number".
An illustrator and artist based in Kansai area, ZAnPon was one of the participants of the "Number" series. You may have already met his illustrations in the collaborated projects with large corporations. Through "digmeout", a project keeps on promoting and exploring young artists based in Osaka, ZAnPon is steadily expanding his activities including domestic and international exhibitions. We interviewed ZAnPon, one of the hottest young creators nowadays, about his projects and view of the world.
First of all, could you tell us about yourself?

Nice to meet you, I am ZAnPon, born in 1981, living in Kyoto. The main activity is featured by "digmeout05" in 2005, and then, the CD artwork of "SEKAIICHI", "RESONART project participation" of Resona Bank in 2006, the illustration of the cover of the encyclopedia of Shougakukan, and the work of the sony limited edition model production of canvas@sony in 2007 etc.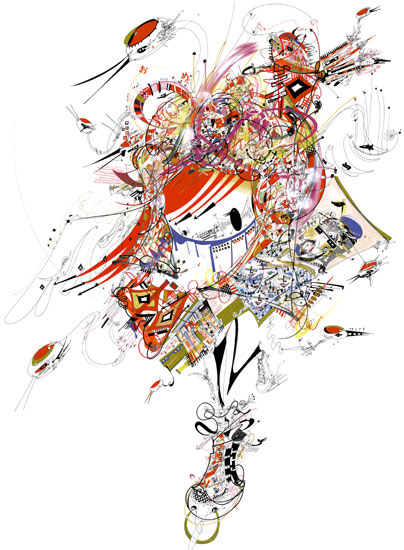 Tell us about recent activity or project.
I collaborated with SONY material in canvas@sony, a project which SONY started from 2007.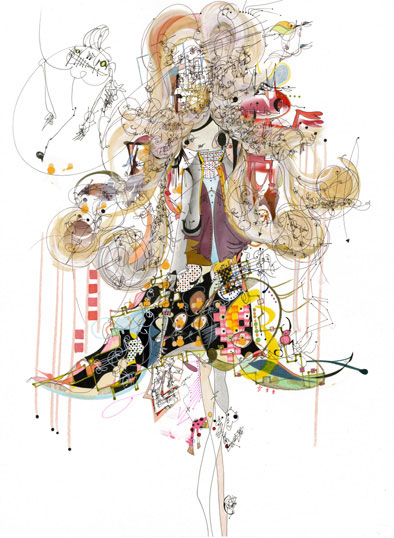 You had been studing textile, what made you start to draw illustration?
It's because I met digmeout. digmeout brought sociality to my messy lines and colors.
Your work is mainly structured with fine delicate lines, is that influence from textile?
I don't think so. For me, expression of lines is something like the particle floating around us, if I would compare with the real world. The lines I draw are flying and jumping around freely on the paper, and I guess it's quite natural.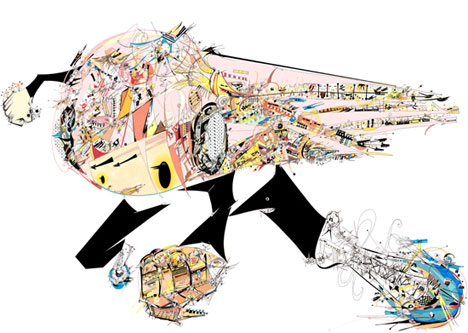 You are belonging to digmeout, a project keeps on promoting and exploring young artists based in Osaka. Could you tell us how you ended up belonging there?
When I was a student, there were so many sketches but they were not proper drawing yet, but one day I went to a lecture of Taniguchi who is a representetive of digmeout and I asked them to have a look of my drawings. I dind' think that it made something to reveal, but I helped carring things to exhibitions and so then they put my work on digmeout 05, so I started to belong them.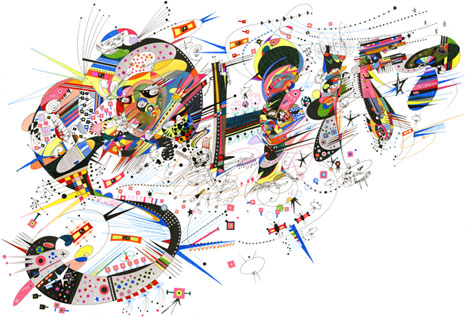 What is the concept of the cover design of SHIFT this month?
First of all, I imagined the speed like a shooting star, then the freedom of birds fly away freely. These are from the high sensitivity of the quality and the edgy structure of SHIFT.
Could you tell us the people or things which influenced you so far?
The most thing gave me influence is the way of life of my father and mother. I always learn from the attitude, respect and be greatful to everything and environment around them whatever their situation is.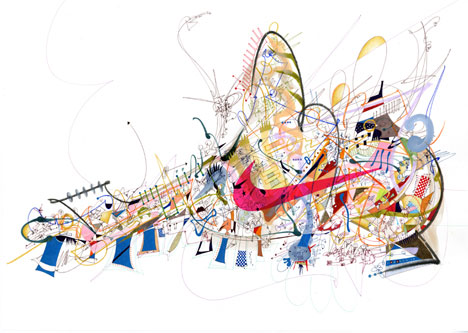 Now your activity is quite expanded, you are in the big company project, and have joined the exhibition in Portland and Los Angeles, what the feedback from audience like?
The audience in Portland was like " I have never seen a drawing like this", and I was happy because they were not trying hard to understand but enjoing with their pure heart.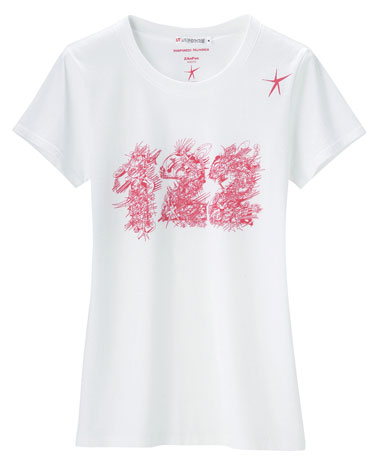 You have released a design for UT inspired, a T-shirt project of UNIQLO. Whad do you think about your work is being known widely?
What I always think is a connection between art and modern society. How the society take the things expresses freely, and what kind things can influence, and looking for the answer will be the key to find the connection of art and modern society. I am very proud of being this big project, everyone can wear T-shirt anytime you know, and I'm looking forward to seeing what influence will come to my activity.
Do you have anything you would llke to challenge next?
To widen my ara of the activity, and keep on moving agressively from home and abroad!
Could you give some message to those who want to be a creator and also readers?
I do "what I really want to do" not only about art. I hope you can also catch what you really want to do, and do it. I hope my drawing will be some courage or a pportunity to start something, probably this is the reason why I keep on drawing.
ZAnPon
Born 1981 in Osaka. Entered Osaka University of Arts in 2000 and started drawing in January of 2004. His style of line drawing goes beyond our imagination and explores freely from abstract art to concrete art, from life drawing to animal drawing.It surpasses any of current art genre and gave birth to his own genre.
Text: Kyoko Tachibana
Translation: Junko Isogawa
[Help wanted]
Inviting volunteer staff / pro bono for contribution and translation. Please
e-mail
to us.