One of 20th century's most interesting Italian creative force.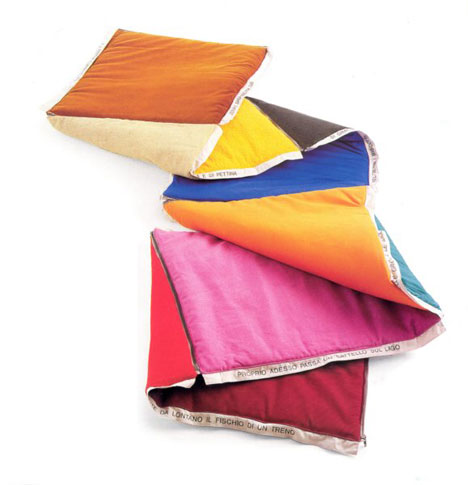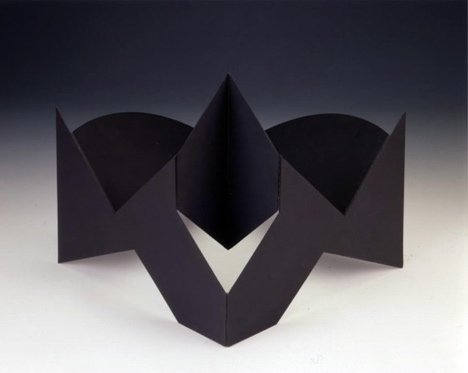 Scultura da Viaggio, 1958
Ferro Verniciato, 43x50x54cm
Collezione Privata, Milano
The presence of Bruno Munari spanned so many decades of Italian culture – roughly from the early 30s to the 90s and influenced various fields as painting, industrial and graphic design and pedagogic methods: the temptation to call the Milanese, "master" is almost an inescapable temptation only softened by his love for lightness of touch and the constant use of irony and paradox that elude the pomposity of such a definition.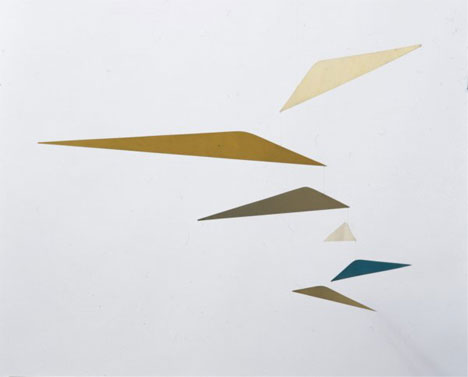 Macchine Inutili

In the 30s and 40s "Macchine Inutili" (Useless Machines) series, for example, Munari created three-dimensional structures made of simple geometrical figures hung together with thin ropes: these machines didn't have any internal power and their only possible "work" was undulating in the wind while the user was left contemplating their uselessness.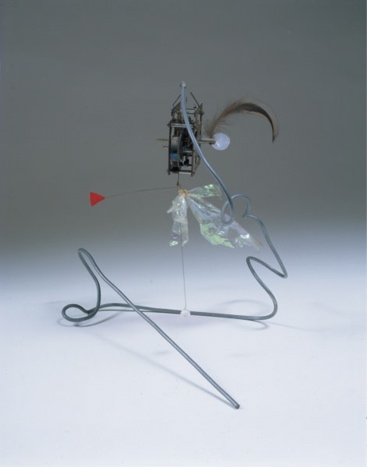 Macchina Aritmica (Arrhythmic Machines), 1950-1983
Metalli, Plastica e Piumaa, 280x22x28cm
Collezione Privata, Milano
In the 50s, Munari also produced "Macchine Aritmiche" ("Arrhythmic Machines") that he defined more "arrogant" and "flown" and were thought as as an ironic reversal of working machines which were noisy, efficient and most importantly were built with a defined purpose, with a use-based "identity"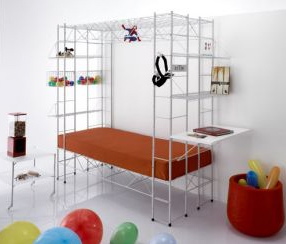 Abitacolo, 1971
Strutture Metalliche Portanti, 194x256x83cm, Produzione Robots
Collezione Renato Rebolini, Milano
Naturally this anthological show contains some of his most iconic works like the "Giocattolo Scimmietta Zizi" 1953 ("Zizi Monkey Toy") which in the words of the curators of the show was considered by some of the first interactive sculpture and by others a toy that reacts to kids' solicitations but by all, it was an inventive way of using foam rubber – a new material then – from the usual armchairs or sofas as well as the "Falkland Lamp", one of the symbols of Italian 60's design.
A consistent portion of the show is dedicated to his ideas in the field of education: after the birth of his son Alberto in 1940, Munari developed concepts for generating an awareness of the world based on the visual world and conceived experimental laboratories for the kids and large room in the show is dedicated to session of the Munari method.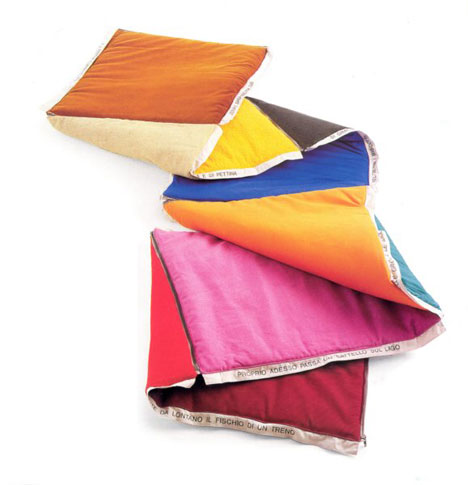 Libro letto(Bed Book), 1993
6 cuscini di materiali diversi, 70x70cm, Produzione Interflex
Collezione Marco Ferrani, Milano
Munari's interest for infancy are also documented by the beautiful books for kids and games designed at different stages of his career. This effectively set-up and informative show provides an emotionally touching full immersion in one of 20th century's most interesting Italian creative force.
Bruno Munari Exhibition
Date: October 25th, 2007 – February 10th, 2008
Place: Rotonda della Besana
Address: Via della Besana 15 Milano, Italy
Text: Francesco Tenaglia
[Help wanted]
Inviting volunteer staff / pro bono for contribution and translation. Please
e-mail
to us.