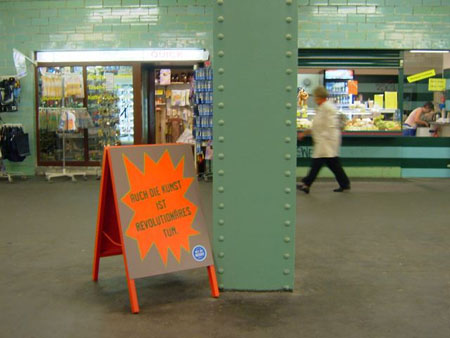 We had so many events in October in Berlin: the art fair, the opening of the Bode Museum, the exhibition of Rebecca Horn, and so on. And this time, I take up the exhibition at the Alexanderplatz, which was a bit surprising and tough.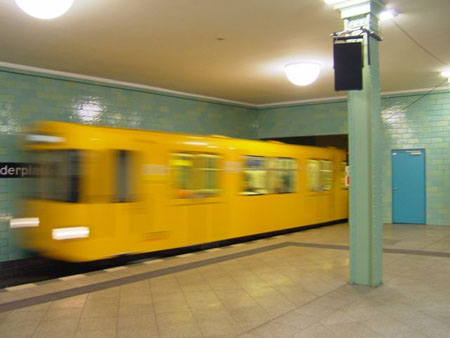 I noticed this exhibition when I was waiting a subway train at the platform number 8 of U bahn. As usual, I heard sound of a train from a distance. I stepped forward for boarding and the train arrived. At that moment, a loud music started all around, so I looked side from side. That was as if a hero appeared in a play, and my thought was blown away. The artist who did this is Ayse Erkmen. She was born in Istanbul and has grown up in Berlin.
She selected music out of the archive in Istanbul, and set it to start in line with arriving of trains. Her attempt was nothing short of connecting and comparing usual and unusual.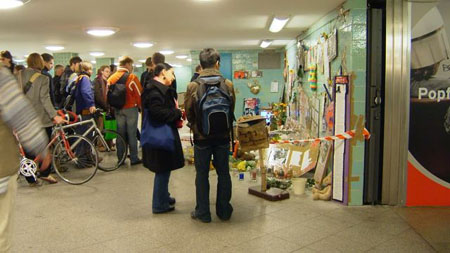 After that, another day, while I was walking from the platform for U8 to another place, I noticed a strange throng in the corner, which usually had nothing. The throng was around something like an alter, on which there were bouquets, stuffed toys, candles and so on in a jumble. People were checking it and chatting about.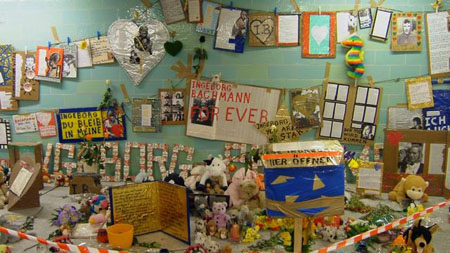 What's more, there were photos, collages, passages and so on by the writer Ingeborg Bachmann at the alter, and that's homage. It suggested that he died here, but I checked and found that she actually once lived in Berlin, and then moved to Praha, Bohemia. Nevertheless, it's an undeniable fact that the alter, which was set by the artist Thomas Hirshhorn, evoked remembrance about her. He has put, so far, alters like this for Piet Mondrian, Raymond Carver and so on to evoke remembrances on many street corners.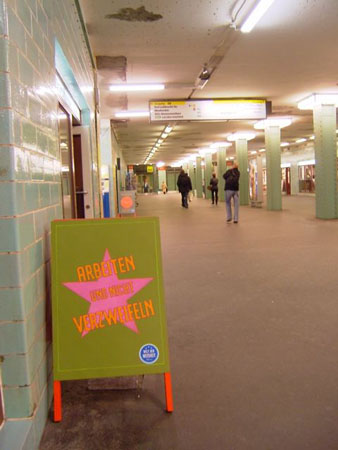 And another thing, there were more standing retro signs than usual on an access aisle from U8 to U2. I gazed them and they said "Art is a daughter of freedom" and "Do work, and doubt nothing", whose messages have a bit of irony and are full of humor. They were Christine Hill's piece.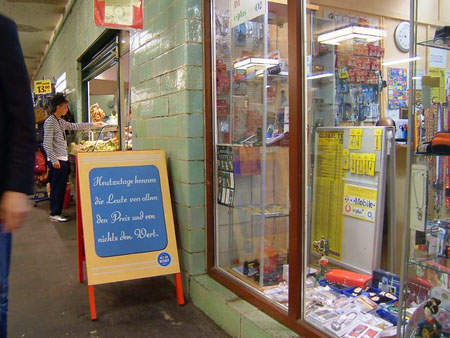 I treated her sense of humor favorable. However, I was rather wondering about a function of advertisement itself, which should command interest of those who are there.
The history of exhibitions at this station dates back to 1958, or former East Germany. The competition for the poster of speaking world peace was held with political tension of this period for a background. After that, exhibitions on themes about peace seemed to be held several times from 1982. This project inherits the spirits of those exhibitions of East Germany, while this focuses attention on the meaningful projects that were buried in the time like that. Check it on the Web site(in German).

U2 Alexanderplatz
Date: 27th September – 29th October 2006
Place: Alexanderplatz
http://u2-alexanderplatz.ngbk.de
Text and Photos: Yoshito Maeoka
Translation: Yuhei Kikuchi
[Help wanted]
Inviting volunteer staff / pro bono for contribution and translation. Please
e-mail
to us.