X-COLOR/GRAFFITI IN JAPAN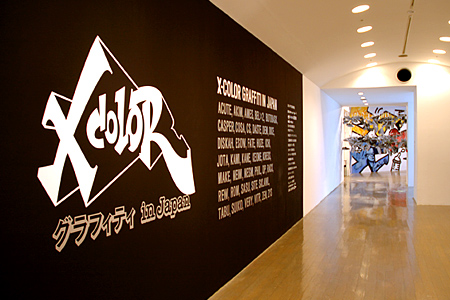 The exhibit "X-COLOR/GRAFFITI in Japan" was held from Oct.1st to Dec.4th in the Art Tower Mito. About 40 "bombers" met at the so called 'first large-scale exhibition showing Japanese graffiti art'. Some of the artists represented were KANE, KRESS, KAMI, ESOW, DEM, NESM and QP. What if such hot artists bomb wherever they want, in a white plain cube? Let me tell you an unheard-of exciting story.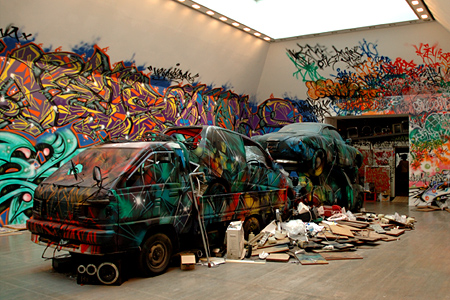 It takes a little more than 2 hours to go from Tokyo to Mito, a kind of short trip. First you will see 'Alpha's Bet' by RAMMELZEE. Each armed written alphabet has one longing for 'old school' aggressiveness. It is a great motivating works just after you start the journey.
When you keep walking, KANE's destroyed cars catch your eyes. Both cars piled with jumbling appliances are all overwhelmingly painted decadence-space which stick for museum staff show the other side of destructive aesthetic.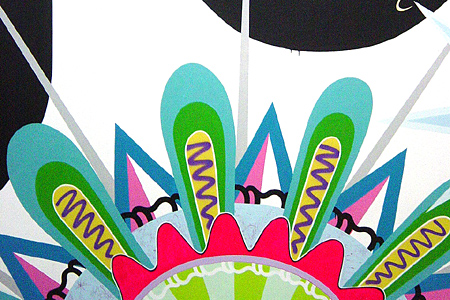 Passing a dark KRESS piece called 'My Room' light suddenly swallows your view followed by KAMI's heavy black lines and fickle colorful paintings by SASU. Step inside with wonder and look up ahead, you will see a great black point that stares at you. Have a seat on one of the two placed chairs, and just let yourself go – innocent. This is a silent sanctuary unconsciously staggering inspired by KAMI and SASU.
Installations on the walls are created in several ways and particular bombers get together to have various Style-Wars caused by synergism. The general museum space is attacked and becomes a place creating discontinuous wonder, called 'X-COLOR', which certainly causes what only a museum has done, chain creative reaction. KRESS assimilates it to 'Stunning of graffiti in an unusual place'.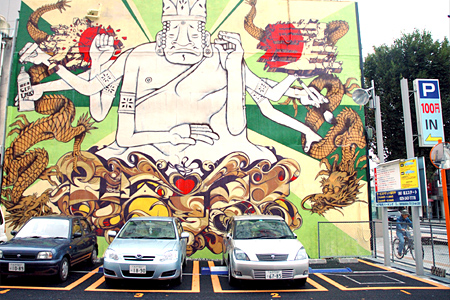 Some legal walls are opened for bombers around the museum and station. These gigantic masterpieces stand out in Mito. A bomber and a policeman enjoy chatting in a graffiti scene photo shot by Great-The-Kabukicho. These legal-paint add spice to a tag on the wall in Daiei Mito, which is in a bad business situation and was bombed badly.
Here in Mito, Art Tower Mito rises up in the center of the city, where art gets close to daily lives, 'Cafe in Mito' for instance. Besides, every works melt into the city where a doctor treats his favorite bomber in a piano bar, where you may find tolerant of the city in a signboard 'Snack Fishy'.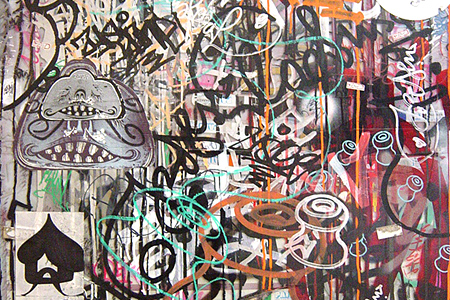 'I picked up somebody hot and practical on the street' KRESS says. On the other hand. some say 'Legal graffiti doesn't exist.'. QP bombs a lot just like love letters and says 'To bomb means To shift or shake mood or society.' That makes me think that armed icons have already broken through an invisible barrier between legal and illegal.
Talking about graffiti, a bunch of things are still left to be described. However, 'X-COLOR' is not another 'Make It Controversial' exhibit. Where to go keeping a power which confronts viewers pleasantly sometimes even revoltingly. Our way of expression, graffiti, shifts from vandalism to destructive innovation. I believe for sure it's a breakthrough.
X-COLOR/GRAFFITI in Japan
Date: 1st October – 4th December, 2005
Place: Art Tower Mito
http://www.arttowermito.or.jp
Text: Yoshihiro Kanematsu
Photos: Kenjiro Nakano and Yoshihiro Kanematsu
Translation: Yoshitaka Futakawa
[Help wanted]
Inviting volunteer staff / pro bono for contribution and translation. Please
e-mail
to us.