SAPPORO DESIGNERS WEEK 05
"Designer's Week" began 20 years ago, in Tokyo. Last year, they hosted it in Osaka, Kyoto, and Nagoya as well. The fever has caught, and this year they "Designer's Week" will occur in Sendai and Sapporo too! In Sapporo, the first "Designer's Week" was for 4 days and brought us closer to "Design". A participant could visit various design fields, like the offices of architects. You could also go to see exhibitions and take part in stamp rallies. 114 companies and shops joined the event. During the event, we enjoyed many design works of art and interiors around the town.

"Shop Exhibition", I can say was the main event in "Designer's week". 15 interior shops took part in this project which included presentations and workshops. "Design Restaurant", included another 14 shops that offered food which you could eat only during the duration of the exhibition. At "Design Flower Shop", 16 shops showed their original flowerer arrangements, and the grand prix was elected during the closing party on the last day.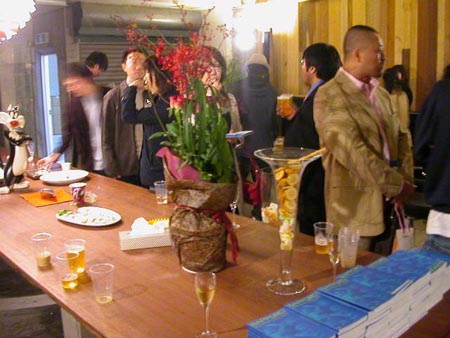 31 architectural companies and offices participated in the event. They offered caf_ space in their office, and they also had a classic concert, in which architects played instruments in their atelier. On 3rd, "Atelier Tenma", "Moet Chandon", "Tamayura" held an open door party, and offered us a great chance to see many people. Without regard to age or sex, many people enjoyed the time.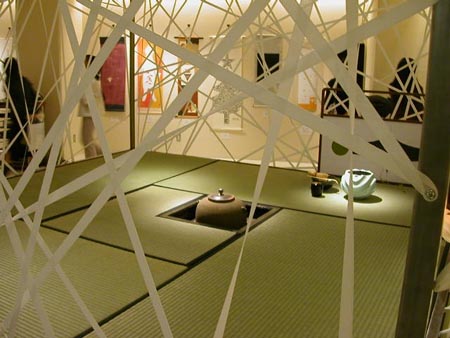 They made a teahouse in a gallery. In the teahouse named "Kokoromi-an", they held a live flower arrangement demonstration, offered tea ceremony and had a lecture about food. In the gallery, hanging scrolls designed by graphic designers and photographers were shown. You could not only enjoy their works, but if inclined, you could buy them. There were many kinds of hanging scrolls with many creative and exciting ideas, one was three-dimensional, and a mirror was put in the other. I really enjoyed them.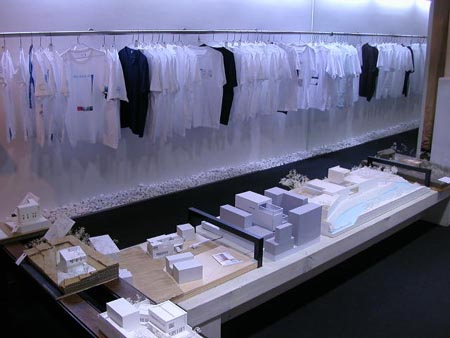 "UN40", was composed of 8 young architects under 40 years old. They held an architectural exhibition at a corner site surrounded by edgy shops. They hung T- shirts printed with plans and buildings and offered a comfortable space with a casual atmosphere. On the 4th, they talked about their own works using a slide review.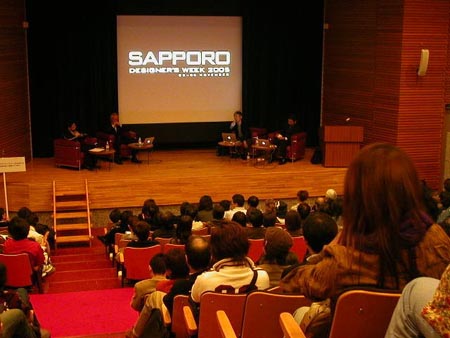 In "Marui Imai", writers from Hokkaido, and emeritus professor of Musashino art university Makoto Shimazaki, an interior designer, held Sapporo design relay forum. Edward Suzuki, Masayuki Kurokawa, and Hiromu Hasegawa were panelists, and they offered suggestions about how to make Sapporo a brand and culture. "Impression is culture" "Culture is not made, it grows naturally". They gave good key words to help create an original Sapporo style.
During the 4 days, 15,000 people visited this event. Many people from Hokkaido and Aomori who had planned on going to "Tokyo Designer's Week", changed their plans knowing that they could participate in "Sapporo Designer's Week" this year. And, for people who work with design, it offered a great chance to see others. It will be hosted the next 3 years supported by Organization of the Hokkaido Bureau of Economy, Trade, and Industry. This year, we had a great step to make the next great "Designer's Week". "How can we make Sapporo an original designer's week?" "How about showcasing Sapporo's original products?" They have many challenges to do. I can't stop expecting to have a better "Designer's Week" next time.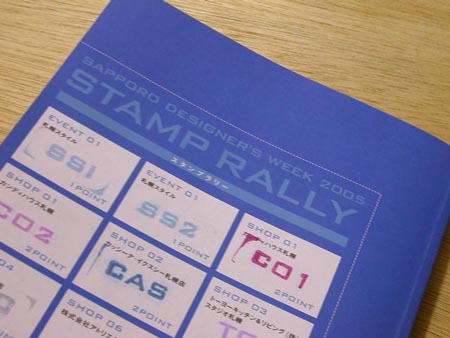 I really enjoyed the Stamp Rally during the event. It gave me a chance to talk to people in the stores while also giving me a prompt to think about how I can walk around the city efficiently. You could enter the drawing with 5 points this first year. We can choose a present from 13 items. Sweets, champagne… I Can't Stop Entering the Drawing!
Sapporo Designer's Week 2005
Date : 3rd - 6th November, 2005
Place : Show rooms, shops in Sapporo
info@hokkaido-dn.com
http://www.hokkaido-dn.com/sdw.html
Text and Photos: Yukiko Tokugi
Translation: Yu Murooka
[Help wanted]
Inviting volunteer staff / pro bono for contribution and translation. Please
e-mail
to us.