The performing art unit "SAL VANILLA" provides very unique spatial art. They recently held a live performance event "+813" and a sound media event ".JP" at "BankART Studio NYK", in a former postal administration building warehouse in Yokohama, Japan. This year 2005, they have an ongoing project called "Vanilla Sports", presented in a 3 part series. Vol.01 and 02 have already gained public favor. Leaving the final edition Vol.03, this additional project "+813" and ".JP" focused on a Japanese sense of the contemporary expression, which is also appearing in its titles.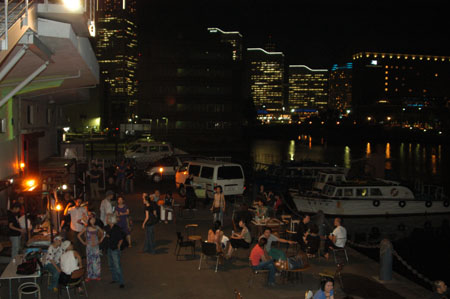 At the entrance area along a canal of Yokohama, an open-air lounge was run by DJs including "KLOMA" and "LUFTZUG", and a bar "Vanilla Fish" booths were lined up. The scenery was beautiful and refreshing while sounds echoed throughout the surface of the sea. It was a pleasant place to spend some time till the performance begins. In other words, visitors could feel the atmosphere of this event as soon as they arrived to the place.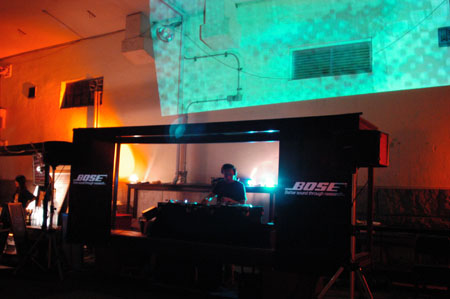 "BankART Studio NYK" has two big distinctive features; the large columns are lined up in the center of the hall, and the reverberation is terrific. The whole performance held here made the best use of such a hall condition. Having a complete sense of unity with the venue, this event made numerous expressions possible, which cannot be done in normal theaters.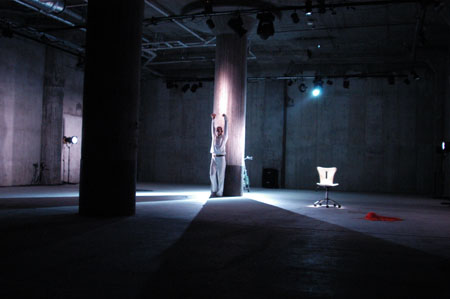 "+813" was mainly developed with two new productions of SAL VANILLA, "MINIMALMAN" and "HITO NO KATACHI". There was also a live performance by sound artists that changed from day to day. The second day started with a performance by Dub DJ "knoto". He led the audience to the world they would produce from now. It all happened in a flash. The audience who had been in the comfortable entrance area entered the unrealistic world.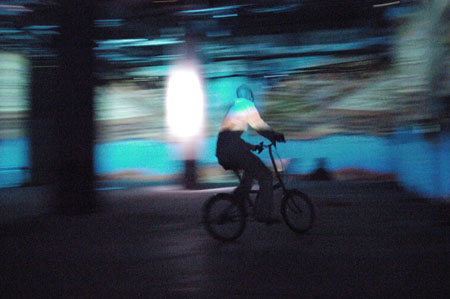 The first production "MINIMALMAN" was a solo performance by Giga Tei who collaborated with sound artist salomon from "WC" and visual artist Yu Sekoda from "KLOMA". Moving into the place, one noticed that it was divided into 4 spaces by columns, Giga developed simple and odd movements. Sometimes his face or fingers were projected on a big wall in real time, using a camera set up on a desk. Sometimes props were taken out from unexpected place, and these were dispersed after using. While the whole structure was surely "minimal" with his movement, props, visuals and sounds, the latter scene added revolutions with a bicycle and lights, and gradually increased the intensity till it swallowed up the venue at last. It created an overwhelming sense of unity with the hall, visuals, sounds, and movements, to say nothing of the brilliance of Giga.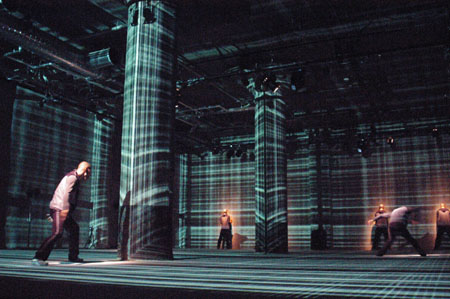 Following "HITO NO KATACHI" was a production which was directed also by Giga and performed by seven SAL VANILLA members. Visual projections were designed by architect Kazuyasu Kouchi, and the sound was by saori from "WC". The seven members started seated in chairs lined up in front and muttering incoherent words. They gathered the attention of the audience and got caught in the visuals and sounds spread throughout the unrealistic world. The audience completely lost their sense of space by the visuals, and the sounds reached to even their cells. They also lost the sense of time due to the 7 members' uniform movements which were performed with a great deal of personality. The number of members was the only element that could express such a great strength and interest of symmetry.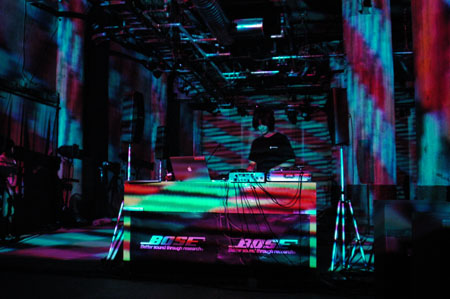 On the other hand, the live performance mainly with music and multimedia performance ".JP" was held using only a day during the whole event. It started with a fantastic sound installation by Mathew Martins, a live performance by turntablist Daito Manabe and visual artist Satoshi Horii kept shaking the venue for ages with their furious technique and astounding sounds.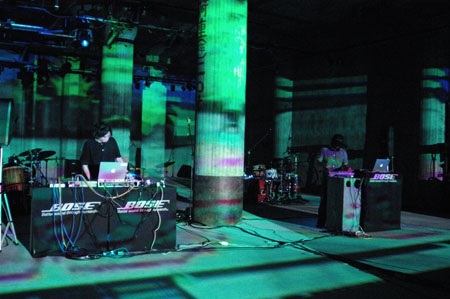 Next sound artists bloken haze and kiyo made the raging waves calm down with their deep and jaunty beats, followed by a sensational live performance by salmon and saori from "WC" who made the sound in "+813", and a visual artist Vokoi. The four turn tables which were set in the venue were taken away one after another after each performance finished, and only two sets of drum and percussion were left at the end.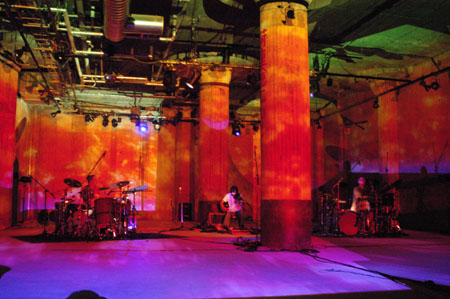 A violinist Yuji Katsui from "ROVO" sat down between the two sets. The violin sounds silently came up and became like widening rings on water, combining with the visuals by Yu Sekoda from "KLOMA". The violin sounds were processed with effects, and echoed as if it was a multiplex play. Yasuhiro Yoshigaki and Yoichi Okabe who play drum and percussion entered before the audience was aware, and the sound expanded with various layers of sounds. While overlapping with real sounds from the instruments and reverberation, SAL VANILLA members appeared with their strong movements to the sounds. The spatial performance reached to a climax many times as if it would last forever.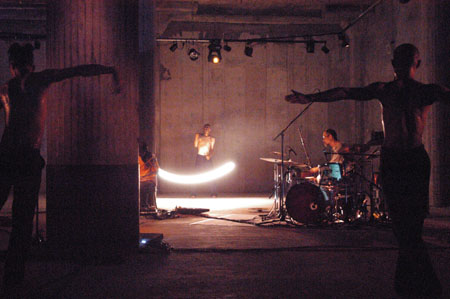 After all, throughout "+813" and ".JP", they showed a potential for spatial art produced by unification of all elements with no genre. They shook a certain corner of the seaside in Yokohama with combining all elements or artists that can be each independent "performance". The space with architecture, sounds, visuals, physical expression and interactive media made me believe that if the four-dimensional world could exist, this might be it.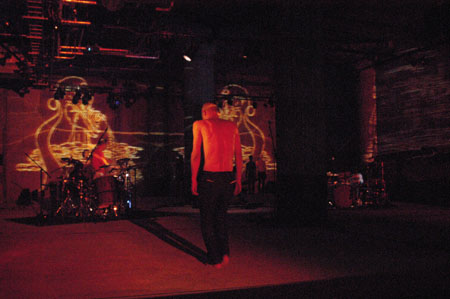 Sometimes I was stuck inside a box, sometimes I was watching a phenomenon that appeared in the darkness of the universe. The more I traveled, the more I felt the depth of this whole event. Digital but analog, uniform independence, quiet but fierce, round sharpness, old but new… there might be no other place which are fit for such contradictious words.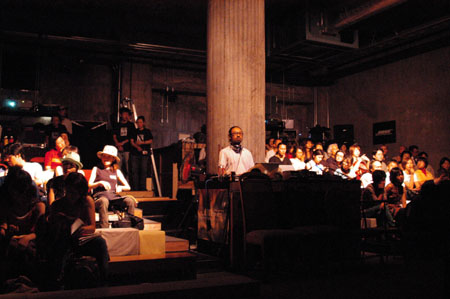 What will "BankART Studio NYK" have from now? What will "SAL VANILLA" show us in the future? The two whereabouts just cannot be ignored. Even the venue will be different, I would like you to feel their spatial art in "Vanilla Sports Vol.03" this December.
SAL VANILLA "+813", ".JP"
Date : "+813" 7, 8, 10th, September 2005: 19:00- 11th: 17:00-
Date : ".JP" 9th, September 2005: 17:30-
Place: YOKOHAMA BankART NYK Hall
Address : 3-9, Kaigan-dori, Naka-ku, Yokohama, Japan
Tel: +81-45-663-4677
Inquiries: SAL VANILLA (+81-3-3710-5344)
info@salvanilla.com
http://www.salvanilla.com/813/
"+813"
Performance: SAL VANILLA "HITO NO KATACHI", GIGA HIZUME "MINIMALMAN"
Live: Missing Man Foundation, knoto, broken haze, Katsuaki Matsumoto
".JP"
Performance: Yuji Katsui (ROVO), Yasuhiro Yoshigaki, Yoichi Okabe, Yu Sekoda (KLOMA), Daito Manabe, Satoshi Horii / salmon (WC), saori (WC), Vokoi (ARch), broken haze (insector labo), kiyo (schematic)
Spational Sound installation: Kazuyasu Kouchi, Eiji Nexus 6, Mathiew Martins
Text: Yurie Hatano
Photos: Photoperformer Pas
[Help wanted]
Inviting volunteer staff / pro bono for contribution and translation. Please
e-mail
to us.