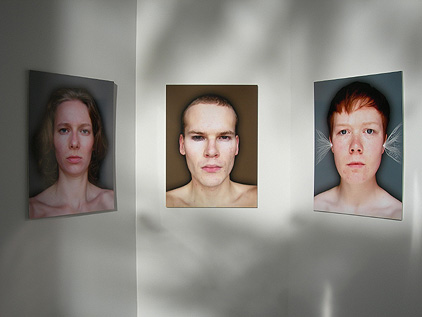 Ronald Gerber, 2005

Founded in1984, the Fondation Cartier pour l'art contemporain in Paris is dedicated to supporting and facilitating the development of contemporary art forms and to fostering awareness of these arts.
Last year, for its 20th anniversary, the Fondation Cartier asked some well-known artists (Takashi Murakami, Jack Pierson, Christian Boltanski, Fabrice Hyber, Jean-Michel Alberola, Nan Goldin, Jean-Michel Othoniel, etc.) to recommend some young talents for the J'en Reve exhibition.
Finally 58 artists in their twenties were selected. Since June, and for the first time in their lives, these young talents are presenting their work in an international institution. They meet the public and … the art world professionals. Indeed, at this stage of their lives, most are not yet represented by galleries or recognized by the art establishment. They are at the very beginning of their careers, struggling to distinguish themselves from their predecessors and to define themselves as artists.
Their exhibition is a reflection of our modern-day world, in which the
boundaries between disciplines are breaking down. "J'en Reve" embraces
contemporary art in all forms, in all styles. Here it means everything, including painting, video, installations, photography and fashion, proposing a vision that is global, nonexclusive, unprejudiced. The work selected shows the vitality, talent and spirit of youth. It shows how an artist living in Buenos Aires, New-York, Tokyo, or Paris perceives the world by our times.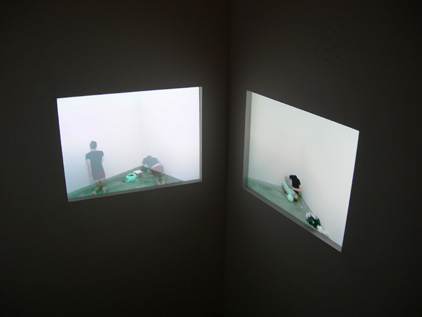 Peter Harkawik, 2005
The only problem with this exhibition? There are too many artworks to really focus on each one. The old-fashioned scenography doesn't help. Some pieces really suffocate between the big white walls… Too bad for this opened-space building… Sometimes you really got the feeling that you are in the exhibition "end of studies" at the Art school of Paris… and it's not due to the artists!
Anyway, let's talk about my two favorite pieces in this show… Discovered by John Maeda, Justin Manor (born in 1978) offers one of them: an interactive installation called "Key Grip". It combines both the entertainment and the expressive possibilities of television and video gaming into one single platform. The user can manipulate live media streams into a fully three dimensional environment via a game pad. Video can be scratched, looped, and extruded into an expansive virtual space with the game pad controls. By editing and creating all the effects in realtime, the user is engaged in a way that has not been possible since the dawn of cinema and TV.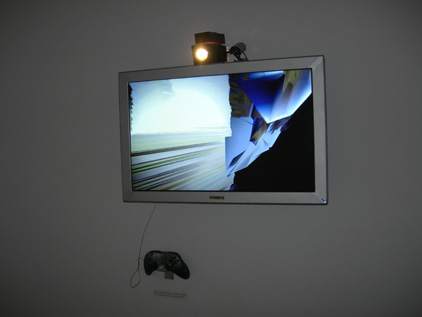 Justin Manor, 2005
My other love at the first sight: Camille Henrot (born in 1978) who shows a very nice video named "Les Matins". She only draws elegant black and white little things on some filmed sequences, and it creates an oneiric atmosphere, really soothing and refreshing. A "must see" and probably the proposal that synthesizes this exhibition: a way to capture the energy and promise of youth.
J'EN REVE
Date: 24th June – 30th October, 2005
Place: Fondation Cartier pour l'art contemporain
Address: 261, boulevard Raspail 75014 Paris
http://www.fondation.cartier.com
Text and Photos: Vincent Vella from Batofar
[Help wanted]
Inviting volunteer staff / pro bono for contribution and translation. Please
e-mail
to us.