The exhibition at NTT InterCommunication Center [ICC], "Open Nature" has been taking place. ICC has made many plans, which are based on various themes and illuminate relationships between art and technology with various viewpoints.
This exhibition's theme is new nature with media art, and aim is to see the phenomenon that a notion of nature that human has continues to change and expand thanks to technology from the viewpoint of media art.
Each of the entries of 13 artists and projects from all over the world was interesting. "SPECTRAL-SYSTEM TYO ON 2005" is a project for an invention of an unmanned plane and is produced for this exhibition. An installation – that shows bird's-eye view on Tokyo, which was analyzed by an unmanned plane with a brand-new form. An art venture whose concept is biotechnology and art. "Biopresence 2055", an air dome by Biopresence. "Naked Bandit/here, not here/white sovereign v2.1" by Knowbotic Research. They were expressing the organized structures and social system in the present world through media art.
I introduce pieces by whom I was impressed in the following.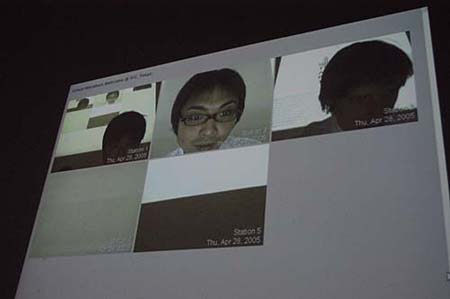 First, "Virtual Marathon" by tsunamii.net, a media art collective of Charles Lim and Melvin Phua from Singapore. We choose one course of marathon among others at on-line, punch keys, and run a marathon. We aren't conscious of distance to servers when we are usually on the Internet, but we can experience virtually that distance through action of punching keys, which needs patience. In this connection, if we reach the goal, the record is archived and the good records are announced after this exhibition. They have published their pieces that refer the physical side of Internet such as "alpha series".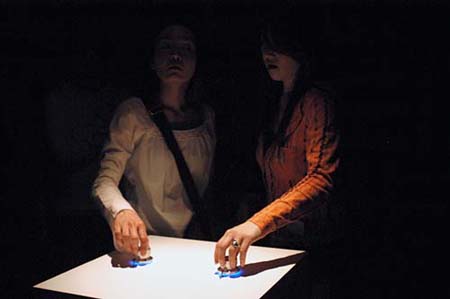 The next is "The SINE WAVE ORCHESTRA stay" by The SINE WAVE ORCHESTRA, a hands-on project whose basic concept is man-to-man communication with sine wave. This is an installation made up of the center device and speaker system. If visitors touch the device and set the level of sine wave, the speaker system outputs the sine wave. The adjusted sine wave resonates in harmony and continues to play. This sine wave can be considerd as the visitors, and various sine wave makes up the ambience. After the play, I thought that the sound of sine wave works out among relationships the former sine wave.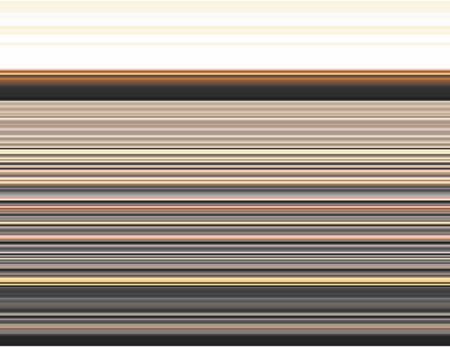 "Flatland", Angela Detanico + Rafael Lain, 2003
Besides, "Flatland" by Angela Detanico + Rafael Lain is the piece of projected images of drawn pictures by pixels with River Mekong that are shot from a boat. This is very abstract. However, the sound recorded in concurrence with the shooting is played with the images, so I felt smell and mild warmth proper to Asia. There I was given an illusion of being shore. This piece is very strange. It's simple but this simpleness stimulates the visitors' conception and sense. If you touch this piece, you maybe notice that reality is made from senses human has and is very ambiguous.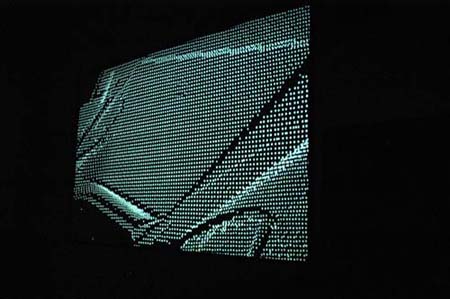 "spray" is a piece of audio-visual by Carsten Nicolai. I personally respect him. This piece's concept is stealth plane. Its concept was born in the conversation with Marko Peljhan, who entries with SPECTRAL-SYSTEM TYO ON 2005. In this piece, innumerable white particles move around and around, the change image on the screen. Meanings were built through simple movement, and I felt the digital and organic at the same time.
Information and nature, which are difficult to relate in our daily lives, were transformed into sound, images, programs and objects. Iwas excited to see them. Besides, this exhibition made me brood over whereabouts of human in the present world among the digital and analog, information and nature.
OPEN NATURE EXHIBITION
Date : April 29 (Fri.) – July 3 (Sun.) , 2005
Place : NTT InterCommunication Center [ICC] 2005 Gallery A, B, 5F Lobby, Entrance Lobby
Organizer : NTT InterCommunication Center [ICC]
Suppert : Arts Council England, Austrian Embassy, Pro Helvetia, Arts Cultural of Switzerland, Cultural Ministry, Republic of Slovenia
Cooperation : Embassy of Switzerland
http://www.ntticc.or.jp
Text: Yasuharu Motomiya
Translation: Yuhei Kikuchi
Photos: PAS Photography
[Help wanted]
Inviting volunteer staff / pro bono for contribution and translation. Please
e-mail
to us.