The exhibition at NTT InterCommunication Center [ICC], "Open Nature" has been taking place. ICC has made many plans, which are based on various themes and illuminate relationships between art and technology with various viewpoints. This exhibition's theme is new nature with media art, and aim is to see the phenomenon that a notion of nature that human has continues to change and expand thanks to technology from the viewpoint of media art.

"Biopresence 2055", Shiho Fukuhara + Georg Tremmel (Biopresence), 2005
Each of the entries of 13 artists and projects from all over the world was interesting. "SPECTRAL-SYSTEM TYO ON 2005" is a project for an invention of an unmanned plane and is produced for this exhibition. An installation – that shows bird's-eye view on Tokyo, which was analyzed by an unmanned plane with a brand-new form. An art venture whose concept is biotechnology and art. "Biopresence 2055", an air dome of Biopresence by Shiho Fukuhara and Georg Tremmel. "Naked Bandit/here, not here/white sovereign v2.1" by Knowbotic Research. They were expressing the organized structures and social system in the present world through media art.
I introduce pieces by whom I was impressed in the following.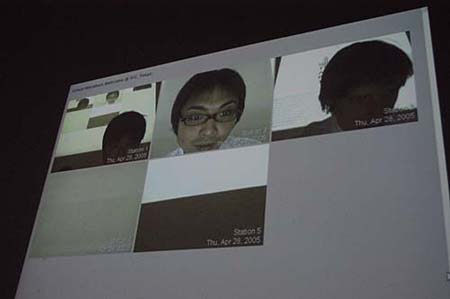 "Virtual Marathon" by Charles Lim and Melvin Phua (tsunamii.net), 2005
First, "Virtual Marathon" by tsunamii.net, a media art collective of Charles Lim and Melvin Phua from Singapore. We choose one course of marathon among others at on-line, punch keys, and run a marathon. We aren't conscious of distance to servers when we are usually on the Internet, but we can experience virtually that distance through action of punching keys, which needs patience. In this connection, if we reach the goal, the record is archived and the good records are announced after this exhibition. They have published their pieces that refer the physical side of Internet such as "alpha series".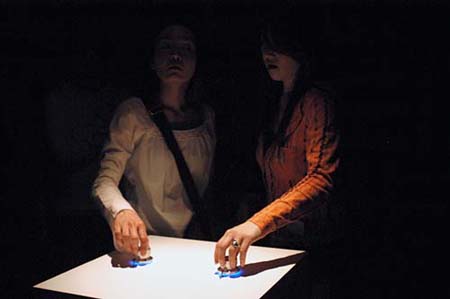 "The Sine Wave Orchestra stay", The Sine Wave Orchestra, 2005
The next is "The Sine Wave Orchestra stay" by The Sine Wave Orchestra, a hands-on project whose basic concept is man-to-man communication with sine wave. This is an installation made up of the center device and speaker system. If visitors touch the device and set the level of sine wave, the speaker system outputs the sine wave. The adjusted sine wave resonates in harmony and continues to play. This sine wave can be considerd as the visitors, and various sine wave makes up the ambience. After the play, I thought that the sound of sine wave works out among relationships the former sine wave.
Read more ...

1
2
[Help wanted]
Inviting volunteer staff / pro bono for contribution and translation. Please
e-mail
to us.