There is a lounge that faces a glass-walled entrance. Outside of it, the view of a port spreads out over an early spring's blue and bright sky. "Oh, that's wonderful!", she said. "I can feel your voice. It sounds nice." She wondered at that, and her smile lit up the moody space that exists in a customized port warehouse. The lamps shrink back reacting enchantingly to her voice, which brings out more and more of the mood.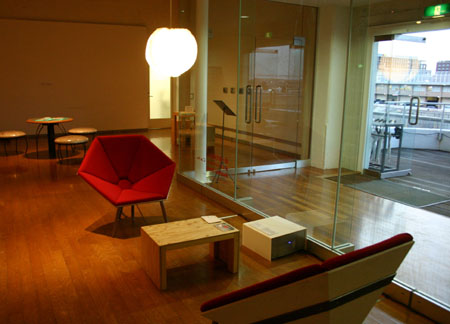 Thee frame of the affair has been drawn out by one piece. A sofa, gives a comfortable sway in reply to his or her voice. The lamps, they retract enchantingly, perceiving the atmosphere. The piece "Surroundings", which was made with the aim of enhancing the mood from the surroundings, has displayed its view very well. Though there has existed the art that would become a topic of conversation for couples up to now, have you ever seen one, reaching out physically by stealth, that makes couples more intimate with each other? I've heard that as a result of the practical application of the latest IT technology, "Surroundings" applied for a patent with the assistance of an organization for intellectual property for SFC (Keio University Shonan Fujiwasa Campus). SFC investigates into Japanese leading edge IT technology. Yes, the art that comes from the connection between IT technology and creativity are supplying a new spice which enriches our life-style.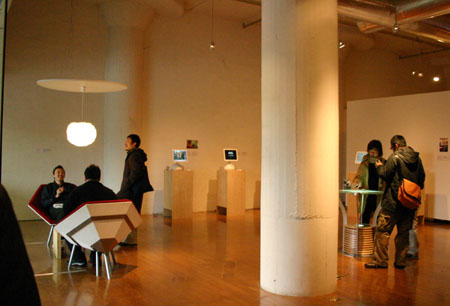 It is a long time since the phrase "IT Revolution" appeared. It is thanks to the IT Revolution that we can now share global communities for design and read articles from all over the world. However, have you ever realized it with your five senses? Have you realized it from artists who create good pieces because they have radical creativity. It's been two decades since Nintendo Entertainment System's introduction. It's been a quarter of century since Apple Computer, Inc. came into the world and the PC became available. Then the "bit generation", who is familiar with the technology, became able to produce their pieces, and so we can now realize it from those pieces.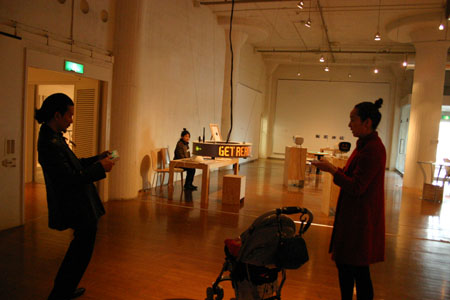 An exhibition to make us realize these pieces and get accustomed to the 21st century's life-style, is in session now in Yokohama, which is a port town next to Tokyo. The moment of the previous piece when the couple got intimate with each other is one scene at the exhibition. Having organized this exhibition, I named it "Evolution Cafe". I wanted to create a public living room in which many people could experience space for a life-style that evolves with creations by IT technology, namely a cafe for this exhibition.
Speaking of artistic exhibitions, they are often delicate, so we have to appreciate art from a distance and go through it according to its instruction for use. Here are the things whose appeal is evoked while people are practically using the pieces in a natural way, for example sitting or chatting. This exhibition is made up of pieces that exist in our daily life, proving we can have a tremendous time with them. The pieces have been placed in a space, for two weeks, where our body can experience them. Surely, those pieces have the strength for setting up as marketable products.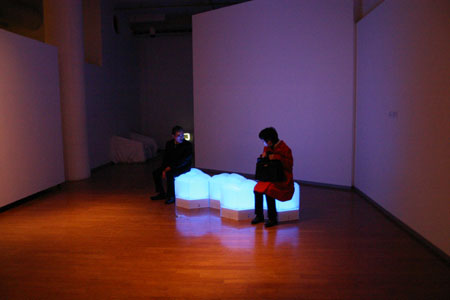 In the space like this, which overturns artistic common sense upside down, people experience a fresh surprise and feeling of comfort. A couch that glows faintly and whitely. Everybody suspects that they are allowed to sit on it. Their faces relax into a smile. If they are timid they are encouraged to do relax and enjoy the experience. Once they sit, the color that the couch gives off timidly changes with a soft touch. If two sit on, the color changes gradually. If three, it changes again.
Even if the position to sit on is moved, it turns into another color. Those light and color vary softly the same as the touch of the couch. Especially women feel the touch – as if it folds with – comfortable with being surprised. Yuki Yagisawa, teaching assistant and Shinya Matsuyama, technical officer for Tokyo National University of Fine Arts and Music that created this peace "Fuwa Pica". The couple consider it their joy that they present the comfort and amusement, which the light and touch weave, to more people. They have been going on improving and releasing their pieces, attempting to spread them as merchandise or interior design ideas. The space for display is not only for expression, but also for research and getting feedback from the visitors to put towards practical use. It is the same as "Surroudings", which made the couple at the opening intimate. This effect for alerting the senses, its design and packaging to prompt the effect have become depended by leading-edge researchers who work towards the practical use of future computers and their ubiquity. The couple has just set up their own company whose name is same as the couple's name, to answer requests of designing things.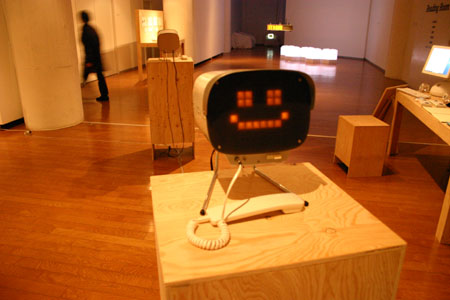 There is a connection that a game organizes. It is a masterpiece "loopScape" by Kuwakubo Ryota. It is a shooting-game with dot graphics on a cylinder-shaped screen. For this game you do battle, moving around this screen and searching for your opponent. It is simple, but requires your body to move. This makes a couple feel solidarity to enjoy the game together and produces smiles. Another piece by him is "Vomoder IT devolution". This piece, whose name is likely to ridicule IT revolution at present, is a "phonovision". Its body reminds one of an old-time round shape TV. However, this phone vision may give the false information. The character of cute dot graphics is waiting on the screen with cute eyes. This character moves like chatting in reply to the other's voice. The character remains chatting with the cute face even if you get angry or shout. Before the cuteness, you have no choice but to be comforted. He said, "I don't think that digital information should be sent correctly. I guess that a portion of false information makes a rich connection". Then, he made this "phonovision". A little child is pressing her mother on the phone for tales. On the monitor of the mother's side, the character , who is opening its mouth wide, presses for tales, too. Also the face of the mother holding the receiver is smiling.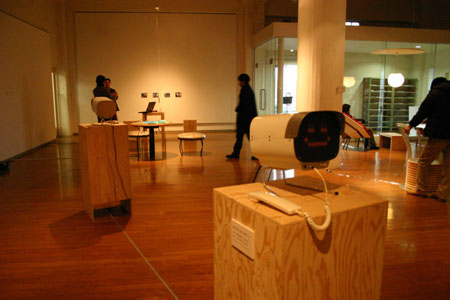 The richness within "Evolution Cafe" has a smile like this. Moreover, it makes the person on the opposite side to smile. Though there are many people who say "the digital is cold" or "in the digital world there isn't real connection", this space makes most of the people say "I enjoyed it!". It is the people who think obstinately "the art should be this way" and didn't even create the chance to experience it. The artists in the bit generation can turn a lot of smiles into support and can build the society of smile. They also can make packages that evoke smiles thanks to their addiction to communication. If their pieces which offer to enrich various parts of daily life start to spread, the "evolution" will succeed. I may have to continue the small "revolution" up to the popularization of it.
The session of the "evolution" of smile runs through the 15th of March. As the related event, there is "Live Evolution! Kairai-Bunch Battle Performance", a performance on March 5 with battle machines that causes a stir (the above picture). On March 12, a festival for Flash "Flash Evolution!" takes place. For any further information, please see the Web site below.
Evolution Cafe
Date: 15th February – 18th March, 2005
Place: BankART Studio NYK
Promoter: Creative Cluster
Inquiry: artdemo@coolstates.com
http://coolstates.com/evolution/
Text and Photos: Tomohiro Okada from Coolstates
Translation: Yuhei Kikuchi
[Help wanted]
Inviting volunteer staff / pro bono for contribution and translation. Please
e-mail
to us.