There is a lounge that faces a glass-walled entrance. Outside of it, the view of a port spreads out over an early spring's blue and bright sky. "Oh, that's wonderful!", she said. "I can feel your voice. It sounds nice." She wondered at that, and her smile lit up the moody space that exists in a customized port warehouse. The lamps shrink back reacting enchantingly to her voice, which brings out more and more of the mood.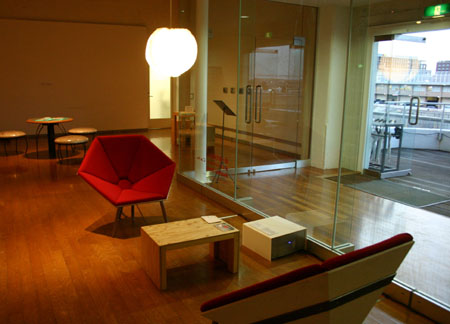 Thee frame of the affair has been drawn out by one piece. A sofa, gives a comfortable sway in reply to his or her voice. The lamps, they retract enchantingly, perceiving the atmosphere. The piece "Surroundings", which was made with the aim of enhancing the mood from the surroundings, has displayed its view very well. Though there has existed the art that would become a topic of conversation for couples up to now, have you ever seen one, reaching out physically by stealth, that makes couples more intimate with each other? I've heard that as a result of the practical application of the latest IT technology, "Surroundings" applied for a patent with the assistance of an organization for intellectual property for SFC (Keio University Shonan Fujiwasa Campus). SFC investigates into Japanese leading edge IT technology. Yes, the art that comes from the connection between IT technology and creativity are supplying a new spice which enriches our life-style.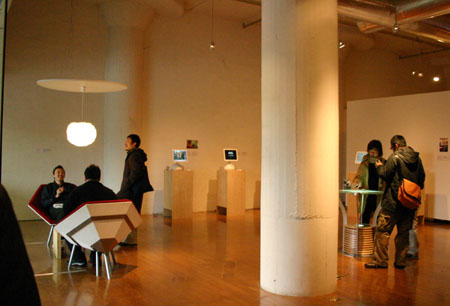 It is a long time since the phrase "IT Revolution" appeared. It is thanks to the IT Revolution that we can now share global communities for design and read articles from all over the world. However, have you ever realized it with your five senses? Have you realized it from artists who create good pieces because they have radical creativity. It's been two decades since Nintendo Entertainment System's introduction. It's been a quarter of century since Apple Computer, Inc. came into the world and the PC became available. Then the "bit generation", who is familiar with the technology, became able to produce their pieces, and so we can now realize it from those pieces.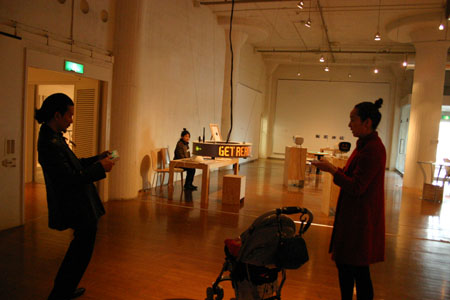 An exhibition to make us realize these pieces and get accustomed to the 21st century's life-style, is in session now in Yokohama, which is a port town next to Tokyo. The moment of the previous piece when the couple got intimate with each other is one scene at the exhibition. Having organized this exhibition, I named it "Evolution Cafe". I wanted to create a public living room in which many people could experience space for a life-style that evolves with creations by IT technology, namely a cafe for this exhibition.
Read more ...
[Help wanted]
Inviting volunteer staff / pro bono for contribution and translation. Please
e-mail
to us.