CHRISTIAN FRIENDRICH FLICK COLLECTION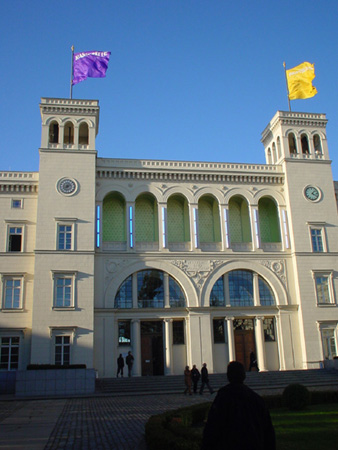 The Friedrich Christian Flick Collection is one of the most significant contemporary art collections in the world – so much so that, despite the overwhelming controversy surrounding it, the city of Berlin has decided to show it in its entirety over the next seven years at the Hamburger Bahnhof, a beautiful gallery in a former railway station.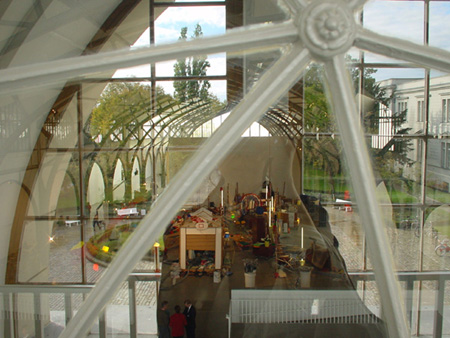 The issues surrounding the collection are far too complicated to go into in this column, but the main issue hangs on the origin of the money that helped fund it. Friedrich Christian Flick's grandfather, Friedrich Flick, ran various factories during the Nazi era using slave labor and though sentenced to jail later for his crimes, accumulated a vast wealth through the business, naturally inherited by his children and grandchildren. Friedrich Christian Flick has not made his position easier by refusing to contribute to a fund set up for slave laborers. His collection, featuring some of the most important works of recent art, has had problems being showcased in the past because of local and political opposition, but after his proposal for building a museum in Zurich was rejected, a deal with Berlin was struck. This obviously did not reflect the feelings of many in the city, as the protestors picketing the opening showed – a couple of pieces (ironically by an American artist) were vandalized in the process.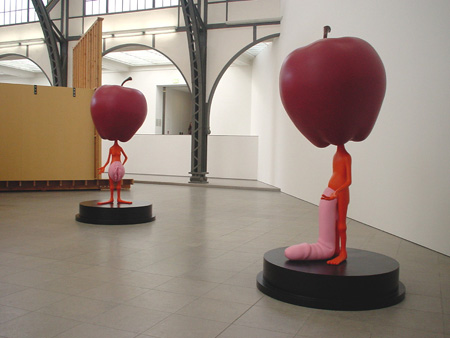 All the bad press was firmly in my mind by the time I stepped into the halls of Hamburger Bahnhof, and I almost expected to find it offensive myself. What greeted me immediately wasn't to my taste, either: Jason Rhoades "The Hemorhoidal Installation" was too exaggerated in its delivery and didn't quite fit the rather grand surroundings. In the same hall, however, under the same theme "Creation Myth", laid a couple of iconic works – Paul McCarthy's "Apple Heads" and golden statue of Michael Jackson and his monkey. Following on to the next room, bearing the title "Partial Truth", I found myself surrounded by works of Bruce Nauman, from various neon works including "Five Marching Men" and "Double Poke in the Eye", to the spatial sculpture "Untitled (Helman Gallery Parallelogram)", where one walks into narrow spaces that aim to disorientate. Then came a room of Thomas Schuette, then works by Dan Graham, Richard Prince and Francis Picabia, and by the time I'd covered the ground floor and made my way up to the first, I was so engrossed in the works that I'd completely forgotten about the furor leading up to the exhibition – it no longer mattered.
The first floor consists of two rooms, "Bodily Inscriptions" and "Scenographer's Mind". The first comes with a warning before the door that the contents may be offensive to some, and considering the line up – Larry Clark, Paul McCarthy, and Cindy Sherman – one has a vague idea of what this could be. But the works, which include photographic work, drawings, and sculptures, do not come across as vulgar or shocking, but socially conscious, thoughtful even. I was especially touched by the series of photographs of bleak teenage life, "Tulsa", by Larry Clark. The next room assembles film and photographic works by Eija-Liisa Ahtila and David Claerbout, and is perhaps one of the rooms more serene and beautiful to the eye.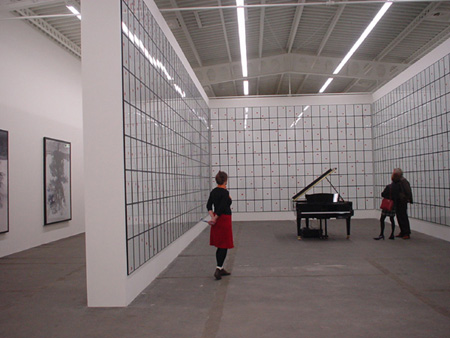 From the main hall leads a newly built bridge across to the warehouse annex called the Rieckhalle, newly renovated especially for the collection and where the rest of the collection (an estimated 2500 works) will be displayed in rotation after January 2005. It is an enormous building that is perhaps 20 meters wide and seemingly endless in length. Comprising of five halls at ground level and three in the basement, it has a very raw feeling to it, with bare bricks painted white, naked beams and rough concrete floors. Compared to the main hall, here the artworks – including Rodney Graham's expansive "School of Velocity" which I love for its obsessive logic; a great number of paintings and sculptures by Martin Kippenberger; the huge, ongoing installation "Gartenskulptur" by Dieter Roth; photographic or video works by Thomas Struth, Isa Genzken/Wolfgang Tillmans, and Diana Thater; and almost a hundred small format paintings by Jean-Frederic Schnyder lining the long corridor of the hall – feel fresh, crucial, even rebellious. Downstairs in the basement, one room is again dedicated to Bruce Nauman, another to Pipilotti Rist, and a third to Luc Tuymans, Wolfgang Tillmans and Thomas Ruff, whose photographic series of the interior of ordinary homes seemed to warm the entire hall with its humanity. Though I found the contents of the main hall to be overall more interesting, the space created in the Rieckhalle is much edgier, much more contemporary, and I look forward to coming back in the future when the collection has renewed itself, to see how other works will fill the space.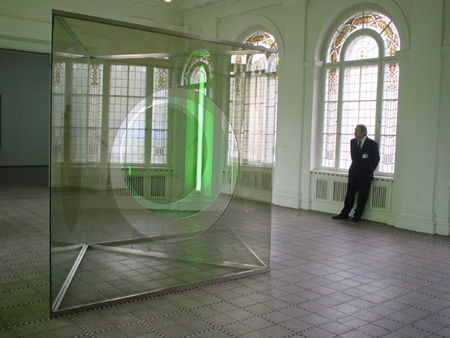 Flick has, for better or worse, collected works from a single artist intensively, and the 400 or so pieces displayed here could be split up into a number of comprehensive retrospectives – Bruce Nauman, Paul McCarthy, or Luc Tuymans, to suggest a few. It is an exciting and extremely entertaining collection and deserves to be seen, though it would be na_ve and wrong to think that it could be separated from its historical and political significance. Furthermore, the fact that so many works of such importance can belong to one man is somewhat disturbing, not only for the artists themselves or art in general (especially in light of the recent warehouse fire of Saatchi) but even for society as a whole in terms of wealth distribution and power (when one man has more purchasing power – or simply power in any sense – than a city, one has to worry a little). The collection is on loan to Berlin – a very poor city with no permanent collection of contemporary art – for seven years, during which the value of the pieces are likely to rise, and after which Friedrich Christian Flick can withdraw the entire collection at his own will. This long running exhibition could put Berlin firmly on the world map of contemporary art, but it may also leave it hanging high and dry.
Christian Friedrich Flick Collection
Date: 22nd September 2004 – 23rd January 2005
Place: Hamburger Bahnhof
http://www.hamburgerbahnhof.de
Text and Photos: Kristy Kagari Sakai
[Help wanted]
Inviting volunteer staff / pro bono for contribution and translation. Please
e-mail
to us.