The second component of the Sonar A La Carte program featured works by artists who manipulate software in different ways to achieve unconventional results, as opposed to starting from scratch using programming languages like 'Processing'. Examples can be found on www.runme.org and www.plagiarist.org, curated by Amy Alexander.
A series of works investigating the idea of artificial architecture and virtual spaces made up the third component of Sonar A La Carte, which I didn't have time to explore. I felt the urge to move on and have a look at SonarCinema on the floor below, screening a comprehensive selection of cutting-edge and experimental film clips, and another dark space to slip into and escape the thumping beats of the various other Sonar stages. SonarCinema included film and video works by Roman Coppola, Shynola, Lillian Schwartz, Uli Aumuller, and a showcase of work selected by onedotzero.


Konic Thtr
I wanted to make it back down to the Sonorama complex to see a visual display by Konic Thtr, and I made it just in time to watch their interactive performance. One of their projects involved a real-time 3D simulation which echoed that of a dancer moving around a room.
Somehow the simulated body didn't quite have the grace and poise of the human one, and this was a problem I found with a lot of the Festival's emphasis on technology and process – that the end result, although it came about in a highly advanced and innovative way, just didn't look as interesting as the methods used to create them. Perhaps in time, when these technologies become more widespread, a more refined aesthetic will emerge.
To be fair, the art component of the festival was more about the melding of technology and art, but it would in some parts be a daunting if not alienating experience for any luddites and traditionalists that don't know the meaning of 'open source' or have never enjoyed playing Nintendo games, and can't appreciate the amount of brain power required to create a successful system of creation.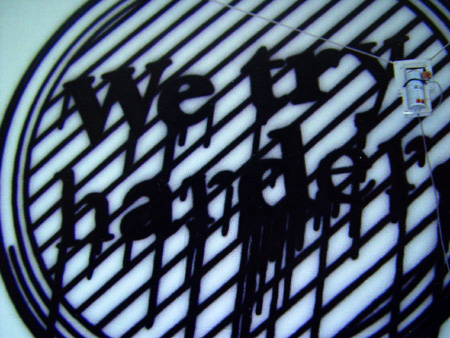 Hector, Spray paint installation (note the spray-can device in the right-hand corner)
Worth mentioning though, from the Sonarama program, was an installation piece devised by Hector, in collaboration with Uli Franke, an electronics engineer from Zurich. A laptop controls a spray-can which is suspended on wires and controlled by a set of motors mounted onto the wall, transferring vector design straight out of Adobe Illustrator – future graffiti – how very cool is that?!
Moving on and forward…. SonarMatica, held in a large, grand hall right next to the Sonar By Day Complex was a major component of the Sonar art program. 'Micronations' – invented territories and cyber communities – was the focus for this year's SonarMatica. Developed by artists in the seventies, and continued in various forms through to the present, artists from around the world have taken up the idea of Micronations as a means of expressing alternate, fantasy realms and make-believe government states as a cultural and philosophical testing ground.
I had already researched into this artistic phenomenon but when I got there, I really didn't have the mental energy to invest in trying to understand the logic or processes behind all of these fantasy realms, especially on the third day of what was such an extensive program of events. I had a stroll through the exhibition and just absorbed some of the creative outcomes.
Read more ...
[Help wanted]
Inviting volunteer staff / pro bono for contribution and translation. Please
e-mail
to us.