Picture this, I was walking around Lisbon's main shopping street, looking for something new to buy and I decided to check out what's new in the huge Fabrica Features Store, in the Benetton Megastore. Something really interesting, that I had already seen in another recent exhibition, caught my attention so I tried to get more information about the product and the creators…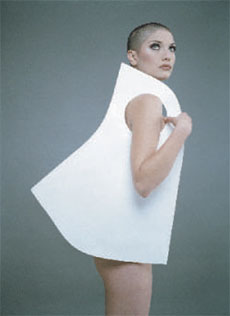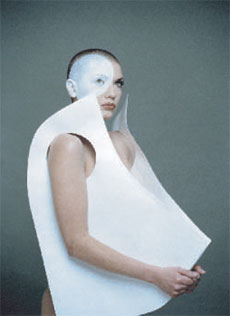 La.Ga is a bag made to dress you up. The bag becomes a part of you and changes your silhouette, giving you a new perspective fitted to your body by utilizing a form that we usually try to hide. She is dynamic, she morphs her shape, her texture, she resists you and your life, and becomes something unknown. She also awakens you with a question: "May we dress everything that surrounds us?" The answer is: YES! Go ahead!
Far from the fabrics of clothes, there are buildings, cars, furniture, that dress us all the time, anywhere, these are the things that we really use. Krv Kurva its just a way to find it.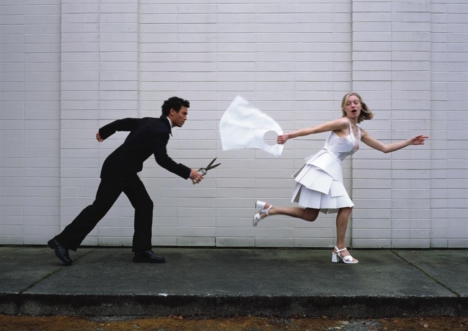 Daniela and Jorge, you started to produce just 200 pieces of the product and the request for more grew quickly. What is, in your opinion, the reason and what are your expectations regarding it?
It's simple. The object is simple as well, the idea for a new shape that fits your body as an unexpected garment for your daily life. All the rest are cutting a shape with some high-tech material and lots of faith. We are producing a product that lets the person know it very well, where is he growing and where is he going.
I've seen that you launched a limited edition of LA.GA under the title "Your turn at her service" in which you invited Portuguese and international designers to draw and give the product a different interpretation. Please could you explain us what was the main idea behind it and what's the concept for the "To Love Is Not An Option 2003" edition?
This project started as it is named with "No Option" because people in general, started falling in love for very different reasons with the silhouette of LA.GA.
And the white surface of it was very appealing for many to work with as a canvas, (We heard about people making spontaneous drawings which we were delighted to know), as well the Tyvek provided by DuPont to do this projects is the highest quality for printing.
Then the subject happens: A new graphic identity was made for Krv Kurva Design and this edition, a character font was designed "The such a lovely font " and new logo by our graphic director Helder Araujo. After, 22 big lovers of LA.GA where invited to create under the theme "To Love Is Not An Option 2003", a graphic intervention on the bag about why there is "No Option" when we speak about love.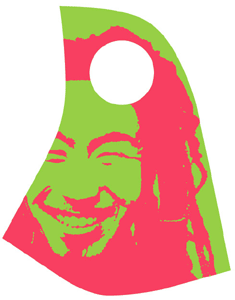 LA.GA won many important national and international design prizes and the first edition of it was launched inside Fabrica Features (United Colours of Benetton), where it is now permanently hosted. Are some new exhibitions in the works?!
The LA.GA Masahiro from Fabrica Features a new collection, and is hosted now at DesignersBlock Milan during Salone del Mobile as well as at Fabrica Features spaces in Lisbon, Bologna and Hong Kong, and the rest of Design Shops and Museums.
The whole collection from To Love is Not An option is now present in Athens at Occhi Gallery and will be going to London on the 13 of May to Gala Fernandez Gallery on HothouseArch 3, 274 Richmond Road, and a special event to present Pocko People at Magma Stores.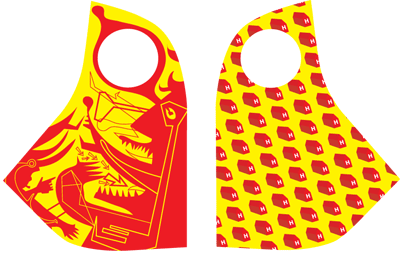 Are you involved in creating an entire new line of LA.GA products? And what do you think it will be the future of products like this in our contemporary culture?
LA.GA was and is a Unidentified flying object, its so light and fast itself that we always ran into surprises from her no matter what. We love the effect of dropping a stone in the water and look how far the waves can go. Krv Kurva is about that, a laboratory that acts and reacts in the middle of the industry and society to give some open space. Products like this are just an example about how design itself is trying to push the boundaries of industry and society and let us find that we need hope and to believe in the magical. No matter how egocentric decrepit and old moneymakers can be, in between all this process.
We shall following the destiny with faith (O Fado) of being dressed and undressed in our society making fashion. We are now working with a fashion collective on several new "Unidentified flying objects". We believe in waves and we believe that we can see you…
Text: Simone Biffi
Photos: Courtesy of Krv Kurva Design

[Help wanted]
Inviting volunteer staff / pro bono for contribution and translation. Please
e-mail
to us.