October 8th. The auditorium was filled with thousands of anxious spectators. The beat of traditional Noh drums and flutes welcomed us to the 20th Icograda Congress. Visualogue had officialy begun.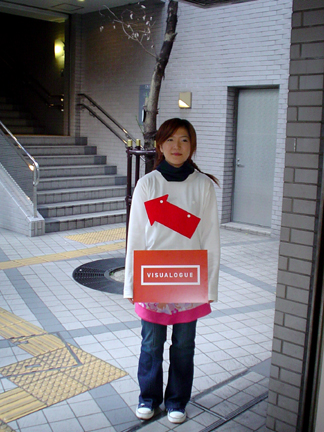 Visualogue staff were scattered around the Nagoya Congress Center serving as living signage
After the traditional performance, Japanese Graphic Designer Shigeo Fukuda gave us a preview of what would happen in the days to come.
Watching a revolving collage of works by masters in design while the sound of dynamic electronic music played filled me with excitement and reassurance that the long trip from Central America to Japan was well worth it, every minute of it. So I immediately switched from auto-pilot and jetlagged, to this state of excitement and anticipation.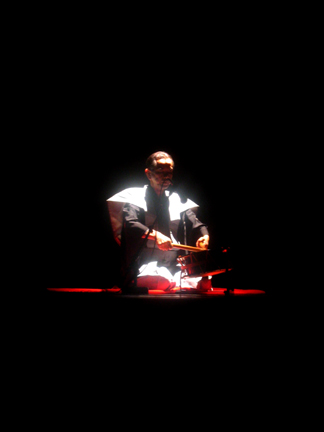 Noh performers broke the silence welcoming us to Visualogue
The theme of this year's congress was "Quality of Information." It was divided into three types of lectures with sub-themes: Clarity, Creativity and Joy/humor, which are the ways to achieve quality of information. Let me share with you the highlights of Visualogue…
October 9th. Renowned information architect Richard Saul Wurman (USA) gave the Keynote adress to begin the first day of lectures and presentations. He basically said that the most important thing in life are conversations. That it is what we should embrace and take with us, much more than notes on the lectures, the trully important memories lie in conversations.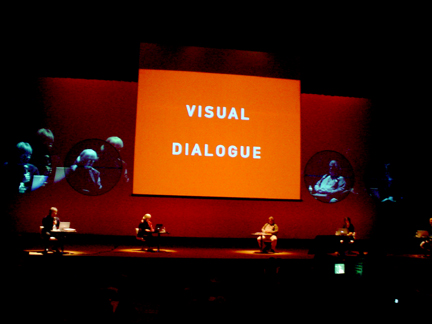 The panel discusses the qualities of information
A panel consisting of Wurman (USA), Katherine McCoy (Graphic designer/USA) Keiko Hirano (Graphic designer/Japan) and Kenya Hara (Graphic designer/Japan) discussed the qualities of information. Each of them presented examples of their own work to explain how they use information to convey messages through their design.
Kenya Hara mentioned the importance of making the familiar unfamiliar by giving every-day objects a twist. Keiko Hirano talked about the importance of beauty in design. "Beauty is the way of God," she said. After showing the video of a temple, she went on to talk about the process of her design for the MOMAT.
Wurman said that the mission of design is to convey a message. There are many "how's", but only one "what," "It's the question that drives us," he said. The "what" is the message, the information, and the qualities of it are the "how". How will we convey that "What"?
Eiko Ishioka: Graphic designer… Or is it Entertainment Designer?… Or art Direction? … Or?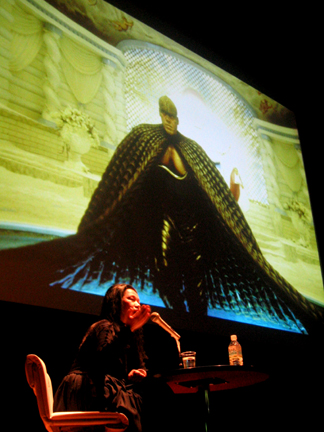 Costume design from "The Cell" film
It was like entering the twilight zone, another dimension… it was a journey through Eiko Ishioka's mind, and boy was it a trip! The introduction to her presentation was an on-screen reel of most of her works. With music fit for a mystery film, we were all kept on the edge of our seats.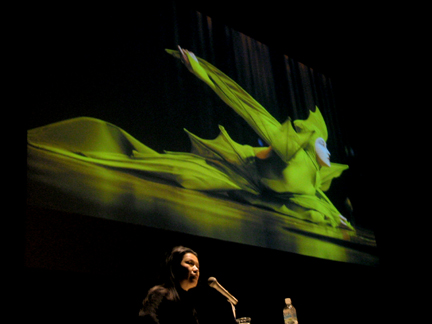 Costume design for Cirque du Soleil
After showing a compilation of her work on projects such as Cirque du Soleil, The Cell, Madame Butterfly, Cocoon, Ishioka went on to talk about her design phylosophy. Entertainment design, she said , is exciting design. She considers design a performance, in which you need surface beauty in order to deliver the content. Eiko Ishioka calls herself a free artist, and says that titles given to designers are meaningless.
She considers her design acting and the most important ingredients of her work:
1. Emotion
2. Emotion
3. Emotion
She said that in order to survive we all need originality. So she teams up with creators to stay original and to continue birthing new and exciting projects.
[NEXT]
[Help wanted]
Inviting volunteer staff / pro bono for contribution and translation. Please
e-mail
to us.