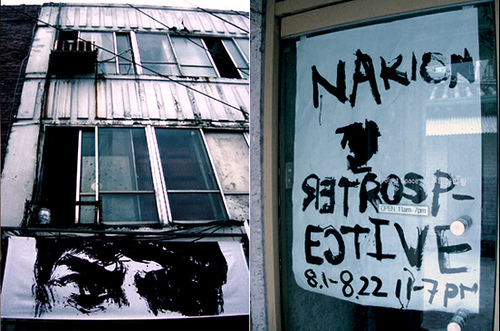 Nakion is an artist who held her first solo show, ironically named, Retrospective, at a Space Project "Sarubia" in Seoul, Korea. It featured her figurative drawings and abstracted ink works. According to her, she was more interested in the works as a whole and what they can suggest together then individual work carrying a specific meaning. Thus letting the viewers take the atmosphere and the mood, letting them interpret and take away the meaning for themselves.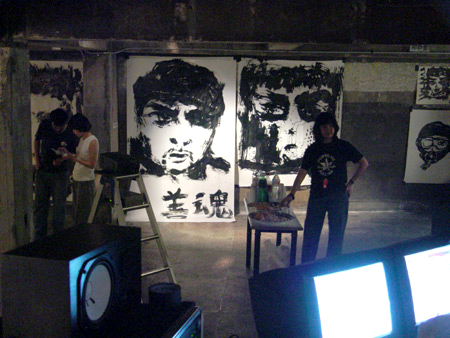 Since Sarubia is on a basement floor, the space is in the dark and I could feel a slight humidity. While electronic music was on and strange film was on a huge screen, her unique works were displayed everywhere within the gallery, and it made a bizarre atmosphere. Nakion is interested in digital music and digital motions as well. So the combination with the electronic music and the movie projection mixed with very organic hand drawn works all fuse into creating one harmonious mood.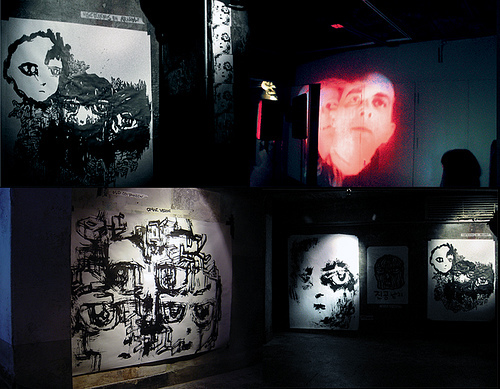 An Indian ink painting is one of the representative arts in the Oriental world and it was born in China. This is the one that Nakion chose to express her world. She was brought up in the the west and arab and the Indian ink painting seems not to suit her. When asked of her choice of medium, she said, even though, initially she picked up the ink out of intrigue in oriental art, as she continued to practice, it was actually the ability of the ink itself that captured her– the brush can hold the ink for so long and also enabling her to express very quickly.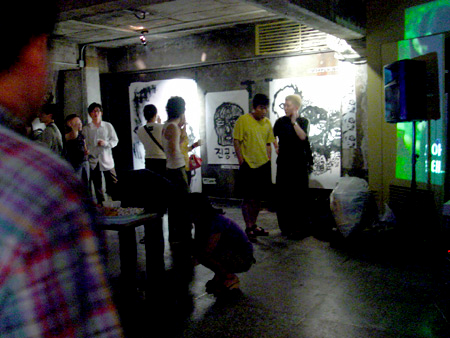 If you carefully look at her world, you will see various cultures and traditions merge together. The Indian ink paintings, the modern digital music and the old video, and titles written in both English and Chinese words… Through her experiences gained in various cultures since she was small, she finally found the best way for her art in Korea. With this way, she can effectively and naturally express ideas straightaway from her head to the outside.

Nakion "Retrospective" Exhibition
Date: 8th – 22th August 2003
Place: Project Place Sarubia

Text and Photos: Hyun-Hwa Jung from Rgbmix

<!- Rubicon OS Player -->