ECHIGO-TSUMARI ART TRIENNIAL 2003
Day three in Tsumari. Beating sound of rain woke me up. I saw the news about flooding in Kyushu, Japan on a TV and that made me anxious a bit. Unfortunately, I had to give up to go to Kawanishi Town, where many works are displayed, and Tokamachi Town, where is the farthest town from the inn. Even though it was poring outside, I drove a narrow road along a valley, where I saw a sign "Warning: Falling or fallen rocks." I went to Akiyamago to see "Melting Wall" by Jun Honma.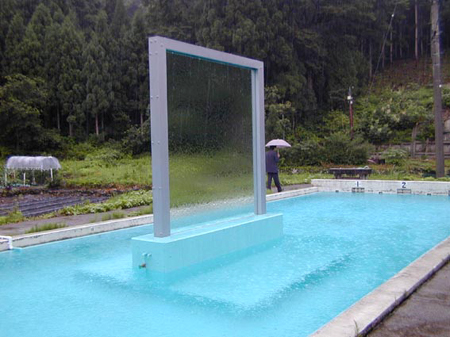 Jun Honma "Melting Wall"
A water wall was standing at the middle of swimming poor that was located in a corner of a closed school. Pouring rain and the wall that agricultural water was circulating on. It was a mysterious sight that as if the whole scenery will melt in the water. Luckily, I could see Mr Honma in this place as well. His last work in the previous triennial, which he placed thousands of colour pencils in a warehouse, was nice but the scenery through this wall was really beautiful like the impressionists painting and it was really worth visiting even in a heavy rain. I heaved a sigh of relief.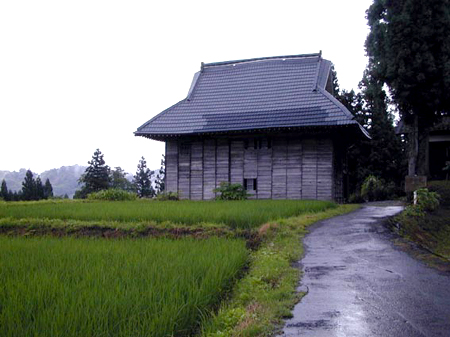 Marina Abramovic "Dream House"
Works of three Australian artists were the last ones I saw and they were displayed in a private house near "Dream House" that Marina Abramovic made in last triennial. The house has been used as an accommodation since 2000. On the 1st floor of a house, that is in front of "Dream House", I could see Lauren Berkowitz's "Harvest House", and Robyn Backen's "Conversation with rice" was on the 2nd floor. Janet Laurence's "The elixir of life" was in a warehouse next to "Dream House". "The elixir of life" is testing bar and I could try samples of herb liquor that local people and specialists chose. It was like a witch cast a spell on this area.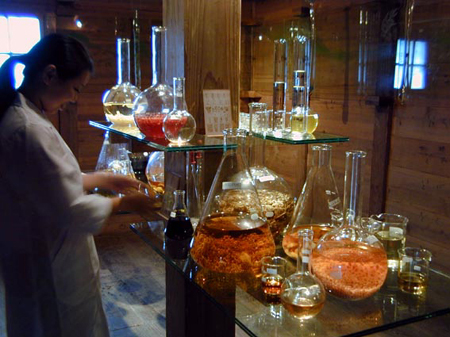 Janet Laurence "The elixir of life"
After all, I went back to Tokyo earlier than I planned because of the rain and U-turn rush of the three day holiday. I saw about 40 works in 3 days but it was a shame that I could not check works in Kawanishi Town, Tokamachi Town and Daigenji Heights. However, since I spent a lot of time for each work, I think I could experience the real nature of this festival. Trying to imagine a flower garden in a gorge. Having a rest under a tree. Going through snow shades again and again like dejavu. If there was no art, I would not experience these things and maybe I would not have a chance to visit Tsumari in my life. If so, although they are very private experiences but going to Tsumari was really meaningful for me.
Last but not least, I leave here some useful information for those who wish to go around Tsumari. First of all, I recommend you to go to one of the 3 stages to get a pass, a map and a guidebook. If you join in a bus tour, you can efficiently have a look at major works with explanations. In addition, I heard a rumor that a secret word will appear if you get all 250 stamps. So if you have an energy and stamina, please try. However, it is nearly impossible to see all works, so if you drive your car, it is better to make a brief route plan in advance. Of course, it is OK to play it ear. Since People in Tsumari are really kind when you loose your way, so it might be a fun to loose a way. Check the information section at Tsumura Triennial home page to know about access.
As for accommodation, try "House of Light" by James Turrell and "Dream House" by Marina Abramovic if you want (The booking is full during the summer holiday season. Please check in advance). You can have a warm welcome at inns in local areas as well. Tsumari is famous for hot spring, rice and soba noodle, so please try them, too. It is all up to you how you enjoy the time there. Finally, no matter you are in a bus tour or you go around by a car, feet or a bicycle, what I want you to do is founding your own scenery somewhere in Tsumari. This is because the image of that scenery will remain in your heart after you leave Tsumari and the festival is over.
I will be back to Tsumari in this summer again.
Echigo-Tsumura Art Triennial 2003
Date: July 20th – September 7th, 2003
Place: 6 municipalities of Echigo-Tsumura (Tokamachi City, Kawanishi Town, Tsunan Town, Nakasato Village, Matsudai Town, Matsunoyama Town)
Tel: +81 (0)257 57 2637
Organised by Echigo-Tsumura Art Triennial/ Flower road Executive Committee
http://www.echigo-tsumari.jp
Text: Chiaki Sakaguchi
Translation: Sachiko Kurashina
Photos: Chiaki Sakaguchi

[Help wanted]
Inviting volunteer staff / pro bono for contribution and translation. Please
e-mail
to us.