A comprehensive event of sounds and motions "Sound Republic vol.3" was held at "WOMB" in Shibuya, Tokyo on the 13th of October.
"FC/Kahuna", who has just got the number 1 at UK Club Chart, and "SheOne", who is highly valued as an artist in the next generation, were invited as a guest artist in this event. In addition to this, DJ Satoshi Tomiie, whose accurate music sense and high technique have a good reputation in NY, and Naohiro Ukawa, who globally plays an active part with his original fantastic motions style, presented their performances.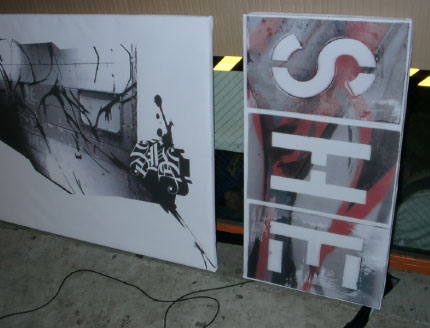 A crowd of people was getting bigger around 23 o'clock. Many of them were watching a VJ play of "29970", which showed their performance last year as well, rather than dancing.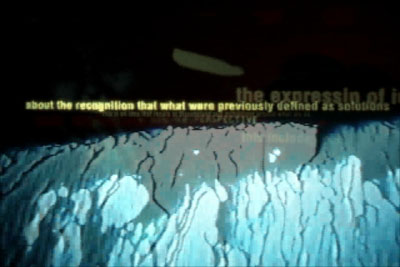 It was just at the midnight when the art play of "SheOne" started on the 1st floor. Red and black lines were intertwined on a white campus. A "still" space was there and it was contrary opposite to noises from the locker space and high-tempo melodies heard from the 1st floor. And I could see the Japanese sky with many flying cranes in his just-created "art."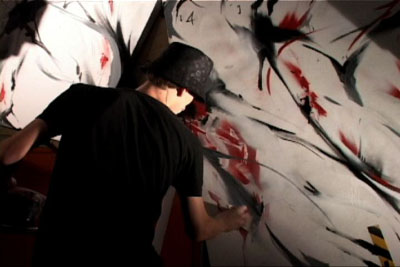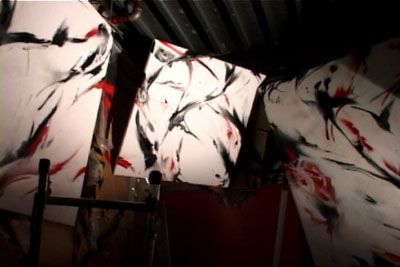 Tension on the main floor reached to the peak after half passed 2 am. I hung around on the 1st floor, staircases and the 3rd floor to get rest, but not only I could not get a small space, but also it was really hard to move even just a little. So I backed to the maim floor and saw Mr Drunk (!?) who repeated "Satoshi Tomiie is fantastic, isn't he?" again and again. I was listening to rhythmical scratches but his word "Satoshi Tomiie is fantastic, isn't he?" stayed in my head and constantly replayed.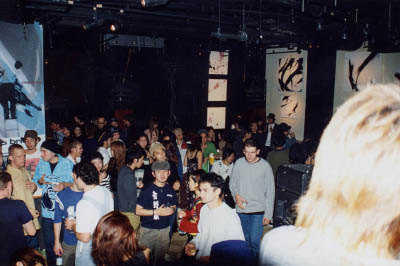 The time was 4:XX am and Naohiro Ukawa arrived. He was playing in Aoyama and it was about 30-minute-late for this event. The audience got into swing with a talented graphist Ukawa, who expands his field not only within Japan, but also all over the world. He showed his original motions of foreign models and every time when a magician-look-like blonde woman with a stick danced in a screen, the audience went wild with excitement. A tall boy was watching the motions as leaning against the wall. A black dancer was turning around with a glass of cocktail. A pair of two girls were chatting. And actor I, O, A and T were pleasantly moving their bodies… Everybody seemed to be enjoying this event in their own way and the night of "Sound Republic vol.3" went on.
Sound Republic vol.3
A New Shop + Creators Bridge Presents
Date: (Sun.) 13 October 2002
Time: 21:00 – 5:00
Place: WOMB (Shibuya)
Live Painting: SheOne (graffiti artist, UK)
DJs: Satoshi Tomiie, DJ Hyper, FC/Kahuna
VJs: Naohiro Ukawa, Fixer, 29970
info@soundrepublic.net
http://www.soundrepublic.net
Text: My name is Geust List
Translation: Sachiko Kurashina
Photos: Daima Kawamura from 29970
[Help wanted]
Inviting volunteer staff / pro bono for contribution and translation. Please
e-mail
to us.