Cannes, February 2001 Each year, Milia takes place in Cannes. This world's interactive content market is an event where professionals can do buisness in online entertainment for Internet, wireless and interactive TV. But it's also the opportunity to discover original and creative content.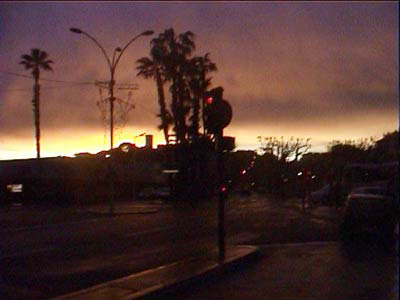 During the milia exhibition, a showcase called Fast Lane festival is organised. This exciting showcase of new digital entertainment brought to life the latest innovations in online entertainment for Internet, wireless and interactive TV through 14 quick-fire presentations. We enjoyed the Niko Stumpo expermimental works and obviously his website. Subakt introduced their different creations for Cypress Hill, Jamiroquai and the french rap band NTM.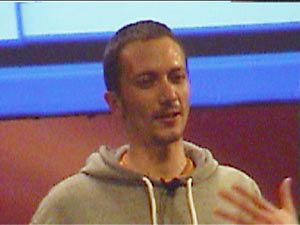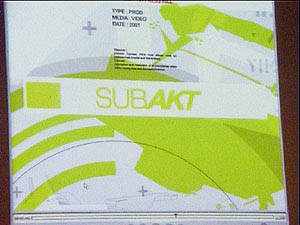 Inside the exhibition itself, the new talents Competition takes place. The New Talent Competition is designed to acknowledge students who excel in interactive content and technology development. It also gives interactive entertainment and new media professionals with the opportunity to discover the brightest new development and research talent from around the globe as well as offering a forum for recruting new talent.
Sixteen students showed their work, I appreciated a lot of them and specially "Papercut". It's a font designed by Avi Haltovsky, a student from Israel. This font exists in a 3D world and changes from any angle wiewed.
Tcheupel Garanger from Paris8 university showed interesting photographic animation on this website acte3.com.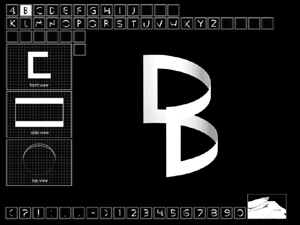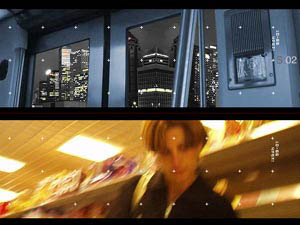 I also enjoyed "assimilation" which is a video clip somewhere in between 3D animation and cartoon, directed by Guillaume Boyer. This guy seems full of promise in video design.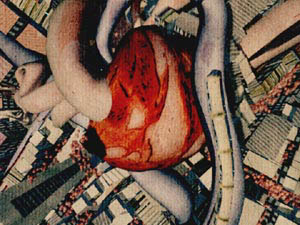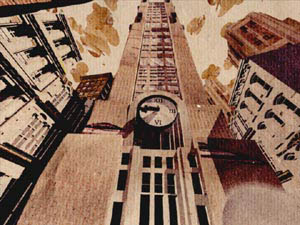 Anja Handest Sjorup produced an intersting CD-Rom called "one". This is a narrative piece about a voyueristic journey into the minds of 5 individuals, each of them consumed by a single personality trait whether it be paranioa, vanity, rage etc.
Kazuo Soma presented Clockwerk: this is several interactive clocks programmed with Macromedia Director (a little bit as John Maeda).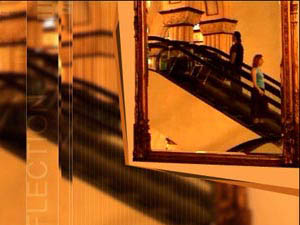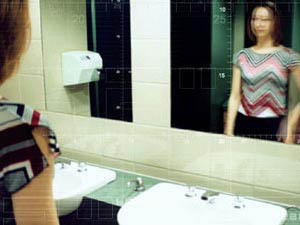 The new talents listing :
Greg Daville with Knob : Monkey Opera / Lighthouse Digital Media Design, Brighton, England
Kazuo Soma with Clock Werk / International Academy of Media arts and Science, Gifu, Japan
Avi Haltovsky with Papercut / Bezalel Academy, Jerusalem, Israel
Enrique Hurtado with Ixi Project / Centre for Electronic Arts, Hertfordshire, England
Simon Norton with Testimony / RMIT University, Melbourne, Australia
Anja Handest Sjorup with One / Universtity of Sydney, College of Art, Sydney, Australia
Rick Farell with Earth Sun and Moon / Staffordshire University, Stoke on Trent, England
Sharika Nelis with Sviatlana / Dublin Institute of Technology, Dublin, Ireland
Stephanie Bellat with Bodof / Emile Cohl, Lyon, France
Tcheupel Garanger with Acte 3 / Universit? Paris VIII, St Denis, France
Daniel Ireland with nONLINE / University of Technology, Sydney, Australia
Johanna H?ysniemi with Qui Qui's Giant Bounce / Media Lab Uiah, Helsinki, Finland
Guillaume Boyer with Assimilation / ETPA, Toulouse, France
Donald Abad with Touslesjours / Ecole Nationale Sup?rieure des Arts D?coratifs, Paris, France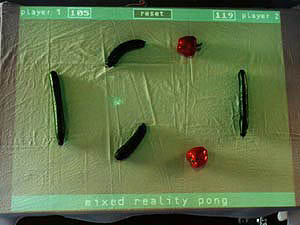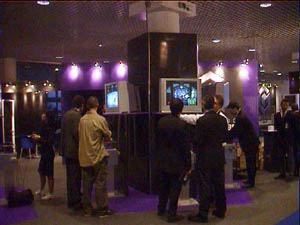 Aside New Talent Competition, you could enjoy the Mixed Reality Pong. This is a mixed reality version of the classic "Pong" game. The aim of the game is the same than the classic video game Pong but here, the players can play the game with their hands or other real-world objects. The game physics simulate the behaviour of a real ball, except that the virtual ball doesn't slow down at all.
It's interesting and I hope virtual will become more a mixed reality!!
Obviously, I tried the Nintendo GameCube that arrives in Europe, I visited luxurious party in Carlton palace. Microsoft refused that I enter on their boat for the Midnignt Party (shame on them!). The last day, sun was shining in the sky and I enjoyed the mediteranean climate.
Milia 2002
Date : February 10th – 14th, 2002
Place : Palais des Festivals, Cannes, France
http://www.milia.com
Text and photos: Jerome Lacote from 6um
[Help wanted]
Inviting volunteer staff / pro bono for contribution and translation. Please
e-mail
to us.