WIG-01 is specialised for designing graphics, based in Sheffield, UK. They have aggressively been presenting their works on the web as well as operating variou projects, such as "Prayer" directed by Oliviero Toscani from Fabrica besides the graphic works. What makes them to make such creative works?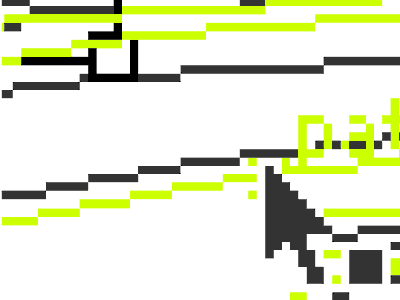 Tell us a little bit about your studio. How did it start? What do you see as your specialty?
WIG-01 is a creative partnership, we are dedicated to creating work that doesn't 'play safe'. We are passionate about creating graphic design – and only work with clients who want to separate themselves from formulaic, mediocre design, and who are prepared to take risks.
WIG-01 was formed in August 2001, although was not officially launched until our website WIG-01.com went online in November, this marked the birth of WIG-01. We have worked together for about five years, so we know each other well.
How is working in Sheffield? I know that both DED Associates and The Designers Republic are also in Sheffield. Do you guys know each other? Hang out? Would you say that there is a design scene in Sheffield?
Sheffield is like any other city, but less flash and pretentious. DED Associates have been supportive of WIG-01, we respect the work they do. Some design groups can 'loose the plot' as success grows, and become arrogant. DED are grounded and produce nice work. We don't know TDR.
Do you feel that being in Sheffield (geographically) is a help or hindrance to working in the design field, do you find yourself working for more regional clients as a result?
WIG-01 is not restricted by location. Nowadays you can work for clients all over the world – we like to be outsiders looking in.
Currently most of our clients are based in London, the problems only occur when we need to travel down to see them, although it is nice to escape the computer screen for a day.

What is your working process? Do you see your studio as purely a print design studio or do you work in multiple mediums?
We are both designers, and can design for any medium. We work on projects together – cross fertilisation of ideas.
I noticed that you have a project called 'Prayer' by Fabrica, directed by Oliviero Toscani in your portfolio. What is your relationship to Fabrica? Did you go there?
Fabrica sent me a postcard asking for images and words on the subject of 'Prayer', I scrawled on the postcard in black marker pen, 'Prayer is talking to a man with a beard', and posted it back to Fabrica – one year later they sent me a book with my throw-away comment inside.
What project did you do for the December 2001 Issue of Creative Review (p.52) ?
The October 2001 issue of Creative Review was the DIY (Do It Yourself) issue, they launched a competition inviting readers to send in their designs for a spread in Creative Review, the winning designs were published in the December Issue, WIG-01 designed one of the winning entries.
Do you see a difference between print, web and broadcast design? Do you think a studio should be able to work in all mediums?
Each area brings with it problems, but also allows different results. Wig-01 understands the problems within each medium and treats them as challenges. Studios should stick to their strengths and (luckily) Wig has strengths in many areas.
What makes WIG-01 different from other studios? What is the driving force for you to do creative work?
WIG-01 is not motivated by money, although money is important, we would not take on a project purely for financial gain. The work needs to allow us some freedom, and be in an area we are interested in. The driving force for us to do creative work is the rush of adrenaline we get when we produce a nice piece of graphic design, or come up with a good idea.
Do you plan to grow? What are your plans for the Future?
We don't plan to grow in number. Our plans for the future are to build up a solid client base of people who we enjoy working for, and who respect the work that we create.
Text: Matt Owens

[Help wanted]
Inviting volunteer staff / pro bono for contribution and translation. Please
e-mail
to us.