JEREMY DELLER "I LOVE MELANCHOLY"
Have you ever stopped to mix two very opposite elements of thoughts, or even thought about what would come out of it? Most likely no. That is the act of anti-spontaneous and unless you pull the trigger intentionally, it would never come out of the daily context. While the phrase "twenty first century" has started to sound nothing more than ordinary, LOW GALLERY has celebrated its opening of UK art star Jeremy Deller's show "I Love Melancholy". It was the show that will make a little happy stir in people's ordinary flow of thoughts. Located on the border of Beverly Hills and West Hollywood, LOW is a unique white two-plex (sandwiching retail store I'm sure for good reason) providing conceptual artists a quality space to voice their work. The network spreads out world wide, for example from Japan, Nobuyoshi Araki and Takashi Homma have listed their names here. This thought provoking gallery has been around in the scene for a while now.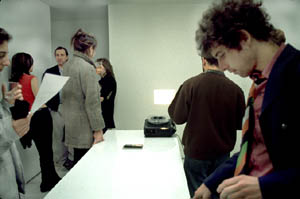 Born in London 1966, Deller grew up staring at the class culture that the city forced on people. He successfully noticed a happy crack in between, where he found a daring comfort space for his creative expressions. To be a beloved pop artist seems to require contradiction to posses both optimism and nihilism. Deller succeeds in crossing genre and medium nimbly and keep pressing two opposite vector in people's face. Yet in a very humble way. Deller's creative vehicle is always hidden in routine communication or daily habits so chances are that people might not notice the message's existence at all. unless you get a guidance from a sky (like I did from Jeffrey @ LOW) you need a proper satellite dish to channel it right. But he even enjoys the foul in audience response and that playful attitude certainly is the best representation of his work.
Many might be turned off by this doughy opener paragraphs but this is all for "receiving" something from his show, I shall confess here. Being busied by routine daily task and often times people tend to forget to stop. The option to think is taken away here or spontaneously given up by one. To read a signal to "stop" from something has never been quite this extraordinary in the history. Well, the revelation shall follow at last…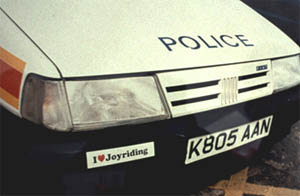 Three works from the past are on display in the main space. Being a righty I started off with the piece to the right. Little sticker that says "I ♥ Joyriding" is on the spacious white wall and the photograph of that sticker on a bumper of the car. And you realize that vehicle belongs to the police. As you all well may know, "joy riding" represents this criminal act to steal a car from one place and go for a ride, however politely put it back in the place it was originally found. Deller was the very person who played this charm on police's property. The sticker's so tiny, I'm sure the officers had fun "riding around" for at least a little while. This package of whole act and mind game is nothing but his creative activity. You get the idea.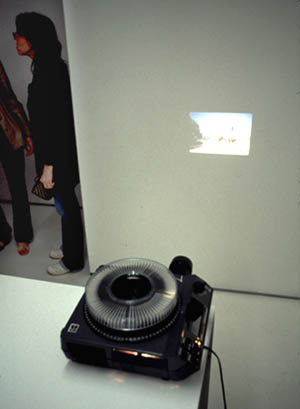 Second work at the end of the room seems as if he's hosting a mini-slide show. Images from Veteran's Day parade at the Death Valley are projected on the wall. Images from this annual patriotic parade, mainly due to the location, are almost positively lacking the sophisticated skepticism that city usually offers. If you've done your homework, you should be looking for the opposite symbol to 'patriotism' now…and Deller does not fail you. The music that fills the space is coming from the CD player, and they are THE KINKS. '60s British loungy sound does provide the total opposite ambient and the field of contradiction reveals itself once again. Even the little slide projecter's automated rhythm seems to play the role in this whole piece.
Read more ...

1
2
[Help wanted]
Inviting volunteer staff / pro bono for contribution and translation. Please
e-mail
to us.