The edge of the world doesn't get much more borderland than the puszta, in eastern Hungary. The word 'puszta' in Hungarian is used for either 'desert' or 'plain', but the open, flat 'Great Plain' is a desolate place in any language.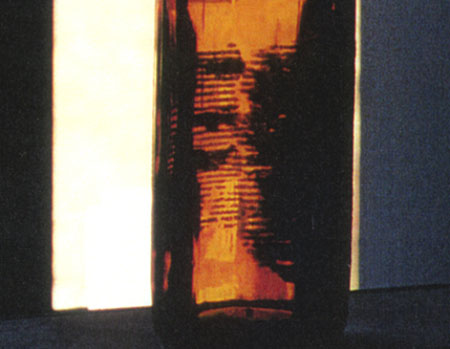 Out here has moved a young English abstract painter, Robin Sperling, who had a successful start to his career already in London and Berlin. He has also worked in the south of France, in Nice, and most recently in the north of France, in Britanny. Now at last, with his Hungarian wife and children, he seems to have found a landscape flat and empty enough for the kind of art he does.
Which is rigorous art. Sperling is definitely a purist, staying on the borderline between abstract painting and conceptual art, constantly probing how line meets space.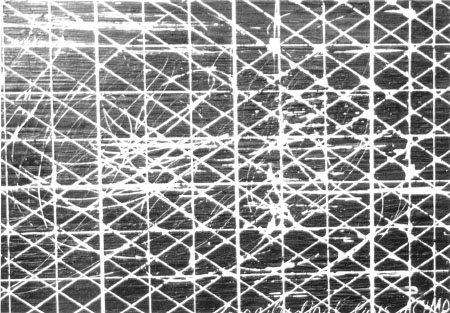 Some of his paintings, and photographs he takes to constantly try to pin down the way line and shape work for him, seeing grids in the world, abstraction made concrete, though he personally tries to keep his distance from the Internet.
Sperling is anxious not to be corrupted by information, and is unworried about staying aloof from international news – trying to spend his time feeling the light and the texture of daily life out in eastern Europe – almost retreating into the past.
Far from being a mid-20th-century abstract artist trying to change the visual world with a revolutionary manifesto or a zeal for reinterpreting life, the artistic goals of this 2001 painter are almost monastic. He seeks to withdraw into purity.
Comparisons are always misleading, but some of the austerity of Bracque, Mondrian, Carl André can be found combined in Sperling's work. Among modern painters his sparse use of line, his singular mission to reunite point and plane, almost make him a classicist.
The vast, open countryside where he lives now, calming, ancient, and also eerie, is, he says, reviving his sense of how a grid of lines can expand beyond the picture frame to articulate and explain the world.
Sperling has already had his work shown by the Hungarian Cultural Institute in London, and his ascetic taste finds the earthy seriousness of Hungary and Hungarians refresh, inspire, sharpen him.
Having found a place outside from which to look in, in on Europe and in on the rest of the world from somewhere safely off on one side, Sperling now believes his real artistic project, casting a net of line over the openness of space, can finally begin to take form.
Text: Mark Griffith
Photos: Courtesy of Robin Sperling

[Help wanted]
Inviting volunteer staff / pro bono for contribution and translation. Please
e-mail
to us.