FLASH CONFERENCE 2001 KOREA
There are many conferences about Flash and web design all over the world. They make good chances to know how we can use Flash and what we should make. In addition, many Flash developers participate in and communicate with each other, so we are able to imagine the international trends and the future of the web. It was the first time that this kind of Flash conference was held in Korea. It took place from 29th to 31st of July at COEX Auditorium and Grand Ballroom in Seoul, the capital of Korea. It was called 'Flash Conference 2001 Korea'. Many influential speakers such as Joshua Davis and Yugo Nakamura were invited and they showed their inspiration and creativity.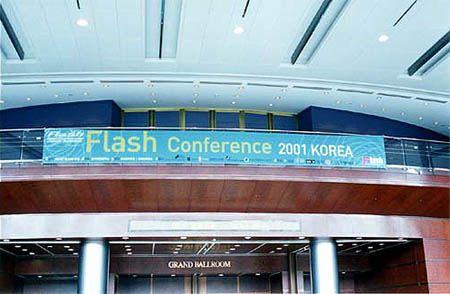 At first, the trailer, which had been served with speakers' works, was shown. The conference opened with a keynote speech delivered by JaeHoon Lee, the chief officer of YOON DESIGN Inc. Then, the speakers were introduced. Flash Conference expected to draw more than 1,000 attendees. All the sessions were divided into two groups for fundamental and expert users. For 3 days, sessions had been discussed about the topics : Action Scripting, Motion Graphics, Game Production, e-Business, Animation, Interactive media.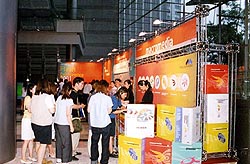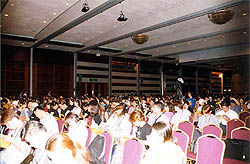 Definitely, Joshua Davis and Yugo Nakamura, one of the most famous Flash developers in the world, were spotlighted over the whole conference. They spoke about inspiration and interaction.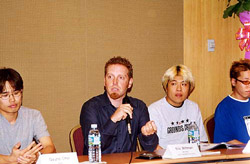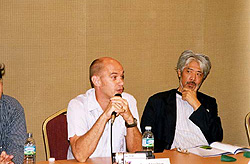 Joshua Davis showed the attendees an intersting way of finding inspiration with his presentation called 'Inspiration and Application' through praystation.com and once-upon-a-forest.com. He explained how he had developed and expanded his ideas and works.
Yugo Nakamura spoke about 'Visual Communication'. He took out these words : Static, Kinetic, Reactive, Connective. He defined this meaning and showed how he had applied them to his works. He took attendees on a brief tour of his famous works on yugop.com and showed some unpublished works.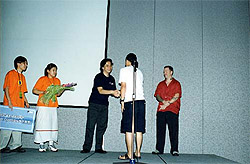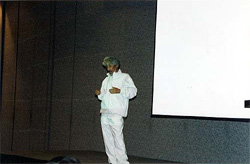 Aachi & Ssipak is a modern cyber-funk easy-rider filled with MTV images and hardcore rap for the new generation who wants a different and shocking stimulus. It was invited to the 10th Yubari International Fantastic Adventure Film Festival 2001 and the 5th Puchon International Fantastic Film Festival 2001. The animation directors, Jae-hee Kim and Yong-hoon Cho presented the process of this Flash animation.
Interactive TV media is unusual in Korea. Tai Kim is a Korean Designer who works for NBC Interactive Design in NY. He presented interactive media, especially iTV : technology and design for iTV, possibility and limit of iTV and the market place in USA.
Prof. Gumnuri showed 'Gumnuri font', his experimentation utilizing Hangul, Korean language. Seol Euna demonstrated motion graphics through seoleuna.com and her recent work, yupgigirl.com. Dan Stechow, Braincraft.com former CEO, focused on how we could utilize Flash to e-business. He emphasized that we had to do business and make money to build environments for more creative or experimental works.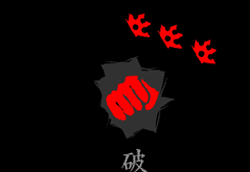 Competition : Most of the finalists were made by Korean Flashers. The jury, composed of speakers and specialists, had already selected 5 finalists for each category : Motion Graphics, Animation, Game, and Experiment. The winner in each category was chosen in an online vote. The Animation category winner, 'Ha : No Border between Good and Evil', won a People's Choice Award as well.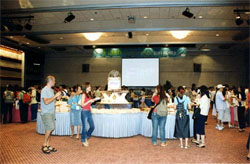 Cocktail Party : A Cocktail party which decorated the end of the conference was set with good food, beverages and cozy music. It became a chance for attendees and speakers to have small talk and share opinions which was difficult in the formal conference sessions. Joshua and Dan seemed to especially enjoy the party with their own digital camcorder. All of them who were at the party spent a great deal of time taking photos.
Although Internet environments have been rapidly developing in Korea, there are not many opportunities for them to communicate with each other. This event gave us a platform that attendees could share what is going on and learn changes of international trend through the lectures of invited Flash professionals. In addition, Flash Competition had an opportunity to find out talented experts and develop their specialties on designing websites.
Flash Conference 2001 Korea
Date: July 29-31, 2001
Place: COEX Auditorium and Grand Ballroom, Seoul, Korea
http://www.fc2001.com
Text and Photos: Izzy Lee
[Help wanted]
Inviting volunteer staff / pro bono for contribution and translation. Please
e-mail
to us.