Then, how about creators of content for broadband internet, digital broadcasting and mobile phones? The development of services and change of platform create issues within th eenvironment of rapidly developed technology. It seems to be tough for artists and designers to follow the speed not only in Japan but also in Europe. In this year's Milia, I couldn't find anything completely developed by artists nor designers.
The previously-mentioned Jan Mary Major, CEO/president of Vivendi Universal, mentioned that they have already achieved the first-rate incomes for network gaming service as one of their perspectives for their content business on the Internet. However, their network gaming is no more than a classic like a casino or something like that. Today games like a role playing game to exploinge an imaginary world using numbers of polygons is not at the forefront anymore. I know it's still popular, but it's not novel even though it needs a great deal of effort and it's just one of many network games. Therefore, strategies for a new expression are required, but it seems like it's still difficult to do it..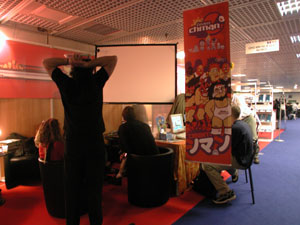 In such a situation, there were creators who attracted people's attention all the time at a small booth in a corner of the large space of Milia. They were members of Chman who creates humorous and cute, but not-too-childish characters. This young Frenchteam of creators has established an imaginary world called 'Banja' that is full of cute characters and created their original stories and community developed everyday, mainly with Flash. The adventurous world that resembles reading a book has been morphed into an interactive world by Chman. Everyone can enter the world anytime they want, and the community is continually developing. Chman provides stories suitable to each special quality of interactive media as content is one and only team doing this kind of unique thing in the world. Chman world is poised to expand into other media like the animation for Fatboy Slim's commercial film. They almost achieved their seat in this battle as a creator.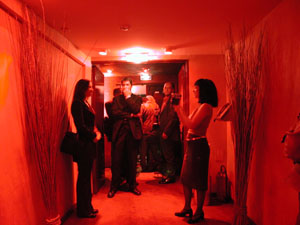 While this technology service is changing rapidly, how can artists, designers and creators get their place in this battle?
First of all, it's important to follow your curiosity for new materials (technology and service) as well as a cook. Looking back over the past, services and media that used to be regarded as something immature a few years ago are coming to the forefront now. It's important to watch how broadband data transmission will be like in the future. It's also important to communicate positively with those who have controlled those materials. While they're also now exploring on what kind of expressions and contents would be possible, you can get the real information by communicating and exchanging information with them. It would give you a brainstorming and also you can promote yourself to them.
Today the world of digital contents business is becoming on the same field over Europe, USA and Asia. If you dare jump into the field and get a communication with them wherever you are, you could achieve your own seats as many as you want.
Milia 2001
Date: February 10th – 14th, 2001
Place: Cannes, France
Tel: +33 (0)1 4190 4479
http://www.milia.com
Text: Tomohiro Okada
Translation: Mayumi Kaneko
Photos: Tomohiro Okada

[Help wanted]
Inviting volunteer staff / pro bono for contribution and translation. Please
e-mail
to us.