This is the story of my meeting with dj Oakey Lo, for the four millionth time. It's not everyday you meet a passionate person in Hong Kong just trying to do their own thing, musically that is. In my case however, I am his good friend, so hopefully to Shift readers, you will get to hear the deeper side of his sugary soul for the first time. Oakey and I have been to parties together, sharing many deep smoking sessions at club dj booths and trying to outsmart each other with new tunes, only to find out that we have practically all the same titles.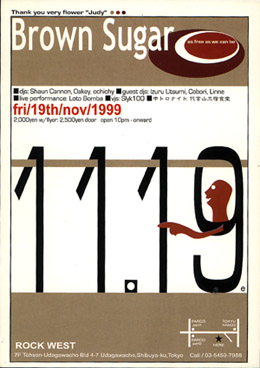 What brings me to get him on Shift? You see he will release a new record very soon and exclusively in Japan. I want to get right into the heart of the matter, but let's see what Oakey has to say for himself.
Hello dj Oakey! Please tell us about background.
I actually started music when my mum told me to learn the piano when I was young. I then loved music so much I studied at Sacramento in the US, and worked at Star TV for 8 years now, firstly as a technical operator and in 1994 I got moved into audio and the fun started. As I have worked for 6 years as an Audio Engineer where I met many people in the television industry. That is where I met a Japanese friend Toshiro Ochi. Our passion for the same types of music was identical; so we started up djing which later on became a club night called Brown Sugar.
Why Brown Sugar?
It was my interest and love for soul, rNb and hip hop music. Then, it was just natural to come up with a name that has an influence and to easily associate with soulful black music. When we first started our nights it was quite unpredictable, as we only had a few people turning up. We continued to lose money, though it wasn't really too much of a financial burden. Brown Sugar was the only party to promote this type of music in HK, so we continued to do it. We never gave up and knew that there were other people like us, and that one-day we will succeed. Brown Sugar then lasted 6 months in Hong Kong because Toshiro and our other Brown Sugar dj Shaun Cannon moved over to Japan to work. I decided to stay in HK for personal reasons. Now we have continued Brown Sugar in Japan where Toshiro has continued the Brown Sugar club nights. I fly over to Japan about twice month to buy music and spin.
Tell us some of your personal work in music?
My first major work was a soundtrack for the independent film "Father's Toys" which is about a Father who has Parkinson's Disease. Everyday he would go out and do really strange and often uncalled for missions to pick up the garbage on the street to walking and getting lost. His son really hates his father all along. As much as he hates it, he takes care of his Dad. I had total freedom on the soundtrack and the style is mainly rNb (hip hop beats with an Irish singer Ola) and a few tracks in Drum'N'Bass. There are live keyboards involved and some sampling.
Upcoming score for a film "Glass Girl" which is more a teenagers abstract story. I am doing a rearrangement of one local Cantonese classic song in which the Director requires me to do but the other tracks I have total freedom on. It takes about two months on and off to do the project. There will be some hiphop tracks with dj Frankie, who is the no.1 dj at the HK DMC this year on the decks. I will be using more variations in style for this music.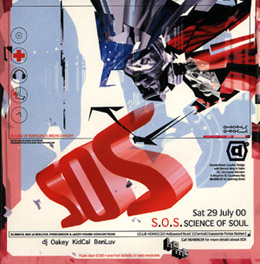 What about your own record deal?
We've been trying to get our debut single for Brown Sugar… title is SOS and will be out soon. There are two mixes. One is called Science of Soul mix and the other is Save our Soul mix. It is a house track with Latin percussion flowing through it… Half-funky and jazzy… not too many live instrumentation but concentrate on the bassline and vocals. Plus the b-side mix will be a two stepper with hopefully a Japanese and a Eurasian girl. This song will be released only in Japan, and then will try the world. The title reflects on the moment for us in HK, we need to almost cry out from the norm of Trance and techno… and to inject love and soul back in to the clubs. Brown Sugar and SOS is a reminder of our club nights.
Any message for the readers?
Give LOVE… that's all there is to live life!
Text: Calvin Ho

[Help wanted]
Inviting volunteer staff / pro bono for contribution and translation. Please
e-mail
to us.