A music enthusiast, a culture Pacman, and a fashion designer for RCB (Real Clothing Brand). You will rarely see the multi-disciplined Vicky Lam idle in one place. His label is relatively new. For two years now he has made RCB one of Hong Kong's leading alternative fashion labels.
Just last week, RCB* headed over to Singapore for a fashion show. I asked Vicky about the work.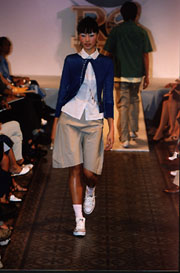 "This season I have aimed to design more decent casual wear in the sense that we have a range that has more shirts and pants, and skirts with thematic colours. Pastels- pinks and blues. I wanted to give more of a happy feel, inspired from International School or on campus feel. Restriction is on colour only… The clothes you see in the show are more or less an extension of that. There are two stories. One is the nerdy look and the other is the rebel look. Both have their own individuality, and both mix and match in their own way…though their dress code is quite different and unique. It's a focus on school kids and how they react to their everyday clothes… how they wear wear it and how they respond to the clothes is their identity…"
"What I try to communicate really is the influence of music to a teenager when they go through that stage in life. For me, music has always been an influence for how I wanted to dress, and I am sure this applies to many people too. Like in the 80's, groups like Spandau Ballet, Duran to heavy metal and hiphop was a big influence to me. So most of the clothes for the show is DIY, your own style. It's a styling technique applied by the end user, rather than clothes designed by a brand to look like something such as Glamourous Rock. Which doesn't mean much and it only means that period wears you. I try to say- for people to interact with the clothing to wear the period in their own way. If not, then we all look the same, we all wear what's trendy superficially and not what you and me are about."
"Most of the work for the show is only customised pieces made from the existing range from RCB*. Details such as personalised studs on jeans, which spreads all over one area at the back of the pants is done for DYI purposes. This DYI extends to the artists that helped on the show. MC Yan with his graffiti on the clothes and Eric So for the exclusive figures. We are working and flowing together."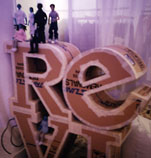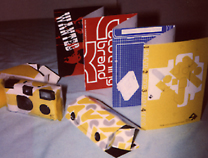 "The souvenirs "ReadymadeVisual Recorder" and "Vision Extension Device" (which is a throw-away camera and binoculars plus postcard and bag for the show) is a present for the guests. This is a gift for them to interact, to record. A DIY attitude and functionality follows through that similar to the way I have approached the clothes for RCB*.
Text: Calvin Ho

[Help wanted]
Inviting volunteer staff / pro bono for contribution and translation. Please
e-mail
to us.