And now has that ended a bit?
No, I still find them good and as for other designers I'm not totally impressed with. There are really not so many I find interesting. I look at a few magazines but I really do not look at them too often. I am more interested in work cloths and old war films. With the second-world war I find super cool stuff and in general film. Sometimes things on the street but in principal my biggest influence is film; at the moment war films from the 50's or 60's. Sure classics and the old Paris films. Also Catherine Devenue is the ideal picture of a lady, although you do necessarily not see it in my clothing, but it will come.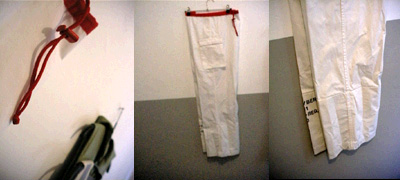 You have two labels, 77 and E-1027/BERLIN, how did you get these names?
With E-1027/berlin I started about half a year ago and did not make too much with clothing and then decided to start with it again. The name comes from a furniture designer Eileen Grey. In the thirties she lived in Paris, I lived in Paris a half year ago for one year, and I saw her work in a gallery. I was very fascinated because that is the style of my clothes at the moment, at least the style of E-1027/berlin is the like the furniture of Eileen Grey: minimal but useful. She also built a house and that is called E-1027 in Paris. I read about it and thought it was a good name. The 77 line is more for men but not so expensive. They are also clothes that are in the direction of work clothes, more practical. These are not so expensive. The E-1027/berlin are also limited, there are only a hundred or two hundred pieces, and are stamped with the number on the back. The 77 line is more industry oriented and can be ordered for bigger men. It is of better quality than what is available.
What are your favorite colors?
I like gray and rose a lot. But for me personally I like pink and neon colors. But for fabric I like all the colors you see in the city like a gray stone color from a bunker.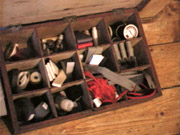 What are your plans?
I would like to make a store in Berlin. I would like to make something in Germany and Berlin offers a lot more than the rest of Europe. It's just a major big city and there's a lot of influence there. Also in Berlin it is quite difficult, in Paris and London there's a lot of young designers, and they're able to sell quite easily. In Germany it is a lot more difficult. In Germany you hardly sell anything easy; the competition is smaller but you still do not sell anything. The Germans do not realize when they have something good in their own land, they want to orient on what's going on outside, they always want something out of London or Paris. They do not see that there is good art and good music.
Text: Jeremy Tai


1
2
[Help wanted]
Inviting volunteer staff / pro bono for contribution and translation. Please
e-mail
to us.