art/design
ステファン・フリードマン・ギャラリー
Stephen Friedman Gallery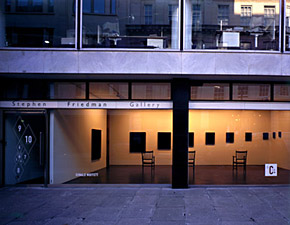 ロンドンでよく知られているコマーシャルギャラリーのひとつ、ステファンフリードマンギャリーは、メイフェア地区と呼ばれる高級ブランドショップが立ち並ぶエリアにあるOne of well-known commercial galleries in London's upmarket Mayfair area yet also known for its quiet and pleasant atmosphereが、ロンドンの中心にいることを忘れてしまうような静かな空間。
このエリアは近年プライベートギャラリーが続々とオープンしており、インターナショナルに活躍するファインアーティストの作品を展示している。
展示室は2つのセクションに分けられており、うち1つは外から見えるようになっている。無駄がなく、広々と明るい。



Stephen Friedman Gallery
住所:25-28 Old Burlington Street, London W1S 3AN
時間:火〜金 10:00〜18:00/土曜 11:00〜17:00
TEL:+44 0 20 7494 1434
info@stephenfriedman.com
http://www.stephenfriedman.com.
A number of commercial galleries are continuously showcasing internationally recognized fine artists.
Its exhibition room is divided into two section , one of which is visible from the street, offer light and simplicity.



Stephen Friedman Gallery
Address: 25-28 Old Burlington Street, London W1S 3AN
Open: Tue-Fri 10:00-18:00 / Sat 11:00-17:00
Tel: +44 0 20 7494 1434
info@stephenfriedman.com
http://www.stephenfriedman.com



STEPHEN FRIEDMAN 画廊
地址:25-28 Old Burlington Street, London W1S 3AN
时间:星期二至星期五 10:00-18:00/星期六 11:00-17:00
电话:+44 0 20 7494 1434
info@stephenfriedman.com
http://www.stephenfriedman.com
<!- Rubicon OS Player --> <!- /Rubicon OS Player -->