bar/restaurant
クレールヒェンス・ バルハウス
CLARCHENS BALLHAUS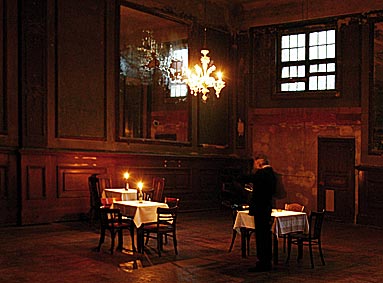 Also known as Ballhaus mitte the old dancing hall and restaurant is intact and the place in town to go for combined dining and dancing「バルハウス・ミッテ」という呼び名でも知られるこの古いダンスホールとレストランは、完全に当時のままの姿で、食事とダンスを楽しめる場所を市民に提供している。



サッカー場の真向かいというロケーションに加えて、外には花々が咲き誇る庭を有するこの歴史的建造物は、夏の午後ともなれば素晴らしい景観を見せる。レストランのメニューにはサラダ、煉瓦造りのオーブンで薪を使った焼きたてのピザ、それにドイツのスタンダードな料理が並ぶ。
本場ドイツの地元料理「Buletten mit kataoffelsalat (ドイツ式ミートボールとポテトサラダ)」、そして食事の最後は自家製ケーキとナポリタンコーヒーを是非試して欲しい。



火曜日にはタンゴが、水曜日にはスウィングがダンスホールで行われる。ありとあらゆる年代からなる客層で、広いフロアはほぼ毎日満員である。上階の部屋では、主にクラシック音楽を奏でる日曜日のコンサートが人気だ。夏の時期には、少しの待ち時間を我慢すれば外の庭にある席を取ることができる。訪れる人々には若いミュージシャンもいれば、東ドイツ時代から20〜40年間はここに通い詰めているという地元の老人もいる。



音楽的なことについて触れておくと、このダンスフロアにはある決まりがある。ジュークボックスを除いては、ディスコ風のオールディーズを演奏することは音楽的マナーとして禁止されているということだ。



安くて美味しい(2ユーロ)ウォッカを飲みながら、テクノの流れるクラブとは全く違った、ドイツの別の顔を楽しもう。



CLARCHENS BALLHAUS
住所:Ballhaus Mitte, Auguststr. 24, 10117 Berlin
時間:10:00〜
TEL:+49 30 282 92 95
claerchen@ballhaus.de
http://www.ballhaus.de



Text: R.T.Hansen
Translation: Shiori Saito.



The historical buildings across the football field with an outside flower garden offers a splendid ambiance for any summers evening out. The menu is oriented toward a few salads, pizzas (made the right way in a wood fired brick oven) and German standard items. Try Buletten mit kataoffelsalat (German meatball with potato salad) a real classical rural dish and finish with a homemade cake and Napolitarian coffee.



There's tango dancing Tuesdays and swing Wednesdays. The place mixes all ages and the large dance floor is almost always packed. In the upstairs room popular Sunday's concerts take place mostly with classical ensembles. In the summertime with some short waiting time it's almost always possible to get a table outside in the flower garden. The place is popular with people ranging from young hot musicians to old locals from DDR who have been attending the place through some 20-40 years. As for the musical outline a notice of warning must be given for those attempting to integrate the dancefloor into their plans: the discotheque often plays oldies not allowed in places with musical decency except roadhouse jukeboxes.



To counter flush with a shot of the cheap and excellent vodka (2€) and watch quite another side of Berlin than the typical techno club.



CLARCHENS BALLHAUS
Address: Ballhaus Mitte, Auguststr. 24, 10117 Berlin
Open: from 10am
Tel: +49 30 282 92 95
claerchen@ballhaus.de
http://www.ballhaus.de



Text: R.T.Hansen
CLARCHENS巴尔豪斯
地址:Ballhaus Mitte, Auguststr. 24, 10117 Berlin
时间:10:00从
电话:+49 30 282 92 95
claerchen@ballhaus.de
http://www.ballhaus.de
<!- Rubicon OS Player --> <!- /Rubicon OS Player -->