fashion
ポチポチ・ショップ・ベルリン
POTIPOTI SHOP BERLIN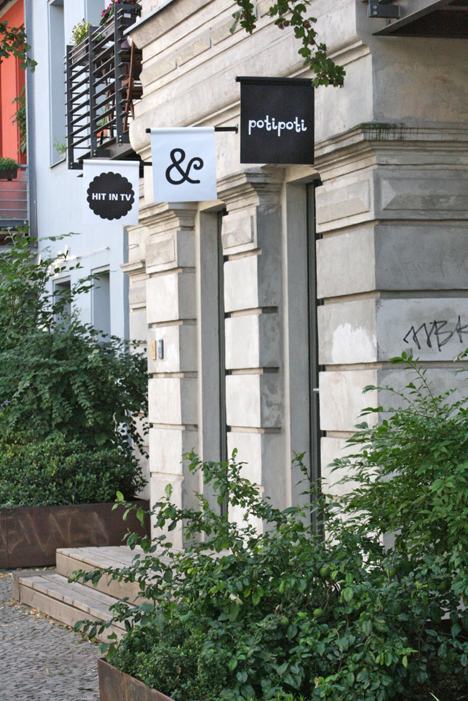 二人のデザイナー、シルヴィア・サルヴァドールとナンド・コルネジョのコラボレーションによる「POTIPOTI(ポチポチ)」は、ファッショングラフィック、デザイン、ドローイング、映像Potipoti is a collaboration between two designers, Silvia Salvador and Nando Cornejo. Operating from Berlin (Germany) and Spain, potipoti creates fashion graphics and design, drawings, visual arts and product design.



Potipoti Shop Berlin is a shared space with Hit-In.tv where you can find the last potipoti collections and also the results of our colaborations with other brands like belts for Yummy Industries, a collection of potipoti Sun glasses for General Optica, or a pair of shoes KTW for potipoti.



From time to time we have special events like exhibitions or parties.
The label was founded in 2005. Their distinctive aesthetic for graphics is reflected in their fashion designs. Collections have been shown in various exhibitions and catwalks like El Ego de Pasarela Cibeles (Madrid), Mustang Fashion Weekend (FIB, Benicassim), Pictoplasma (Berlin), Pasarela Abierta (Murcia)… and their work has been featured in books as "Fashion Unfolding" or "Graphics Alive" by Victionary or magazines like Neo2, Pig or WAD.



POTIPOTI SHOP BERLIN
Adddrss: Oderbergerstrasse 34, 10435 Berlin
Open: Tue-Sat 12:00-20:00
Tel: +49 30 20339804
sales@potipoti.com
http://www.potipoti.com、プロダクトデザインなどをベルリンとスペインから発信している。
ポチポチ・ショップ・ベルリンでは、最新のポチポチのコレクション他、ヤミー・インダストリーズやジェネラル・オプティカ、KTWとのコラボレーション商品も展開されており、展覧会やパーティなども随時開催されている。



POTIPOTI SHOP BERLIN
住所:Oderbergerstrasse 34, 10435 Berlin
時間:火〜土 12:00〜20:00
TEL:+49 30 20339804
sales@potipoti.com
http://www.potipoti.com



Translation: Tatsuhiko AkutsuPOTIPOTI SHOP BERLIN
地址:Oderbergerstrasse 34, 10435 Berlin
时间:星期二至星期六 12:00-20:00
电话:+49 30 20339804
sales@potipoti.com
http://www.potipoti.com
<!- Rubicon OS Player --> <!- /Rubicon OS Player -->