bar/restaurant
プラーター
Prater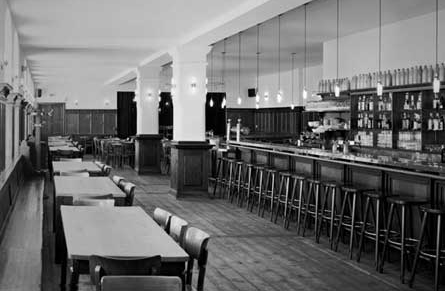 1837年にオープンしたプラーターは、もともとはバーと劇場が同時に楽しめる大衆向け施設であった。ベルリンで最も古い、ビアガーデンの先駆けFounded in 1837 Prater was part of the varieté scene where drinking and theather were closely related. Prater reopened in 1996 it is the oldest and one of the most original beer gardens in Berlin. The interior is traditional woodpanels and worn down standard furniture. It's a hangout for the theatre scene and usually crowded. In the summertime there's outdoor serving and plenty of space.



A specialty is the Prater Schwarzbier, a locally brewed dark beer or the classical Weihenstephaner Hefeweissbier from tab. The service is very friendly and the quality of ingredients high comparing other German beergarten kitchens. The cooking has a a very necessary true, rare homemade quality.



A vegetarian specialty from the authentic kitchen is the dish "Senfeier" (mustard-eggs with potatoes) (8.50 EUR). Alternatively try Salatteller mit warmem Ziegenkäse (goatcheese salad) (8,90 EUR) or another speciality Wiener Schnitzel mit Butterkartoffeln und Gurkensalat (Porkfilet with potatoes) (15.90 EUR).



An authentic,relaxed atmosphere with traditional german homemade cooking.



Prater
Address: Kastanienallee 7-9, 10435 Berlin
Open: 18:00-23:00 / Sunday 12:00-23:00
Tel: +49 30 50348668
http://www.pratergarten.de



Text: R.T.Hansenとして1996に再オープンした。伝統的な木製の板を基調とし、長い時を経た家具たちが置かれた空間はいつも劇場を楽しむ人たちのたまり場として賑わう。夏場は広い屋外スペースも利用できる。



おすすめは地元で作られたダーク・ビール、プラーター・シュヴァルツビア。クラシックなヴァイエンステファン・ヘフヴァイスもおいしい。接客はとても親しみやすく、食材はベルリンのビアガーデンの中でも最高クラス。心をこめて手づくりされる料理の数々はとてもクオリティが高い。



ベジタリアン向けのスペシャルメニューは「センフェイエ」(マスタード・エッグとポテト)(8.50ユーロ)。ザラートテラー・ミット・ヴァルメン・ワーメン・ツィーゲンケーゼ(羊のチーズのサラダ)(8.90ユーロ)や、ヴィエナ・シュニッツェル・ブッターカルトッフェルン・ウント・ゲルケンザラート(豚肉のフィレとポテト)(15.90ユーロ)もおすすめだ。



格調高く心地よい雰囲気の中で、伝統的な自家製ドイツ料理を堪能しよう。
Prater
住所:Kastanienallee 7-9, 10435 Berlin
時間:18:00〜23:00/日曜 12:00〜23:00
TEL:+49 30 50348668
http://www.pratergarten.de



Text: R.T.Hansen
Translation: Shiori Saito普拉特
地址:Kastanienallee 7-9, 10435 Berlin
时间:18:00-23:00/星期日12:00-23:00
电话:+49 30 50348668
http://www.pratergarten.de
<!- Rubicon OS Player --> <!- /Rubicon OS Player -->