bar/restaurant
クチ
Kuchi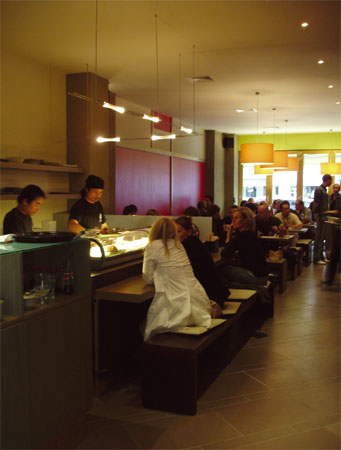 ベトナム人オーナーが運営する「クチ」は、数多くの人が最高の寿司レストランと認める名店。本当はアジア式フュージョンレストランMostly recommended by many as the best sushi restaurant the Vietnamese owned Kuchi is more a place to visit for the pan-Asia style fusion kitchen. It has to be noted that the sushi list is top3 best expanded selection of creative sushi combos in town.



The interior is sleek and matching the crowds hipness factor. The popularity the place has kept over the years is perhaps due to its completeness in experience combined with a good price-quality ratio.



It is quite possible to encounter culinary surprises here and a decent meal no matter if opting for sushi or pan-Asia a la carte. From the two stores in town the place in Charlottenburg can be recommended not to mention it has more volume in the kitchen as it serves as catering additionally.



Specials to choose are for example the Yaki-tori sticks (12.50 EUR), owner Mr. Duc's Special Plate (23 EUR) or try KUCHI Extreme Special sushi (12 EUR). Reservation is a good idea.



Kuchi
Address: Kantstr. 30, 10623 Berlin
Open: Mon-Sun 12:00-24:00
Tel: 030 31507815
http://www.kuchi.de



Text: R.T.Hansenという方が適切かもしれない。この街の創作寿司料理の中で、この店のメニューはトップ3に選ばれている。



内装はスタイリッシュで、アート志向の若者にはぴったり。この雰囲気と手頃でおいしい食事を両方体験できるのが、この店が長年愛され続けている理由であろう。



寿司料理を選んでもアジア料理のアラカルトを選んでも、おいしい驚きに巡り会えることは間違いない。街にある2軒の店舗のうち、シャルロッテンブルクにある店はより大きなキッチンで、しかもケータリングまで行っている。



おすすめメニューはヤキトリ・スティック(12.50ユーロ)、オーナー、Mr.ダックのスペシャルプレート(23ユーロ)、またクチのエクストリーム・スペシャル・スシ(12ユーロ)も素晴らしい。予約を取って行くのがおすすめだ。



Kuchi
住所:Kantstr. 30, 10623 Berlin
時間:月〜日 12:00〜24:00
TEL:+49 30 31507815
http://www.kuchi.de



Text: R.T.Hansen
Translation: Shiori Saito
Kuchi
地址:Kantstr. 30, 10623 Berlin
时间:12:00-24:00
电话:+49 30 31507815
http://www.kuchi.de
<!- Rubicon OS Player --> <!- /Rubicon OS Player -->