bar/restaurant
ベトツォウ・プリヴァ
Botzow Privat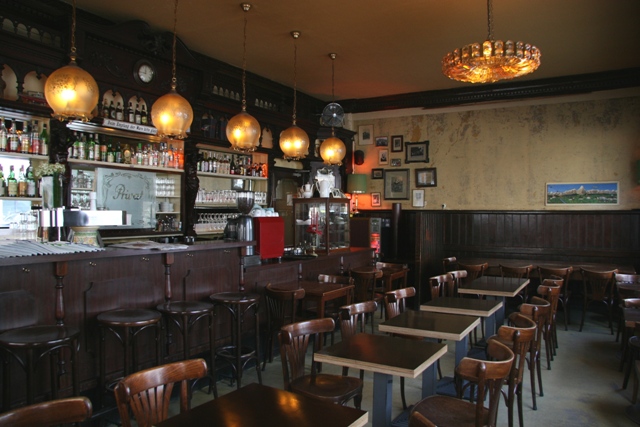 第一次世界大戦以前(1864年〜1921年)のベルリンで有数の醸造所だったベトツォウは、その製品を広めるためにベルリン市内に数軒のパブを運営The previous Brewery Bötzow used to be one of the best breweries in Berlin pre WW1 (1864-1921). As part of their distribution they owned several pubs in town. The only one remaining intact is Bötzow Privat in Berlin Mitte.



It is perhaps also the best preserved original pub from around the turn of the century in Berlin with an amazing crafted interior. Dark wooden panels, handcrafted glass, old photos and a fresh interpretation of the German kitchen makes place the perfect spot for a lunch whether you are visiting or a local resident.



In the evening the room gets crowded as people poor in for drinks until closing time which in the weekends extends to around 2pm. The story goes that when the current owners took over the bar around 4-5 years ago it was still a typical pub for a few local people serving tab beer.



The ending of the tab beer and installation of a menu card was to attempt gain a new clientele. Its a very cosy place to hang out or read some of the several international magazines they keep. The service is extremely friendly for Berlin and the current regular chef is extraordinarily skilled.



There's a daily menu special, a selection of some 8-10 a la carte opportunities (with the typical south German "Wiener Schnitzel", "Käsepätzle"(cheese pasta) or "Rinderfilet" (veal) and a good small selection of wines. For a South-german beer test the "Tegernseer Bier" which is one of the best around. If you have luck and the regular chef is in the kitchen be sure to order the full row of salads and desserts as they can be truly amazing even if very simple ingredients.



If the replacement chef is in the kitchen you will be able to taste this as the simple courses turn into the typical tasteless Berlin-style dish. Prices are slightly higher than elsewhere but worth it.



Botzow Privat
Address: Tucholskystraße 47, Ecke Linienstraße, 10115 Berlin, Mitte
Open: 9:30-25:00
price: Menu ( 3,50 bis 14,50 EUR), lunch 4,50 EUR
Tel: +49 28 09 53 90, 0177-465 52 51
boetzow-privat@gmx.de



Text: R.T.Hansenしていた。ミッテ区にあるベトツォウ・プリヴァはその中で現存する唯一の店である。



この店はまた、20世紀初頭からの姿を素晴らしい状態で現在まで保った、歴史的に貴重な建物でもある。色深い木製のパネル、職人が丁寧に作ったグラス、古い写真など素晴らしいインテリアに囲まれて楽しむドイツ料理は、旅行者にとっても地元の市民にとっても完璧なランチとなるだろう。



夜は多くの愛飲家で溢れ、週末は午前2時まで延長される閉店時間まで賑わう。現在のオーナーが4〜5年前にこの店の権利を得た当時、まだここはよくあるパブで地元の常連のみがまばらに訪れる店だった。タブのビールを廃止しメニュー表を取り入れると新しい客層を呼び、店内にある海外の雑誌を読みながらゆっくりと過ごすのにぴったりの場所になった。接客はベルリンにしてはとてもフレンドリーで、現在のシェフは素晴らしい職人だ。



日替わりメニューがあり、南ドイツの定番料理「ヴィーナー・シュニッツェル」や「ケーゼペッツレ(チーズパスタ)」、「リンダーフィレ(子牛の肉)」など8種類から10種類のアラカルトと厳選された美味しいワインが選べる。南ドイツのビールなら「テーゲルンゼー・ビアー」が最高。



もし幸運にもメインシェフがキッチンにいたら、サラダとデザートまで一通り注文する事を忘れずに。とてもシンプルな素材なのに驚くほどおいしい。他のシェフだった場合はベルリンによくあるあまりおいしくない簡単なコースになってしまう。価格は比較的高めだが、その価値は十分にある。



Botzow Privat
住所:Tucholskystraße 47, Ecke Linienstraße, 10115 Berlin, Mitte
時間:9:30〜25:00
料金:メニュー 3,50〜14,50 EUR/ランチ 4,50 EUR
TEL:+49 28 09 53 90, 0177-465 52 51
boetzow-privat@gmx.de



Text: R.T.Hansen
Translation: Shiori SaitoBotzow Privat
地址:Tucholskystraße 47, Ecke Linienstraße, 10115 Berlin, Mitte
时间:9:30-25:00
率:菜单 3,50〜14,50 EUR/午餐 4,50 EUR
电话:+49 28 09 53 90, 0177-465 52 51
boetzow-privat@gmx.de
<!- Rubicon OS Player --> <!- /Rubicon OS Player -->