In Abdul Vas' work there is a search for an individual voice which one needs to know how to hear if one wishes to understand, delve into, and appreciate the impulses of an artist who create a unique universe.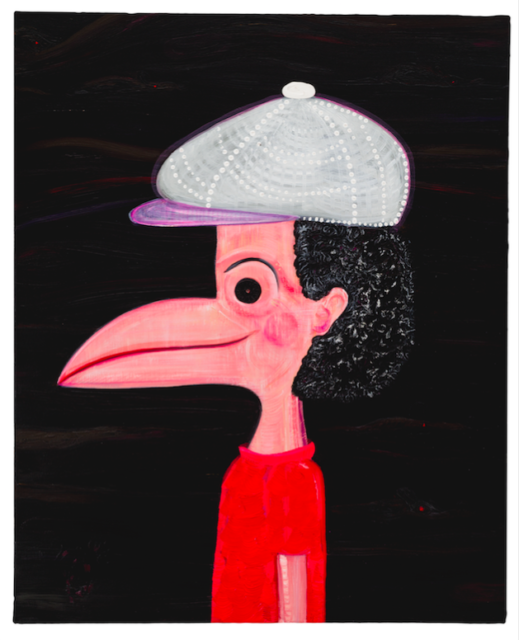 Abdul Vas, Brian Johnson, Nagoya Kokaido Hall, 2015
. Oil on Belgian linen, 100 x 81 cm
The poetic discourse propounded by Vas through his images arises from his unending dialogue with AC/DC and rock'n'roll music. His proposals constitute a reflection on the exercise of an artistic practice connected to the execution of an unchanging operation of indestructible linkage, of veneration and humble submission to its unification by means of an artistic deed. It end up equating the pictorial act with the power one need in order to enter a recording studio to make an album.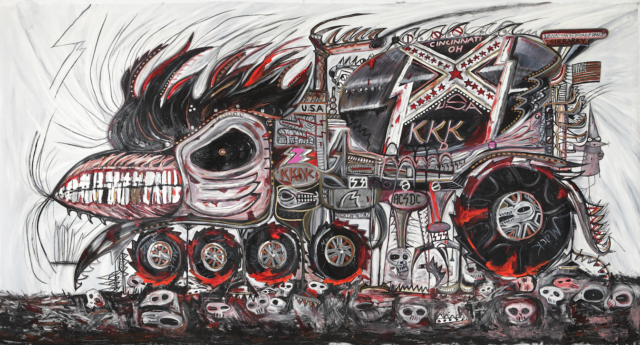 Abdul Vas, Sir Cucarachon NBF 5680-KKDK-Navistar, 2005. 
Oil on linen, 210 x 378 cm
In his career as an artist, Abdul Vas shows us how he mixes his aesthetic discoveries, while evincing his unconditional loyalty to the AC/DC band, populating his entire creative universe with giant American trucks such as those used to carry AC/DC's stage equipment on US tours, which link his work to certain aspects of US culture. They may be distant from each other, but the artist's enthusiasm manages to unite them in a very successful ensemble of visual elements of of idea that challenge the viewer.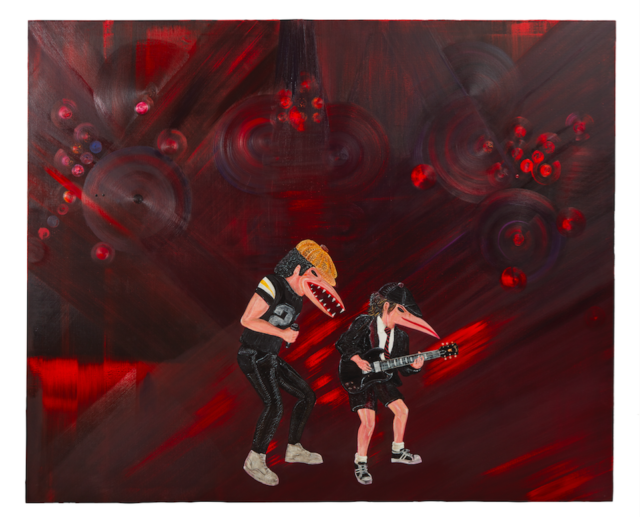 Abdul Vas, Back In Black World Tour 1980-81, 2015. Oil on linen, 160 x 195 cm
Vas employs an idiom that diverges entirely from the construction of a solid discourse that is more or less respectful of the the contemporary canons to which we are accustomed. His work is not common, but savage. It adheres to no canon, belongs to no school, answers to no formula, obeys no law, and is subject to no control. His paintings are a cross-breeding of aesthetic elements that are aggressive, violent, and plainly marked by a frenzied use of pigment. And yet they manifest an elegance and a very special formal tension that makes them unique within today's bland and lukewarm panorama of artistic production.

Abdul Vas Studio, 2021
"I wanted to make art inspired by the power of AC/DC's music, which obliged me to break with the academic art of the past and with all established trends. I simply want my work to capture the rhythms and essence of AC/DC, the greatest rock'n'roll band of all time". – Abdul Vas
Vas' dreamlike work plunges us into his absolutely subjective and feverish universe of contemporary mythology: rebellion, pleasure, power, and utter devotion to what he regards as the greatest rock'n'roll band of our time.
Abdul Vas divides his time between Madrid and Ho Chi Minh City. His works form part of several international collections and have been shown in the United States, Latin America, Asia, and Europe.
Text: Lee Doe Jamks
Photos: © Abdul Vas

[Help wanted]
Inviting volunteer staff / pro bono for contribution and translation. Please
e-mail
to us.