Do you know The Adrien M / Claire B Company, which has been acting in the fields of the digital arts and performing arts? Their shows are completely different from projection mapping only projected to walls of buildings, we can feel the possibility of digital is very spread. In fact, they create many forms of art, from stage performances to exhibitions combining real and virtual worlds with IT tools that were developed and customized specifically for them. They place the human body at the heart of technological and artistic challenges and adapt today's technological tools to create a timeless poetry through a visual language based on playing and enjoyment, which breeds imagination. Let's see the beautiful visual language world.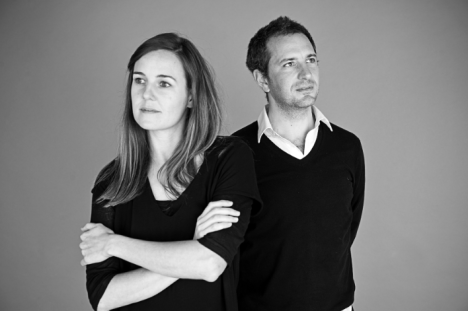 Adrien M / Claire B, © Romain Etienne
Please introduce yourself.
Hello we are "Adrien M / Claire B," a French company working in the field of digital arts since 2004.
Claire: Adrien Mondot, is a multidisciplinary artist, computer specialist and juggler. His works explores and questions motion, at the crossing between art of juggling and computing innovation. He founded the company Adrien M in 2004. We joined forces in 2011, and we restructured the company together, that became "Adrien M / Claire B."
Adrien: Claire Bardainne is a visual artist, graphic designer and stage designer. She is Graduate of the Ecole Estienne and the ENSAD in Paris. Her researches focus on the link between visual sign and space, and explore the comings and goings between what is real or imaginary.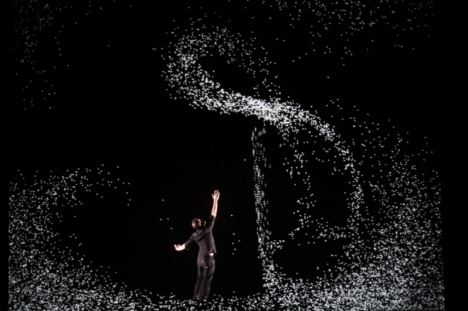 "Un point c'est tout", performance-conference, 2011, © Adrien M / Claire B
Why did you start working in two of you? In addition, why did you select the digital and Performing Arts as expression?
Claire: We met in 2010 during a "Labo," a research project led by Adrien with the aim to make different artists meet and work together. As the days went by it became obvious that we had to create something together because we had the same goal: building strong bridges between the digital and real resources to allow the turning of the virtual into an extension of the real. We believe the digital can be a medium to build new imaginary worlds and offer new dramaturgy possibilities.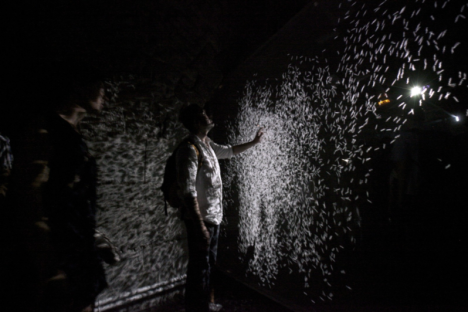 "XYZT, Les paysages abstraits", Nuee Mouvantes, exhibition, 2011, © Laurence Fragnol
Video image as Digital creates phantasmagoric an organic space, by your production and performance. As it's completely different from projection mapping only projected to walls of buildings, I feel the possibility of digital is very spread. Please tell me the theme and concept of Adrien M / Claire B.
Adrien: Along with juggling during the latest years I have developed a toolset for video creation called eMotion (for electronic motion) based on my stage and juggling experience. It addresses our recurrent query with Claire: how to create a technological infrastructure that continuously puts the human being at the center of the creation? Beyond the fascination for images we want to use the huge variety of possibilities offered by nowadays tools but at the same time instill errors into them, fragility and perhaps poetry so that the post digital show era will be entered, technology being no longer an alibi.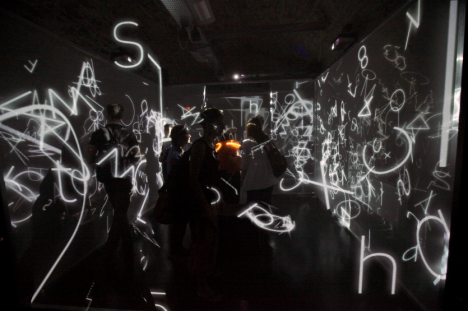 "XYZT, Les paysages abstraits", Paysages Abstraits, exhibition, 2011, © Laurence Fragnol
Our research for a live digital world is mainly based on the following:
1. A thoughtful digital technology for the benefit of performing arts.
In order to preserve the force of the live presence on stage and then transpose it to the digital medium, all images are generated, computed and projected live.
2. The idea of digital writing and performance of digital scores.
Through a musical approach to the images and an instrumental approach to the computer program, the experience of the moment is emphasized.
3. Interactive ways of overcoming the technical challenge.
Using capturing systems from video game technology (for their power in calculation and reactivity) combined to a work of virtual puppetry (for the value of human intuition and its dreaming ability) allows us to offer the audience this sensitive experience.
4. Use of the unconscious experience of movement.
The computing and mathematical models come from the observation of Nature. This private and unconscious experience of movement creates an imaginary world where abstract graphic forms turn into evocative worlds.
5. The structuration of coincidences.
The gestures interfere with the images to engender verisimilitude and coherence.
In concrete terms, the implementation of these principles is the result of a close relationship between computers, electronics and software all through the eMotion computer program. eMotion is an appropriate tool to experiment the relationships between virtual elements and data taken from the real world. Based on physics models, it is at the core and the beginning of all of the company's works. Although the project results from researches on juggling, it goes way beyond its original topic while proceeding from the concrete and sensitive connection to matter, body and movement.

"Hakanaï", dance performance, 2013
Please tell us about the performance of "Hakanai". In addition, you explained that the title is derived from "ephemeral (hakanai)" in the Japanese language, could you let me know the encounter with the word?
Adrien: "Hakanaï" is a haiku dance performance for one dancer performing in a cube made of moving images projected live by a digital interpreter. In Japanese, the "Hakanaï" ideogram is the union of two graphic elements, one referring to man and one referring to dream. It is used to define the ephemeral, the fragile, the transitory, the intangible essence of matter. We first encountered the word "Hakanaï" in a french newspaper, and it fell on us as an evidence: it was describing exactly what we were looking for, in just a single word.
Claire: This word together with a white tulle-covered cube represents the starting point for the creation of this piece. The four projector-device reveals a graphic universe in constant evolution on the tulle. Performed as a "digital score", the disposal is generated and interpreted live. The dancer's body enters into a dialogue with the images in motion. These simple and abstract black and white shapes behave according to physical rules that can be recognized by the senses and to mathematical models generated from the observation of nature.
The audience experiences the performance in several steps. They first discover the the installation from the outside. As the dancer arrives, they gather around to watch the performance. When the choreography has ended, the audience can then take some time to wander amongst the moving images of the structure.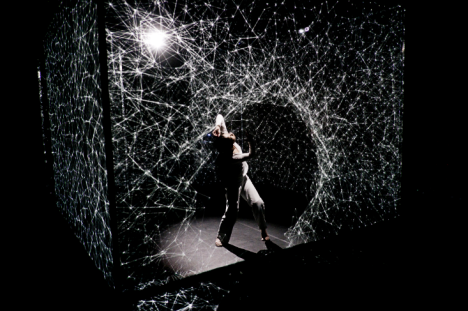 "Hakanaï", dance performance, 2013, © Romain Etienne
Adrien: Through a minimalist transposition, this piece is based on images drawn from the imaginary realm of dreams, their structure and substance. The box in turns represents: the bedroom where, once the barrier of sleep has been passed, walls dissolve and a whole new inner space unfolds; the cage, whose limits one must relentlessly test; the radical otherness, as a fighting place with an intangible enemy; the space where the impossible has become possible, where all physical points of reference and certitudes have been shaken.
Two worlds convolute through the encounter of gesture and image. The synchronicity between the real and the virtual dissolves and the boundary that was keeping them separate disappears, achieving a unique space carrying a high oneiric charge.

"Cinematique", dance performance, 2013
"Cinematique" is also very introspective and impressive production. What kind of background or story does it have?
Adrien: Juggling being a specific case to me, it is finally motion in its diverse shapes that inhabits me whatever the objects and bodies' reality or virtuality. Experimenting motion as a source of emotion has been the guideline of "Cinématique": it was intuitively built around those dreamy digital landscapes where bodies play with objects. During this meandering process I have chosen to get rid of the superfluous. The scenography has been extremely simplified to
make a huge space of possible: the blank two pages of an open book still to be written.I have
striven to move on from a concrete narration, following my profound and relentless desire to
 "create a medium for the widest possible imagination," in a nutshell to give the audience the opportunity of a total immersion into the show.
"Cinématique" is an invitation to travel, dream and play. That piece of dream we all have had in our inner self since childhood can resurface at any time and disrupt the rational principles that structure and guide our modern lives.
It is a journey across virtual materials making up as many landscapes. Lines, dots, letters, digital objects projected onto flat surfaces weave poetic spaces that fit bodies and gestures. The imaginary transforms the opaque and the flat to reveal the freedom, the desires and the infinite we all carry in our inner selves, through transparency and motion.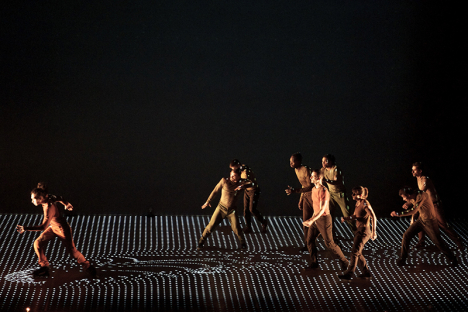 "Pixel", 2014, © Raoul Lemercier
What is the theme of "Pixel"?
Claire: "Pixel" was born after we met the hip hop choreographer Mourad Merzouki and created a first short performance for 11 amateurs dancers. We shared a really joyful and energetic moment and decided to create something bigger with professional dancers. What really became obvious to the three of us was that we were all excited by the notion of illusion: illusion through digital tools and illusion in hip hop moves. We want to make real and virtual merge, to blur perception and make "impossible" things appear from nowhere. And hip hop dancers are doing exactly the same with their bodies: arms moving as liquids or as robots, accelerations and slow motions… In both cases the relationships to time and space are modified, distorted.
Adrien: Pixel is a playful show where many art disciplines merge. Dancers evolve in a poetic and dreamy environment where the audience does not always know what is real or not.
You are often also co-produced with other performers and dancers. In the future, who do you want to work with?
At the moment we are working mainly on our own productions – at least for the next two years.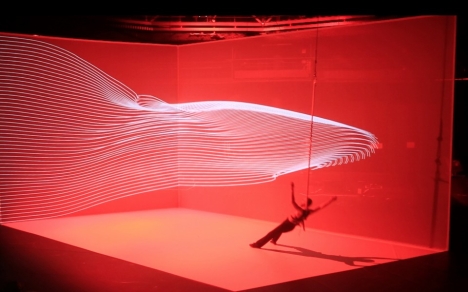 "Le mouvement de l'air", Elastique, show, October 2015, © Adrien M / Claire B
Could you please talk a little bit about "Le mouvement de l'air", scheduled for October this year?
Claire: It is a front show designed for three dancers in an immersive environment shaped by projected images. It is the biggest project we have ever worked on!
The performance matches seemingly impossible visions: images look alive while bodies fly, defying gravity. The acrobatic and digital choreography outlines a body language that involves a new relationship to time, space and the whole world. Beyond looking for technical achievement, what matters is the attempt at creating a motion dreamscape by way of images.
The theme is the imaginary of the air and everything related: weightlessness, verticality, suspension, sky, cloud, diffuse, fall, void, floor, support, momentum, illusion, unreal, dematerialization, lightness, heaviness, inside out, upside down, rocking, wind, breathing, surrendering, gravity, invisible, dream…
Adrien: We wish to remove images from screens, to turn them into landscapes, into playing partners, and to put them at the center of the space mapping.
The set is inhabited by a 3 face structure: two vertical panels of white gauze and a white dance floor are asymmetrically combined to create an immersive projection system. Thanks to this device many diverse realms can arise.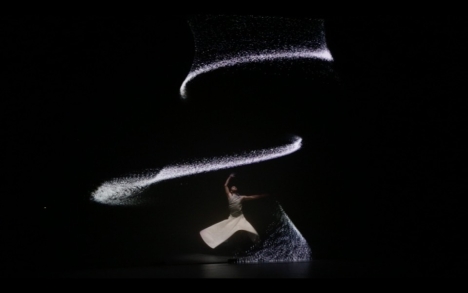 "Le mouvement de l'air", Tornade, show, October 2015, © Adrien M / Claire B
Claire: On stage three performers can float around space. Driven by verticality they struggle between enthusiasm and anguish, between falling down and rising up. Their bodies define a new and unusual language that draws its inspiration from the ordinary but transposes it in a poetic way. This language plays with reality to explore a living kinetic art territory where bodies evolve between abstraction and emotion. It is a quest for a motion-driven onirism.
In addition to projected images, uplifting and suspension devices allow bodies to rise up in the air without any magical trick. The dancers work on their sense of weight and balance with the floor, they devise illusory aerial trajectories and juggle with space. The body motion transcend the possible to reach the impossible and the images' immaterial realms.
Adrien: An important detail is that our shows are not grounded on a text. Their language is based on the combination of video images, bodies, space and sound.
Nowadays, digital technology has shaken up stage crafts so that we feel like explorers within new continents. We call "writing" the trace we leave on these territories. To us, it is about writing with the elements in a similar spirit to Land Art, it is playing with nature and its forces. However, here, fire, snow, sand, water, smoke and rocks are digital and virtual, and so the bearers of a newer animism. It is then a matter of organizing the forces of the digital nature and guiding its energies, to achieve a rhythmic work with the projected images drawing on the intentions at the very motion's core.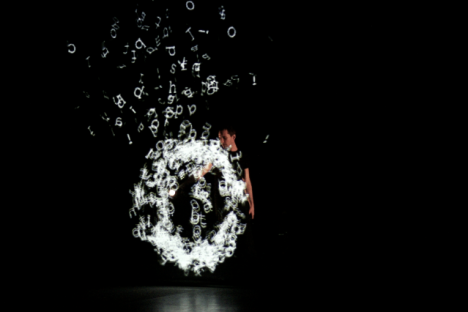 "Cinématique", Hexagone, show, 2010, © Raoul Lemercier
Please tell me what you are interested in now.
On the technical side we work with VR and AR set, we are very interested in the hololens device, and the combination of leap motion and oculus is very interesting also…
On the artistic side everything is secret but there are really great things to come. And as always we are very open to discover new esthetics fields and new medium.
Text: Aya Shomura

[Help wanted]
Inviting volunteer staff / pro bono for contribution and translation. Please
e-mail
to us.