A craftwork and industry designer duo "501DESIGNSTUDIO" was established by Souichi Takenaka who used to assist a contemporary artist and Hiroi Igarashi who works at a design office. They started to form the duo as they accidentally reunited in 2008. SHIFT interviewed with Souichi Takenaka about the process of their creations.

DADA – a hummer engraved with "HIT"
Could you tell us about the concept of 501DESIGNSTUDIO ?
We separate our roles: I (Takenaka) am a craftsman and Igarashi is a designer. We comprehensively work from production to design. I had many opportunities to make products that are themed on traditional crafts since I was majoring craftwork at college. We now set our concept as "craftwork and industry".
We are originated with the idea "thinking of what is creation" based from our previous experiences. I feel that the production process of designs existed in our lives is separated by the current change of manufacturing system. When we make things and when we come up with ideas, it's something about one "action". It can not just be lumped with "design" or "craftwork". What we want to do is just doing things that are in front of us. Things move forward if we find a button on the floor, thinking what we can do with it.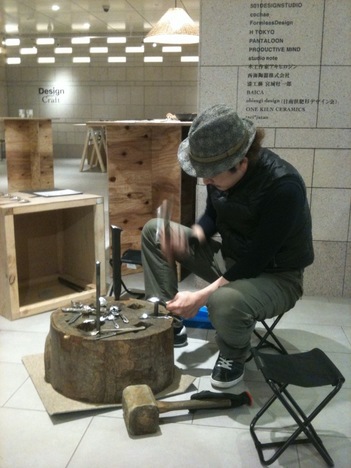 Workshop
What kind of creations do you pursue?
We think to work togeher on creation by taking consider its root of the subdevided creation. We hope we could offer total creations including various activities. And we also hope to build intimate relationship between traditional crafts and modern industrial systems by using excellent, old, and traditional techniques.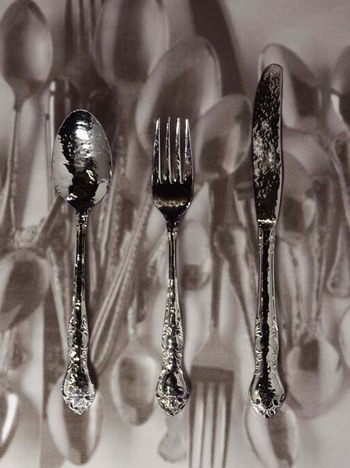 GALATEA – CUTLERY, 2008
You have been releasing products to bring a new life into the purpose less things by utilizing traditional craft techniques and handworks.
For instance, there is bad circulation happening that huge amount of unsold stocks are thrown away. Then it produces new designs one after another, which will then be another many unsold stocks after few years. "GALATEA" is a product that is made by a handwork technique "TANKIN" hitting a metal plate by a hammer. We used the technique on a large unsold stock of spoons left in a warehous. We also engrave the word "HIT" on a hammer which will leave its action of hitting.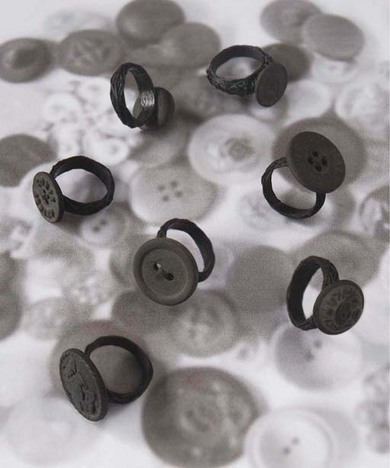 KANDATA BUTTON RING, 2009
Button rings from "KANDATA" collection are made by the "Kanshitsu" technique which uses Japanese laquare. Kanshitsu is a technique originally used for making Buddha statue by taking lacquer on fiber and yarn to make it hard. The process is first making mold of it with clay, pasting cloth on it with lacquer, and then removing the clay mold. The inside of it becomes hollow, so it's hard and light weight. It is a quite excellent technique, similar to the FRP technique in the modern days. "KANDATA" is the work which adds "Kanshitsu" technique to the purpose-less buttons.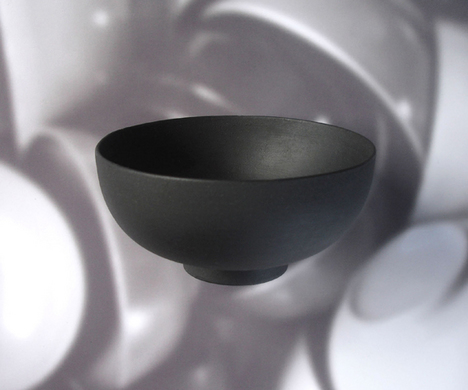 SALOME – BOWL, 2010
Your latest work is focused on the process of lacquer.
We released a new product line from the "SALOME" collection using another lacquer technique called "Makiji". Makiji is a process of work to make lacquer base, which is beautiful and strong enough without lacquering and polishing processes. But as it is just a base, the aesthetic value of it is less known. So I worked on it to break the conventional aspect.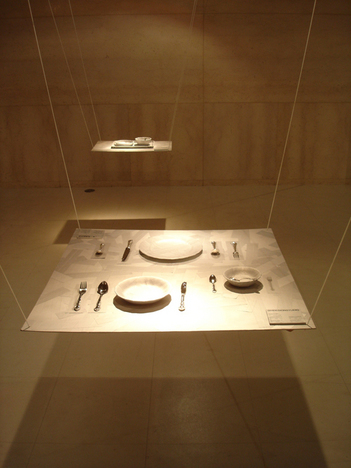 e mul sion Craftwork and Industry Exhibition, 2009
Could you tell us other projects?
We held an exhibition called "e mul sion Craftwork and Industry" with a support by Japan Metal Western Tableware Industrial Association in 2009. It was the event which aims to let people know what Tsubame city in Niigata is making. We collected symbolic stocks from each factory in Tsubame city, and showcased those original stocks and stocks which we made arrange.
We want to continue projects like this not only selling products. And also we hosted a workshop called "SPOON PROJCT" that adds "Tankin" technique on unused old spoons gathered from each house.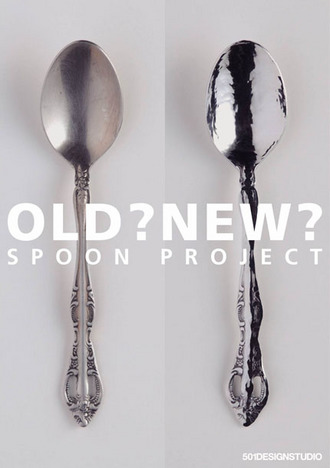 There is a new design called "RAINBOW RULER" which was selected for the design competition in Toyama in 2009. It is a ruler layered 1mm thick acrylic boards with 7 colors.
Could you tell us about ongoing new projects?
We are making new products which will be released for the autumn event. Basically it is continuation of "SALOME" series using the "Makiji" technique, and we will directly approach to the modern industrial product. It will be like "infusing life" or "wrapping in a beauty" with the concept of combining contrary materials.
The products of 501DESIGNSTUDIO is available at stores including CIBONE, SOUVENIR FROM TOKYO, and PASS THE BATON.
501DESIGNSTUDIO
Address: 2-480, Kitabukuro-cho, Omiya-ku, Saitama-shi, Saitama
Tel&Fax: 048-643-0123
info@501designstudio.com
http://501designstudio.com
Text: mina
Translation: Akihiko Hamada

[Help wanted]
Inviting volunteer staff / pro bono for contribution and translation. Please
e-mail
to us.