If you were to think of a Dutch brand that is synonymous with contemporary product design, then Droog Design would most certainly be top of your list. Founded in 1993, the design platform has developed an outstanding reputation for working with both Dutch and international designers and stimulating international creation, innovation and debate within this field. Top designers such as Marcel Wanders, Richard Hutten, Hella Jongerius and Arnout Visser have promoted Dutch design abroad through their innovative and surprising work for Droog. We managed to get a special tour of their new headquarters in Amsterdam.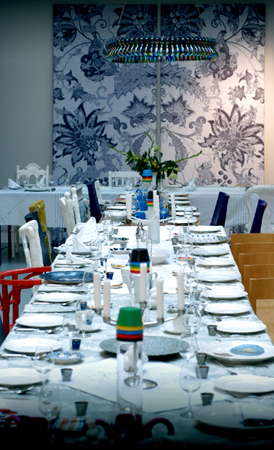 Founders Gijs Bakker and Renny Ramakers started the platform following their special exhibition of Dutch design for the 1993 Milan Furniture fair. The exhibition featured products created by Dutch designers who had used a wide variety of cheap, recycled/reclaimed materials and goods. The most defining characteristic of all these products was their lateral, non-fussy and practical nature. Many also displayed a subtle sense of humour that led to them naming the exhibition, Droog (Dry in Dutch).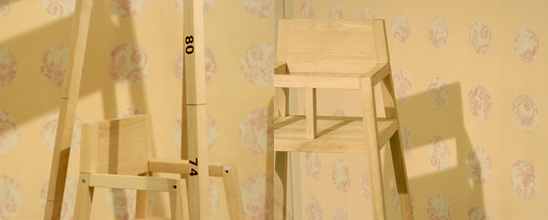 Following their huge success, it was only natural that Gijs and Renny decided to continue what they'd started, and thus Droog Design came to be. Their work over the subsequent ten years has been multiple and significant in both form and choice of platform. These days, Droog is divided into two divisions – the foundation and the business. The foundation focuses on activities such as exhibitions, events and promotion of young design whereas the business side is now one of the world's leading contemporary design studios and manufacturers.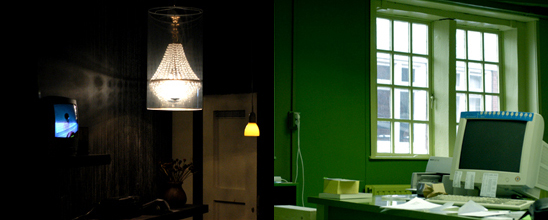 With the opening of their new headquarters in Amsterdam, comes an actual 'visitors-welcome' home for all parts of the Droog family. Not surprisingly, the choice of location and building falls perfectly in line with the whole Droog philosophy. The exterior of the building itself dates back to 1641 and was home to cloth makers from that era, working in the heart of Amsterdam's textile industry. The interior of the building was rebuilt many years ago for office space and it's this rather contrasting space that has undergone the most interesting adaptation by Droog. Whereas the ground floor space was gutted and rebuilt to house the Droog@home section (more on that later), the upstairs was kept completely intact to become their offices.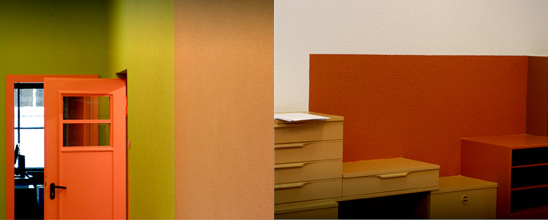 It's the upstairs that enjoys the most extraordinary treatment. A rather ugly and standard office interior (which dates back to the 70's) is transformed into a new and challenging environment purely by adding colour. This may sound obvious but the way in which it has been handled by artist Frank Bragigand is astonishing.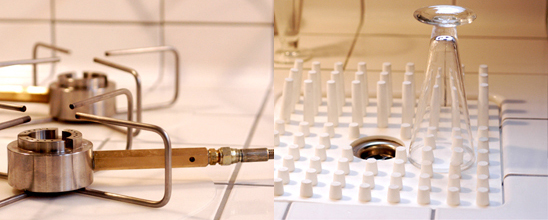 Radiators, kitchen units and even ceiling lights – all left in their original state but with a bold lick of colour. Really, really standard office furniture fits into this whole environment and also gets the colour treatment, although now and again glimpses of original grey and beige peek through to remind you of the mundane-ness of their natural states. It really is brilliantly simple, yet at the same time an incredibly detailed solution.
In the Droog@home section of the building, lie more surprises. Here one can find both changing exhibitions and an excellent permanent selection of Droog products from over the years that are still available to buy – but the best thing is that you can touch and try everything out. No awkward gallery feeling here. The whole concept is to encourage userbility and interaction. Nestled in one corner of the space, is the biblioteque filled with videos, books, internet and magazines to keep even the most eager student busy. My other favourite bit was the tiled kitchen which completely satisfied my curiosity over some of the Droog products. It is a fully workable kitchen, which will be used during events that require food and drink. I think that's a great idea because some Droog objects do look so 'basic' that one wonders what the experience of using them would be like. Now I can answer my own questions.
If you want to visit droog@home, it's open from Tuesday to Saturday between 12:00 and 18:00. Droog also have a major retrospective exhibition 'simply droog, 10+1 years of avant-garde design' in the Gemeente Museum in The Hague until 12th February 2005.
Droog Design
Open: 12:00 – 18:00 (Closed on Sunday)
Address: 7b Staalstraat, 1011 JJ Amsterdam
http://www.droogdesign.nl
Text: Ania Markham
Photos: Mark Visser

[Help wanted]
Inviting volunteer staff / pro bono for contribution and translation. Please
e-mail
to us.