fashion
ザ・ワールド・アコーディング・トゥ...
The World According to…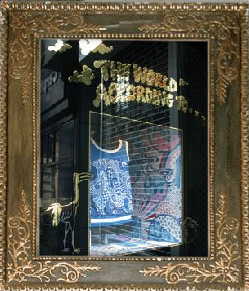 「ザ・ワールド・アコーディング・トゥ…」は、数多くのブリティッシュファッションブランドを取り扱うショップ。主なブランドは、サイラス、バレット・バイ・サイラス、エレイ・キシモト、We opened the first "SHOP" in the old Bar Italia launderette on Fifth Street in Soho, 10 years ago. We had a few rails in the front selling Milk Fed, Tocca, Judy Blame, Anita Pallenberg and Anna Sui, with washing machines spinning in the background!エレイ・キシモト・エル、アングロマニア、トゥナイト、フセイン・チャラヤン、ソフトコアなど。新しく改装された店内には、S.K.のバッグ、ヴィヴィアン・ウェストウッド、スティッキー・ポニーやスージー・ロイドなどのジュエリーも豊富に取り揃っている。



THE WORLD ACCORDING TO…
住所:4 Brewer Street, London W1F 0SB
時間:11:00〜18:30(日曜定休)
TEL:+44 0 20 7437 1259
info@theworldaccordingto.co.uk
http://www.theworldaccordingto.com



Translation: Tatsuhiko Akutsu
We enter our second decade with a new look – more like a topsy truvy gelleon with stars branded into the floor and James Jarvis animal characters drawn all over the walls. We also have a new name: 'The World According to…' and a very British offer: Silas, Babette by Silas, Eley Kishimoto, Eley Kishimoto Ellesse, Anglomania, Tonite, Hussein Chalayan as well as Softcore from Italy. Accessories include bags from Hyde S.K., and jewels by Vivienne Westwood, Sticky Pony and Susie Lloyd.



THE WORLD ACCORDING TO…
Address: 4 Brewer Street, London W1F 0SB
Open: 11:00-18:30 (Closed on Sunday)
Tel: +44 0 20 7437 1259
info@theworldaccordingto.co.uk
http://www.theworldaccordingto.com根据世界…
地址:4 Brewer Street, London W1F 0SB
时间:11:00-18:30
休息日:星期日
电话:+44 0 20 7437 1259
info@theworldaccordingto.co.uk
http://www.theworldaccordingto.com
<!- Rubicon OS Player --> <!- /Rubicon OS Player -->